To what extent are women represented in the Syrian government?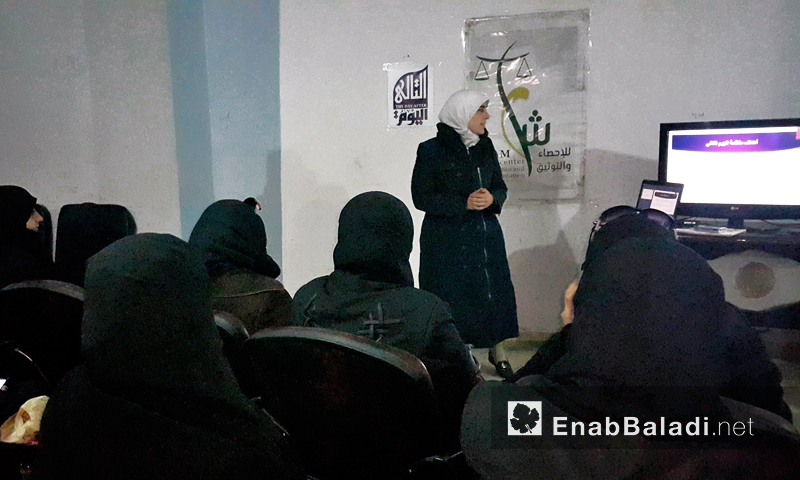 Official statistics regarding women's affairs are missing in of Syria, as neither the government, affiliated organizations, nor the competent centers of documenting violations have a complete archive.
However, independent organizations have surveyed samples of women in Syria, and everybody that Enab Baladi spoke to from governmental figures, organization managers, and independent figures acknowledged that statistics inside of Syria have a special importance in all fields.
To achieve more complete metrics, a civil non-profit organization called Citizens for Syria is creating an updated and comprehensive database of all civil activities, activists, and movements in Syria with the supporting authorities of the expatriate.  In the last update acquired by Enab Baladi, the organization counted 67 organizations that work to empower women and specialize in supporting and advocating women's rights, out of 835 civil community organizations.
Twenty six of the 67 organizations were created in Al Hasaka northeast Syria, followed by Aleppo with seven organizations, then Damascus and its countryside with six organizations.
Moreover, Enab Baladi's search revealed even more associations throughout Syrian governorates that Citizens for Syria have not yet listed. Fortunately, the organization can correct and add to its tables.
Furthermore, some women's organizations were able to merge their efforts into four networks: the Network of Syrian Women (Shams), the Initiative of Syrian Women for Peace and Democracy, Women's Syrian Lobby, and Women's Cultural Forum in Al Qamishli.
These networks work to increase coordination between the organizations, improving cultural exchanges, and achieving equality between men and women. Additionally, they aim to increase women's participation in Syrian negotiations.
Research by the organizations "I Am She" and "Haneen Cultural Forum" on a sample of 100 Syrian organizations in the Turkish Gaziantep found that the number of women working in these organizations reached 2863 out of 9310, or approximately 20%.
The research conducted in March 2016, concluded that 99% of women working in the field is between 20 to 30 years old, while the percentage of women's participation in leading decisions is 12%.
On the other hand, participation falls to a mere 5% regarding strategic decisions.
if you think the article contain wrong information or you have additional details Send Correction