Dozens of locals of the Homs neighborhood demonstrate against regime attempts to empty the city of thousands of inhabitants
People of Waer to Regime: 'No Displacement, No Demographic Change'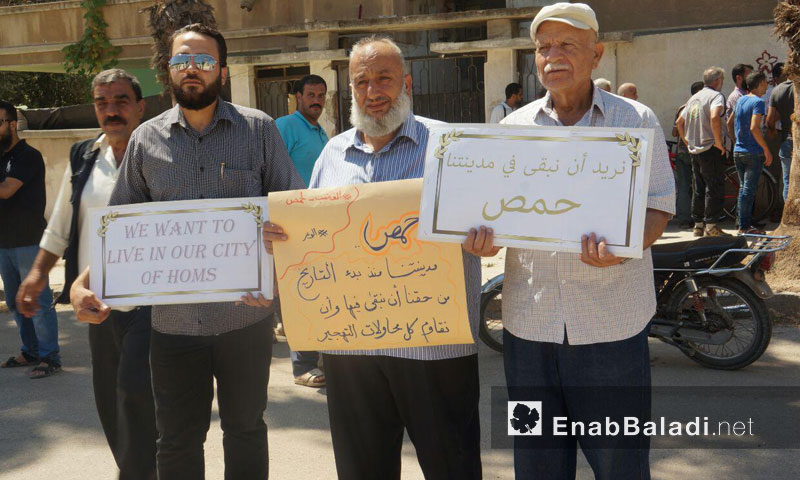 Residents of the besieged district of Waer in the city of Homs went out in a stand of solidarity on Wednesday, September 7, in rejection of attempts by the regime to empty the neighborhood.
Enab Baladi's correspondent in Waer observed dozens of men carrying signs which stressed their refusal to leave the city in which they were born and lived.
Media activist Radian al-Hindi told Enab Baladi that the demonstration bore the name "no displacement and no demographic change" and was merged into the media campaign launched by activists from the province days ago, under the name, "Campaign of Anger for Homs."
The Assad regime two days ago had agreed to allow in a number of aid convoys to the district following the resumption of a truce deal with representatives of the district, which had been stopped at the beginning of the year. But local activists have doubted the regime's seriousness in signing a long-term truce, and expected that its aim would be to expel the roughly 100,000 residents.
This article was translated and edited by The Syrian Observer. Responsibility for the information and views set out in this article lies entirely with the author.
if you think the article contain wrong information or you have additional details Send Correction