Opposition factions publish image showing smoke rising from a number of areas of the mountain, which acts as a store for regime weapons and fuel
Hama: Opposition Reaches Edge of Zein al-Abidin for First Time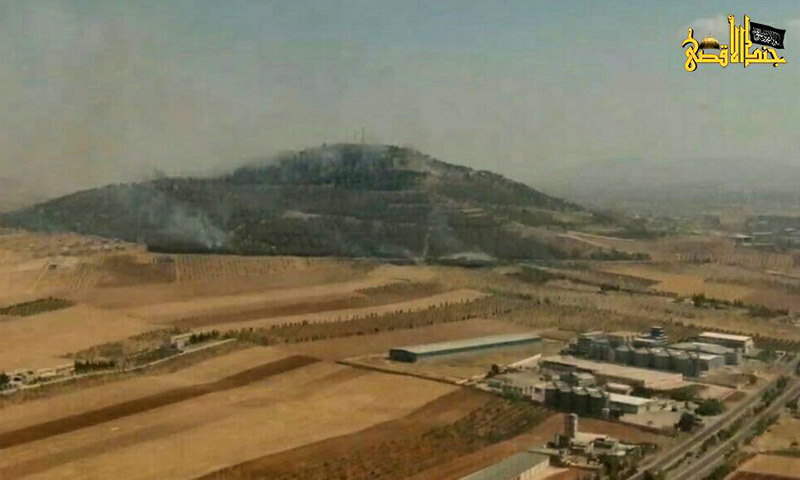 Tank, artillery and rocket fire has continued at the foot of the Zein al-Abidin mountain near the city of Hama since the morning of Thursday, September 1, in a scene which is the first of its kind since the Syrian revolution began.
The Jund al-Aqsa brigade, a Nusra Front affiliate, published an image on its official social media account a short while ago showing smoke rising from a number of areas of the mountain, which is a strategic base for Assad's forces and a store for weapons and fuel.
The targeting of Zein al-Abidin was not the only scene witnessed in Hama province for the first time, as control over the city of Mardis fell under rebel control for the first time since the start of the fighting in the Hama countryside in 2012.
The opposition took control of the town of Qamhana after advancing north and east of Mardis, reaching the Political Security building adjacent to Zein al-Abidin, increasing the chance of putting the mountain under their control.
Rebel groups have taken control of a large number of areas in the Hama countryside during the fighting which began on Monday, August 28, in an attack which is the biggest of its kind in five years.
This article was translated and edited by The Syrian Observer. Responsibility for the information and views set out in this article lies entirely with the author.
if you think the article contain wrong information or you have additional details Send Correction