Petition launched on campaign website Avaaz urges armed factions to open a "battle of the capital" to save the embattled city
Syrian Activists Call for Military, Political Mobilization to Save Daraya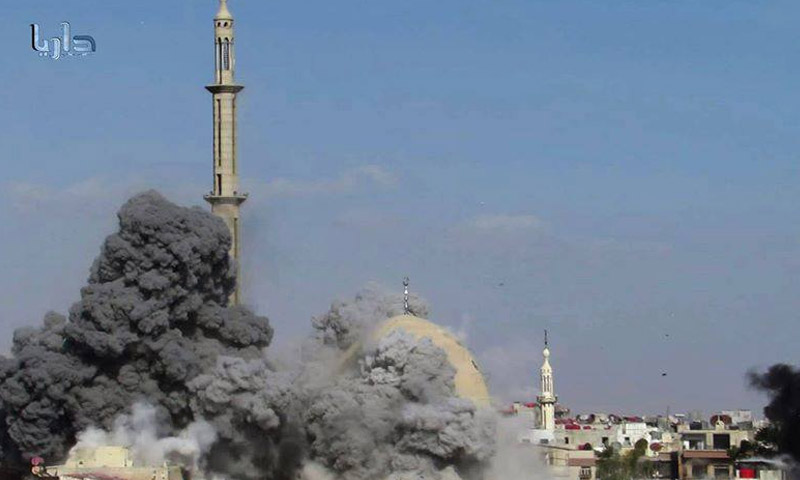 Syrian activists have launched a campaign in solidarity with the besieged city of Daraya which has continued to face heavy assault by Assad regime forces for almost four years.
Activists started the "Save Daraya by opening the fronts" campaign on Avaaz on Tuesday, July 12, with the aim of "directing attention toward the grave danger faced by the city of Daraya, which has stood in the face of the criminal Syrian regime for five years and given sacrifices," according to a statement on the site.
The campaign linked the reason for the assault on Daraya to the implementation of truces between some opposition factions and the regime, which have contributed to freezing fronts in the Damascus area, pushing the regime to withdraw its forces toward the city.
The campaign called on all factions in the Damascus area to open what it called a "battle of the capital" to save Daraya.
Syrian activists are launching several campaigns on the campaigning site Avaaz to commemorate the events and anniversaries of the Syrian revolution, most recently in April, when it called on the world to stop the bombardment on Aleppo by the regime and Russia.
Syrian activists and journalists spoke out over the last two days about the need for a military and political mobilization to save the city, while at the same time criticizing the calm of the southern Syrian fronts, which has a negative impact on Daraya.
Daraya has been under continuous siege by Syrian regime forces since the end of 2012, with 8,300 civilians still inside according to the local council, after more than 250,000 fled. It has been subjected to a major military assault, which has pushed the local council and activists to warn about a major massacre if the regime succeeds in penetrating the Free Syrian Army's defenses.
This article was translated and edited by The Syrian Observer. Responsibility for the information and views set out in this article lies entirely with the author.
if you think the article contain wrong information or you have additional details Send Correction