Residents of "psychiatric hospitals" in Syria…how do they live and where are they now?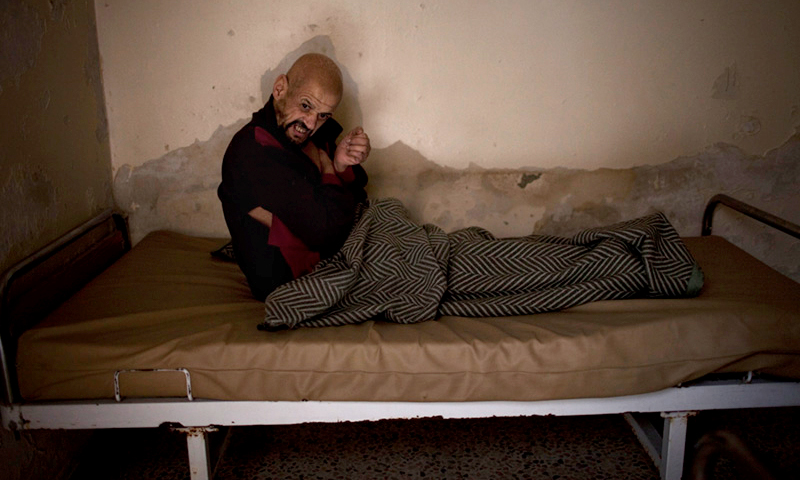 Dr. Ghazwan Boydani rushed into his clinic in one of the towns of eastern Ghouta to help treat a patient suffering from a severe case of schizophrenia. Residents of the town had brought this lady to the clinic through a frontline, as she was trying to enter Damascus. She believed that she was going to meet her relatives and children, where they had all lived together before 2011; but of course the war will have scattered them.
This case is not the first of its kind; a few days earlier two mental patients went missing. They were preparing to join one of the fighting fronts against the Syrian regime, believing themselves to be "commanders" who could change the course of the battles in that area.
The two patients went missing after they headed to the frontline, according to Boydani in an interview with Enab Baladi at his clinic, which is the only remaining clinic in eastern Ghouta. The clinic receives around six to seven mental patients a day, which equals roughly 200 cases a month.
Falling off the sky
The psychological health sector is also suffering in Idlib, due to shelling and staff migration. The father of a child suffering Down's syndrome, Hussam Taoum, tells Enab Baladi that his son does not know what is going on around him, and "needs constant guidance and escort. However, because of the war, Hussam lives alone and is not developing. He does not understand that the airplane is going to drop something; he points at it, and when told to hide, he runs along with other people, but does not understand why…the child finally understood that something is being dropped from the sky that kills people, and that if he does not run along, he will die."
Dr. Boydani describes the situation in the liberated areas as "difficult", with no hospitals and specialized treatment centers to take care of mental patients. The harsh living conditions and shortage of doctors adds to the suffering of these patients and their families, as they have less chance of being taken care of properly.
Even before the revolution Syria suffered from a lack of medical staff with mental health training. The Ministry of Health registered only 86 psychiatrists for about 23 million Syrians, despite the average in OCED countries being 15 per 100 000 citizens. The psychology health sector also suffers from a lack of specialized staff, making the patients' treatment a very difficult matter.
The "crazy people" of Syria during the revolution
Besides the sufferings of existing mental patients, during the war the numbers of mentally ill people, that used to be taken care of in specialized hospitals and mental facilities (commonly known as " Alasforiyeh"), has increased. Counting the numbers of these patients is rather difficult, due to displacement and asylum movements, as well as the intensity of battles in most areas. However, the Sharia court in Damascus has given a figure for cases of mental illness in Syria since 2011. This was based on data and lawsuits provided by relatives who might have to supervise the unwell person or manage their property.
The Sharia court in Damascus have documented 3 000 new cases of insanity since 2014; this breaks down to a 1000 in Damascus and its surrounding countryside, 250 in Aleppo, 150 in Homs, a 100 in Daraa, 170 in Deir Ez-Zour, 90 in Qunaitra, a 140 in Sweida, only 50 in Idlib, a 100 in Lattakia and 80 cases in Tartus.
Sharia court uses the term "crazy or insane" to label those of mental and intellectual disabilities. The term "crazy" was mentioned in many items of the Syrian Personal Status Law number 59, regarding marriage, divorce and interdiction cases.
Mahmoud Marawi, the First Judge in the Sharia court in Damascus, said "the Sharia court receives one new case of insanity every day", noting that the frequency of such cases has increased compared to previous years.
These figures have increased during the last two years and reached 10 thousand "crazy" people during years of the revolution, according to the Watan newspaper (favored by the regime).
A report by the newspaper indicates that the number of insane people that have been committed during the years of the Syrian crisis (10 000+), does not include people suffering from memory loss, who have also been confined. According to the newspaper, a diagnosis of mental illness justifies interdiction, since it confirms an absence of capacity to act.
According to Syrian Personal Status Law, "a mentally ill person is considered completely incapacitated, meaning that all of his actions are considered invalid, since he has no willpower."
According to the First Judge in Sharia court, "any action a mentally ill person exercises is considered invalid legally, especially when it comes to buying and selling. Any person dealing with a mentally person, takes personal responsibility for the latter because his actions are considered unsound."
Dangerous to society
Before 2011, public and private hospitals shared the responsibility of supervising and treating "crazy people". However, due to the war and widespread destruction, many clinics went out of service, putting these patients in a desperate situation.
Dr. Boydani believes "ever since Duma was liberated from the regime's forces, Ibn Sina Hospital for mental diseases, accommodating around 400 patients, has gone out of service. It is the only governmental hospital on an active front line in the Raihan area of eastern Ghouta, Damascus."
Along with that hospital, Private Busher Hospital near Harasta also went out of service. Doctors who had worked in those two hospitals moved to Damascus to work in a small hospital that was hastily established in the area of Jiser Al-Abiyad. According to Boydani this is "Safa" Hospital in the Maliha countryside of Damascus, which is also out of service now.
According to the doctor, these hospitals "received cases that were considered a danger to themselves and others. The largest numbers of mental patients in Syria were treated in Ibn Sina Hospital south of Damascus, as well as Ibn Khaldoun Hospital in Aleppo, both of which are free governmental hospitals."
Ibn Sina Hospital can accommodate 561 patients, while Ibn Khaldoun has 400 beds, with a staff of around 20 doctors in both hospitals.
No treatment in areas under opposition control
Despite the dire need for mental or psychiatric hospitals in besieged Ghouta, which represent "a problem for society" according to Boydani, none exist in that area. Estimates suggest "the existence of at least 30 cases that need to be constantly hospitalized, since patients suffering from schizophrenia and delusions can represent a danger to society, as they tend to behave violently at times through paranoia."
Abu Omar Taoum, father of Hussam, who suffers from Down's syndrome, appeals to the Syrian opposition and military forces, through Enab Baladi, to provide hospitals or "a small house" to accommodate such cases and ease their suffering, as well as staff to supervise their treatment.
The Crazy's excuse
Many Syrian people actually envy these "crazy" people because their mental condition detaches them from the chaos around them. In fact the complexity of this crisis and the entanglement of local and international parties, means no one is capable of understanding what is going on, nor what is going to happen next. Indeed what Syrians are experiencing inside and outside Syria, can only be described as a form of insanity. One citizen describes the situation as a "party of madness", where everyone participates in and drinks this party's toast.
Living in areas controlled by forces that behave contrary to many opposition wishes, the latter can feel they are living in the chapters of the novel "Alasforiyeh" (Mental Hospital) by the Saudi writer, Gazi Al-Kasibi. In this book the hero, a "crazy" professor, lives in an "Alasforiyeh" in order to safely pass on his ideas and moral stands, something that would have caused him a lot of criticism, had he written or expressed them elsewhere. Since, "a crazy one is excused" in Syria and the Arab World, he did not experience any criticism.
"Alasforiyeh" is a common term in Syria and Arab countries; it refers to a psychiatric hospital that specializes in treating mentally ill and disabled people.
if you think the article contain wrong information or you have additional details Send Correction