"She made me love all Syrians, and I try to help them"
The Syrians' marriage to Turkish people… Merging, love and Mammoul plate (Syrian sweet)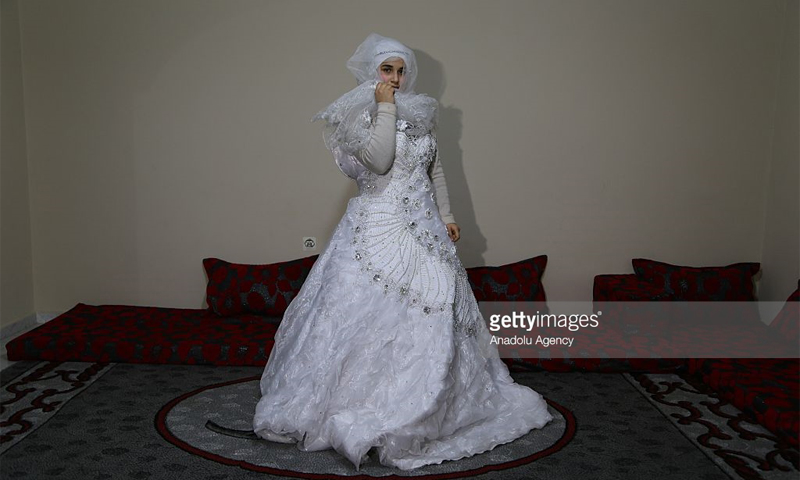 Printed Edition ‖ No.: 219
Marriage in Syria was always associated with a set of rules that made it, at many times, a distant dream for young men; it got more complicated if he (the young man) came from a different city, as it was not an easy or agreeable matter among Syrian families. Marriage was linked to the people of the same city, as well as specific areas of the city, moreover, it was linked to certain well-known families in each area.
However, the displacement and migration cases that forced 12 Million Syrians to change their residencies, whether it be internal or external displacement, put them in contact with more open societies, and ruled them with special circumstances that changed the society's restrictions and conditions; what used to be reprehensible before, became familiar, even desirable, today. The Turkish–Syrian bilateral marriage is perhaps one of those changing matters by virtue of the number of Syrian refugees in Turkey and the cultural and geographical proximity between the two.
Destiny is wondrous!
Hasna' (45 years old) starts by saying; "the end of my life was when I left Aleppo; Allah has not granted me children, and my husband died and I had no one left. But I did not think that Allah has a new life for me here in Turkey," sitting in her elegant house next to her Turkish husband Mostafa, in one of the suburbs of Iskenderun city in southern Turkey.
After Hasna's husband was killed in an explosive barrel; her first decision was to leave a country that had no more meaning for her. She left the rubble of her house and headed accompanied by her brother to Turkey, specifically to Iskenderun.
Hasna' says; "we faced a very tough life in here", as she has no skills that she could use to support herself, not to mention that her brother is incapable of providing all needs of life, adding; "I had an accident where I got my leg broken, I needed medications and physical treatment and my brother was incapable of paying for all of those costs, and life became too dark for me."
At this point, Hasna's Turkish neighbor "Ipek", offered her the engagement to Mostaf, Ipek's father, after his wife's death; Hasna' says; "it was not easy for me at all, as the idea of getting married again was not on my mind, not to mention my complete ignorance of the Turkish language, but I thought that I wanted my life to be settled and my living conditions to get better", she resumes laughing; "destiny is wondrous."
Arabic – Turkish dictionary and body language
After thinking and consultation, Hasna' eventually agreed to get married. She was legally married to Mostafa amid welcoming from his family and Hasna's brother, "Mustafa is a good and religiously committed man; we go together to Tarawih Salat (prayers in the month of Ramadan) in Ramadan. It is enough for me that he fears Allah."
At the beginning, Mustafa and Hasna' face some communication problems, but they resorted to using an Arabic – Turkish dictionary in order to overcome this problem; "we point to the words that we want to say to each other on the dictionary pages, in addition to hands' gestures and pictures. After more than a year, I can have a simple conversation and a phone conversation with him; things are getting better."
Mustafa tells us passionately about his great love for Hasna', adding; "she made me love all Syrian people. I try to offer help to every Syrian I know in the area; they are all my wife's family."
For his secret behind loving Hasna', he says; "she is a very patient and kind woman, who I felt I knew a long time ago. She also takes a very good care of cleanness and she makes very delicious cooking", with a laugh he points to the "mamoul" plate (Syrian sweet) on the table.
A transcontinental love story
Assem (32 years old), who is preparing a Master's Degree in film and film directing field, is no different than Mostafa; as love is above nationality, language and patriotism for him, which encouraged him to get involved with the Turkish "Sena" with no hesitation "love is the same everywhere; once a consensus between two existed, there would be good chances for a strong relationship, which is what happened with me."
Assem traveled to Turkey in 2010 for the purpose of studying, where he met Sena in the university's library in 2013. There was a preliminary step to a love story that succeeded into an engagement a year later, then formal marriage, just like Hasna' and Mostafa.
Assem's family were the first to support him to take this step, contrary to the usual stand of a young man's parents to marry from outside his environment. He explains the reasons by saying; "my family's desire was for me to merge in the society I have been living in for years now, in addition to the impossible chance for me to go back to Syria in the upcoming years…War has its own reasoning that changes societies accordingly."
Who is buying the bedroom?
The fact that Syrian and Turkish culture and traditions are approximate made things easier for Assem, in addition to the "smoothness" of Turkish people in dealing with the topic of marriage, as he describes. He adds; "I have realized through my own experience that marriage in here is much smoother, as families do not create obstacles relating to nationality, area, religion or race, the important thing for them is the person and his morals."
However, all that has been said does not negate the fact that there are differences in the marriage customs, Assem demonstrates that through the topic of furnishing the house; "in Turkey, marriage is a partnership, so you share in everything, so any gain or loss is mutual for both the husband and the wife, which is something that I was not used to with my Arab cultural background."
"It was hard for me to accept that my bride would be buying the bedroom", he adds commenting on the Turkish traditions of the bride's family who purchases half the house furniture. He asserts; "very hard…but eventually I accepted of course, as the whole thing follows the difference between our societies, and has no insult for me."
The continuous language obsession
Even though Assem has been in Turkey for six years and has been studying in university in Turkish language and has, in fact, mastered the language, yet the obsession about the language continue to exist, he says; "my language is perfect, but the topic still occupies my mind. It is a real obsession as the Turkish language is not my mother tongue."
What relieves Assem is the fact that Sena has learned the Arabic language, he continues; "my wife is a graduate of Arabic Literature; she teaches the Arabic language to Turkish people, therefore, the situation is easier for me."
The couple have agreed on the culture for their future kids; "Sena and I speak both languages and our kids will do the same. We will teach them both the Turkish and Arabic languages equally."
Assem sees a huge interest around him of marriage between Syrians and Turkish women. He attributes that; "to the great mingle with the Turkish society, and the fact that a Syrian girl does not want to marry a student who is just starting his way, whereas the Turkish girl does not mind that."
Turkish women oppose
Talking about marriage does not necessarily involve a rosy and blessed marriage with trilling cries of joy, especially in case there are people damaged by the marriage, just like the case with "Fatima" from Iskenderun, who found out that her husband has a common-law (legally unregistered) marriage with the Syrian tenant; "the problem did not end here. I asked my husband to leave her and threatened to complain against him, he divorced me in order to have an official marriage with her. So I lost my family because of her."
Fatima changed her opinion about Syrian women, she looks at them now as "rivals" to her and the reason behind how things turned out for her, something she shares with Shaimaa' Gorssan, president of Union affairs of children and women in the province of Keles. She pointed out in previous statements that the Turkish families' situation is under real threat, as Turkish women are suffering from the problem of their husbands marrying Syrian women, stressing that Keles province is ranked first in marriages to Syrian women, with a high divorce rates.
The Syrian – Turkish marriage in numbers
According to the Turkish Statistics Institution, more than three thousand Syrian women got married to Turkish men in the year 2015. These statistics did not include the non-registered marriages, where the Syrian wife is a second wife, since it is against the Turkish law to have a second wife.
Thus Syrian woman occupies the first rank of the highest marriage rates to foreigners by 19%, in addition to the Syrian man ranked third in foreigner marriages to Turkish women by 6.8%.
Ghazwan Qoronfol, a member of Liberal Syrian Lawyers' collective, says to Enab Baladi that most marriages of Turkish men to Syrian women are conducted in a common-law marriage (legally unregistered marriage) through a contract conducted by a Sheikh in case the Syrian wife being a second wife, the thing that deprives her of her full rights, as, according to the Turkish law, she is not considered a wife. In addition to the parentage of the kids to their father in case of having babies.
if you think the article contain wrong information or you have additional details Send Correction