Getting married, renting house turn complicated issue for displaced in Idlib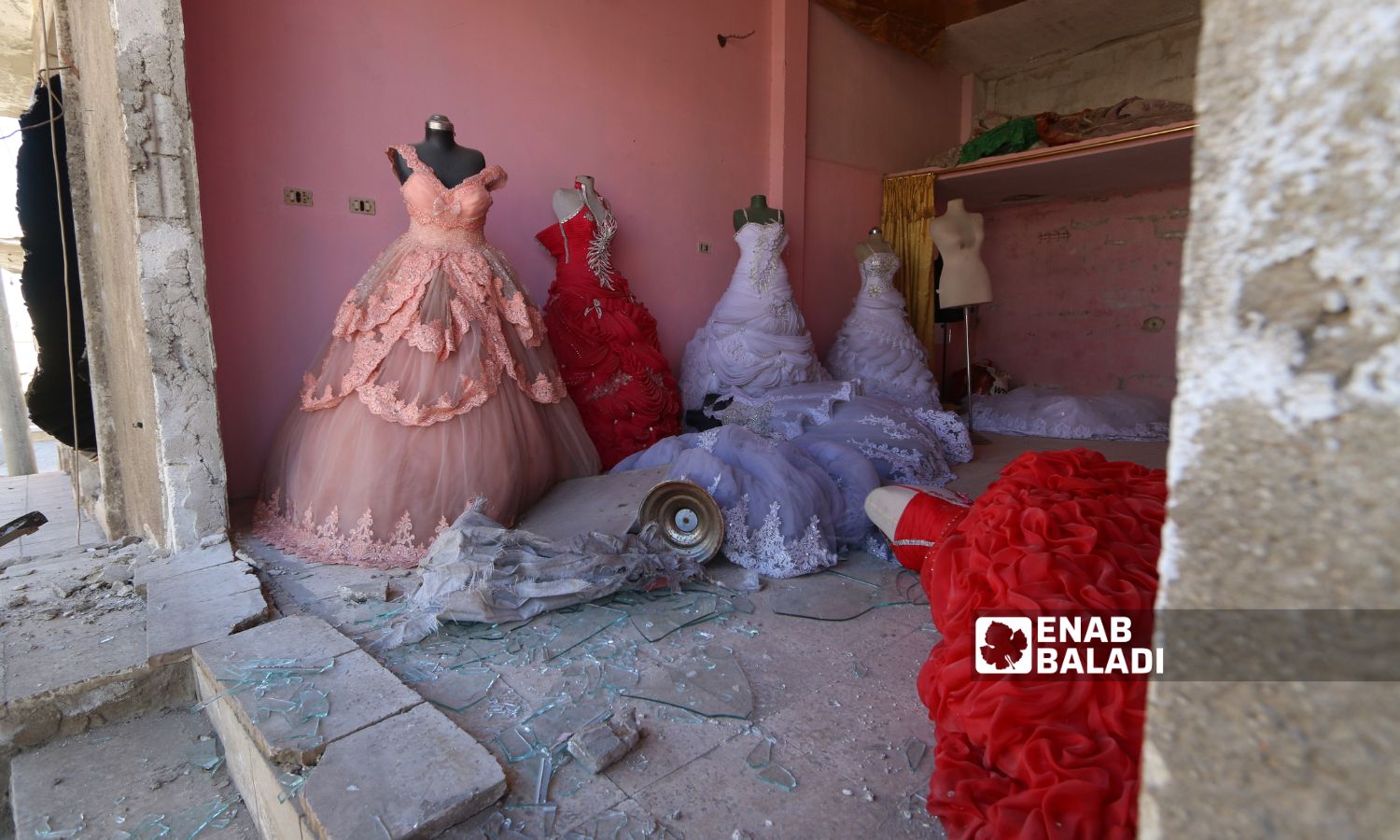 Enab Baladi – Anas al-Khouli
Dozens of young men from different regions of Syria, in harsh conditions, are still suffering from the burdens of war after the Syrian regime forcibly displaced them to northwestern Syria, leaving behind their homes and families.
Despite their efforts to continue their lives and overcome what they went through, they find themselves facing societal rejection that imposes additional obstacles on them.
While the Idlib region, which hosts more than three million residents and displaced persons, suffers from a deteriorating living situation, displaced young men face other problems related to difficulties in marriage, securing housing, and their inability to pursue their education, which increases their feelings of loneliness and loss.
Spiral of house hunting
Finding suitable housing is one of the main concerns of the displaced youth in Idlib due to the refusal of many house owners to rent them out to single young men.
Mohammad al-Qafi, 32, tried during the past months to find a house in the city of Idlib, but the homeowners' refusal to offer rent to single young men put him and his friends into an endless cycle, according to what the young man told Enab Baladi.
Al-Qafi arrived in Idlib after being forcibly displaced from the Ghouta Suburbs, the eastern enclave of Damascus, five years ago, and was able to find a room for rent, but the expiry of the house contract and the owner's refusal to renew the contract forced him to look for a new shelter.
Al-Qafi said that the reasons for the refusal of homeowners to rent them differ from one person to another, as some of them invoke fears related to the behavior of young men and their "deviance" due to the absence of family supervision over them.
While others justify their refusal because the young men do not take good care of the house, and others refuse for fear of the problems left by the young men's housing in buildings that include families.
Issa al-Hamid, 38, faces a similar problem that forces him and his friends to search for university students to share housing with them and share together financial obligations and household expenses, according to what the young man told Enab Baladi.
Al-Hamid added that most homeowners prefer to rent out their properties to university students without others, as they are busy with their education and more committed than the rest of the young men.
Abdullah al-Jaber, owner of a real estate office in the city of Idlib, told Enab Baladi that homeowners, especially in multi-story buildings, avoid renting their homes to single young men for fear of the reactions of their neighbors.
According to al-Jaber, the owners of old Arabic-style homes do not prohibit young men from renting, but the number of these homes offered for rent is very limited, which makes it an option with limited impact.
Marriage is "almost impossible"
The young men are trying to regain what they lost by forming a family in the land of displacement after years of being away from the family and losing most of the family rituals.
Tariq al-Homsi, 32, of Quneitra, has been wanting to get married in Idlib for more than two years, but the absence of his family has made the matter "almost impossible," as it is customary for a young man's mother or sister to look for a bride that suits his circumstances.
Al-Homsi told Enab Baladi that most of the displaced young men without their families were left with two options, either relying on their families in regime-held areas to search for a suitable wife or relying on friends and acquaintances in Idlib.
Young men who choose to marry from areas controlled by the regime face many problems, most notably the security risks associated with bringing the wife to the opposition-held areas, according to al-Homsi.
Young men also fear the lack of harmony and understanding with their wives in the future, in addition to their fear that their wives will not adapt to life in a new city far from their families.
The 33-year-old Anas al-Mohammad, an IDP based in Idlib, said the difficulties do not stop at searching for a suitable wife, as the young men's requests are often rejected by the girls' families.
The families attribute this to their inability to obtain information that would reassure them about the young man's family and morals.
Abdul-Hamid al-Aql, 52, refuses to marry off his daughters to displaced young men without their families for fear of the consequences of the absence of family supervision over them for years, he told Enab Baladi.
He added that parents cannot be sure of the good morals of young men, which makes marrying off their daughters to displaced young men like sending them to the "unknown."
The forced displacement and repeated exodus of thousands of Syrians have turned society in Idlib into a mixture of people and cultures from different regions of Syria.
Idlib suffers from overcrowding, which imposes additional difficulties on its residents, while there are no clear statistics on its population due to its overlap with the northern Aleppo countryside.
After the "voluntary return" campaigns conducted by Turkey, the problem of overcrowding in Idlib worsened, forcing many families who sought refuge from various regions of Syria to return to Idlib.
According to 2022 estimates by the UN Office for the Coordination of Humanitarian Affairs (OCHA), the total population of the "liberated" areas in northwestern Syria is about 4.6 million people, including 2.9 million internally displaced persons, most of whom depend on humanitarian aid.
if you think the article contain wrong information or you have additional details Send Correction