Killing Justice in the North of Syria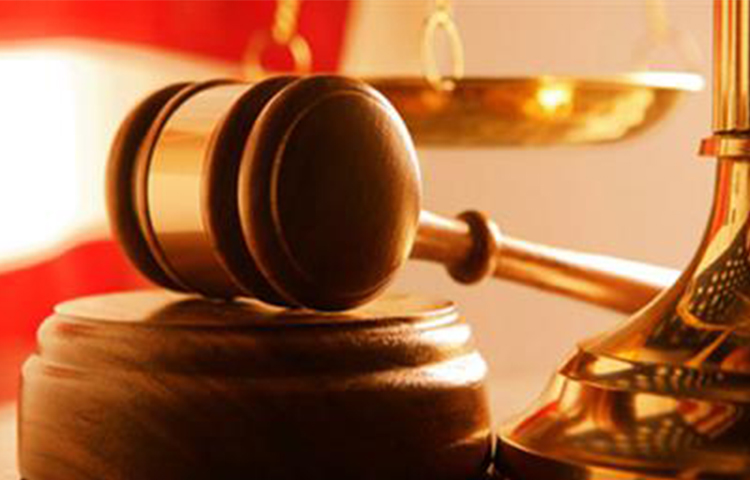 Firas al-Ali:
Justice is absent from Syria along with most of the judges, lawyers, and legalists after their role was minimized by religious Sheikhs who preferred implementing Islamic Shari in the current time. They considered that there is no convenient alternative to the Syrian state law which they consider to be Assad's law.
In the beginning, several civil courts were formed in cities outside of regime control and specialists in law managed these courts. They were supported by free police which cooperated with them in matters like legal notification for the allegation parties and detain those convicted and other matters.
Things were going well and cities were run in a civil way in cities under revolutionaries' control. But it did not last long as we started hearing of the Islamic police and Sharia courts which did not coordinate with civil courts which led to chaos in the judicial field.
During that time, the alleger would present his allegation in civil courts. If he did not like the verdict, he would go to the Sharia courts. Then, he would compare the two verdicts to choose the better one. This continued until the Unified Legal Council was formed in Aleppo. This council depended in its legal references on the Unified Arab Law established in 1981 after a meeting between ministers of justice from Arab states in Sanaa in Yemen. They decided at the time on the 'Sanaa plan to unify Arab legislations.'
The Unified Legal Counsel started to function and it included judges who defected from the regime. They had enough experience in managing court sessions and following up with allegation procedures from preparation phase until execution. The experience was successful especially after they introduced new decisions like reformation programs for the convicted instead of taking revenge. The detainees would perform jobs to secure living expenses inside the prison. Those with no profession would be trained to have one.
Again, it did not last long. An armed faction stormed the centre of the council in al-Ansari district in Aleppo in the middle of 2013. The armed faction declared changing the name of the council to Sharia judiciary in Aleppo Governorate. Members of the Unified Judiciary Council condemned the name change accusing the armed factions of stealing the weapons inside the centre and smuggling several prisoners out besides assaulting one of the judges.
The defected judges working in the council left their jobs and Sheiks were appointed in their place. The appointed Sheikhs did not know the details of civil cases. Chaos took over the council which was named 'Sharia judiciary' and legal unscrutinised verdicts became widespread.
On the other hand, Islamic courts expanded in areas under ISIS control. They are managed by amateurs who dreamed of being judges and they used the opportunity.
Many of the verdicts issued by ISIS judges do not have any roots. It happened several times and there is more than one example. For instance, Judge Abu Ali al-Shari was removed by ISIS and ISIS imposed on him forced residence after there were 125 verdicts in his right were issued in unjust way by a judge.
Abu Ali who does not hold any academic degree graduated from Sednayah Prison and pledged loyalty to ISIS after he defected from al-Nusra Front. Until in the middle of 2013, he become the judge of judges in the Islamic court in Raqqa. This man is considered to be a record breaker in issuing capital punishments in ISIS.
In contrast, more than 75 judges were neglected until now. Regions under revolutionaries control needed them badly, but instead Sheikhs were appointed. Sheikhs who studied Islamic Sharia for two years or Sheikhs who memorized some Quranic verses and conversations of the Prophet become judges and started to perform in matters they are ignorant in.
Finally, in law, there are routine procedures which are only known by specialists and legalists with enough experience in the details of the law. There are legal conditions that have to be abided by in the case or it will be rejected fully in form and content.
There are many questions these days. Who would lead the free judiciary in revolutionaries' controlled areas after most judges and lawyers immigrated? Who would take decisions in civilian matters and the problems after ISIS withdraws one day from the regions it controls?
continue all topic:
Prominent Judicial Bodies Formed in Liberated Syria
The Phase of Regression: 'Sheikhs' Replacing Judges
Peoples' Courts in Autonomous Administrated Regions
Free Independent Syrian Judiciary Council
Three Authority References Warn of the Division of Syria
Syrian State Law: will its continued implementation help maintain the unity of Syrian territory?
Islamic Sharia: Military Brigades Reject Legal References and Insist on the Implementation of Sharia
The Unified Arab Law: Demands for its implementation as a Middle Ground between Syrian State Law and Islamic Sharia
Judicial Schemes and the Shape of Laws in Areas outside the control of the Syrian Regime
Judiciary in Aleppo is unable to counter the Hegemony of the Military
Rehabilitative Program for Prisoners in Aleppo
Deraa: The Judiciary Scheme, Shape of laws in it since its Liberation
Eastern Ghouta: Foundation of Independent Judiciary following Liberation
Judiciary is absent from Western Ghouta and Sharia Implementation in Qalamoon
Jaysh al-Fateh Promises to implement a Unified Judicial Reference in Idlib
Al-Nusra Front Controls Judiciary in Lattakia Countryside
Hama Countryside: Absence of Judiciary and Subordination of Khan Sheyhun court
Al-Waer court and resolving dispute by consensus in Homs
Judiciary in Deir ez-Zor terminated by ISIS
Attempts at founding Judiciary in Raqqa were terminated by ISIS
Judiciary System under Baath Rule
 How do Syrians value courts' performance and Judiciary in their liberated areas?
Killing Justice in the North of Syria
Higher Judiciary Institute in Aleppo: First Graduates in Liberated Areas
if you think the article contain wrong information or you have additional details Send Correction