Families Fleeing Al-Bab City get Stranded near Turkish Borders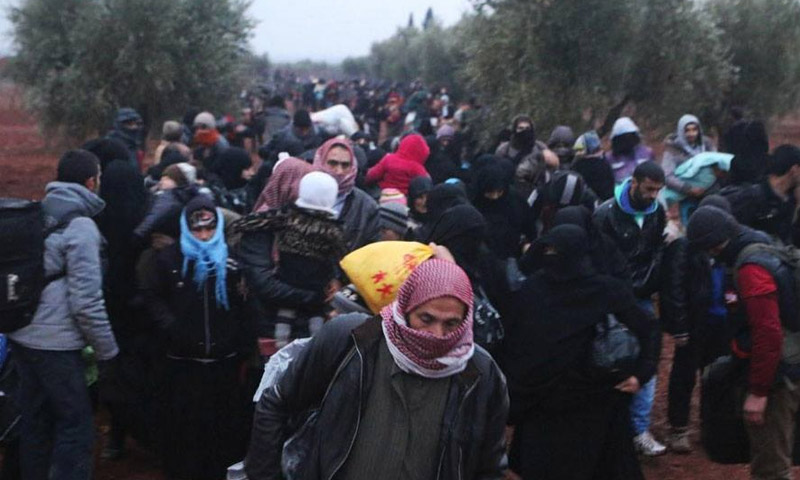 Tens of Syrian families from al-Bab City in Aleppo countryside are stranded on Turkish borders.
The families fled Islamic State (ISIS) and Russian and Assad forces airstrikes targeting the city, al-Bab Coordination Committee reported.
Local Coordination Committee clarified in a report on its Facebook page, on Sunday 24 of January, that Turkish authorities refused until now to grant them entry to Turkey. Turkey did not permit their entry through official cross points or through smuggling.
Al-Bab Coordination Committee condemned Turkish authorities for not granting fleeing families entrance to Turkey.
The committee holds international and local organization responsible for the stranded families on the borders under the bad weather conditions.
Enab Baladi's correspondent in Aleppo explained that the number of stranded civilians is estimated to be 1200 including children, women and seniors.
Al-Bab families fled as the Assad and his ally forces were approaching the city and captured few villages close to it. They captured the villages of al-Najara, Aysha, al-Sareeb, al-Multafiteh, al-Ajuzeh. These villages are the defence line of al-Bab City.
Al-Bab city is one of the biggest cities in Aleppo eastern countryside. It is under the control of Islamic State since 2014. Assad forces are trying to recapture the city after its success in recapturing Kuweiresa Airport to its south.
if you think the article contain wrong information or you have additional details Send Correction