Assad's Son Places Seventh in 'Science Olympiad'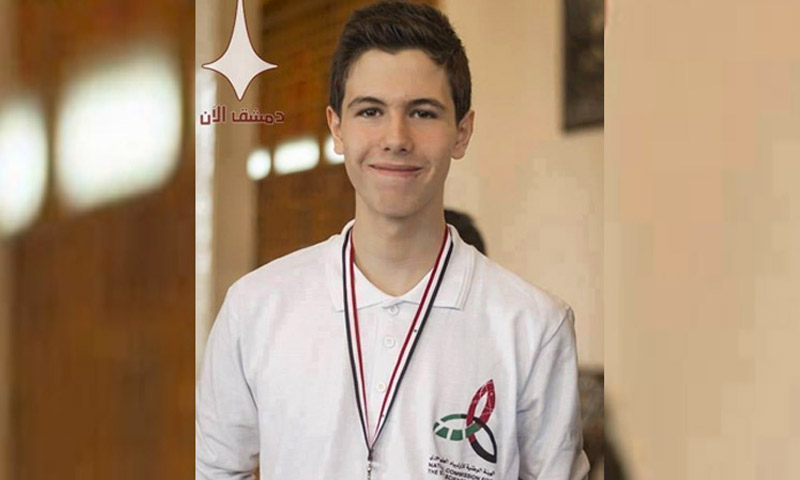 Enab Baladi
Son of Syrian president praised and ridiculed by online media after reports emerge of his achievement in a national mathematics competition
Hafez Bashar al-Assad took seventh place in the Syrian Science Olympiad, according to the pro-regime Damascus Now website.
The site said, "with the conclusion of the final stage of the Syrian Science Olympiad, the student Hafez Bashar Assad obtained seventh place in mathematics."
The news published by the Damascus Now on Monday, January 18, drew both mockery and serious comment, such as that of Radio Syria broadcaster Alaa Suleiman, who demanded that the names of those who won first place be mentioned, writing, "no country for sycophants."
A series of comments congratulated the Assad family and described it as "beyond precious", interspersed with sarcastic commentary, like, "this means we can say the Olympiad is fair and democratic."
A little while ago, the official news agency SANA reported a news item honoring the top three winners in the contest, with no reference to the president's son, while noting the honors were given under the auspices of Syrian first lady Asma al-Assad.
On Tuesday, President Bashar al-Assad granted enrollment in Syrian universities to Syrian Science Olympiad students holding secondary degrees who have won international prizes, without needing to adhere to the acceptance provisions in the executive regulations of the law governing universities.
The Olympiad comprises a group of Syrian students who have excelled in secondary school in science, mathematics, physics, and other areas.
This article was translated and edited by The Syrian Observer. Responsibility for the information and views set out in this article lies entirely with the author.
if you think the article contain wrong information or you have additional details Send Correction