The Makhlouf dynasty: privilege, power, and wealth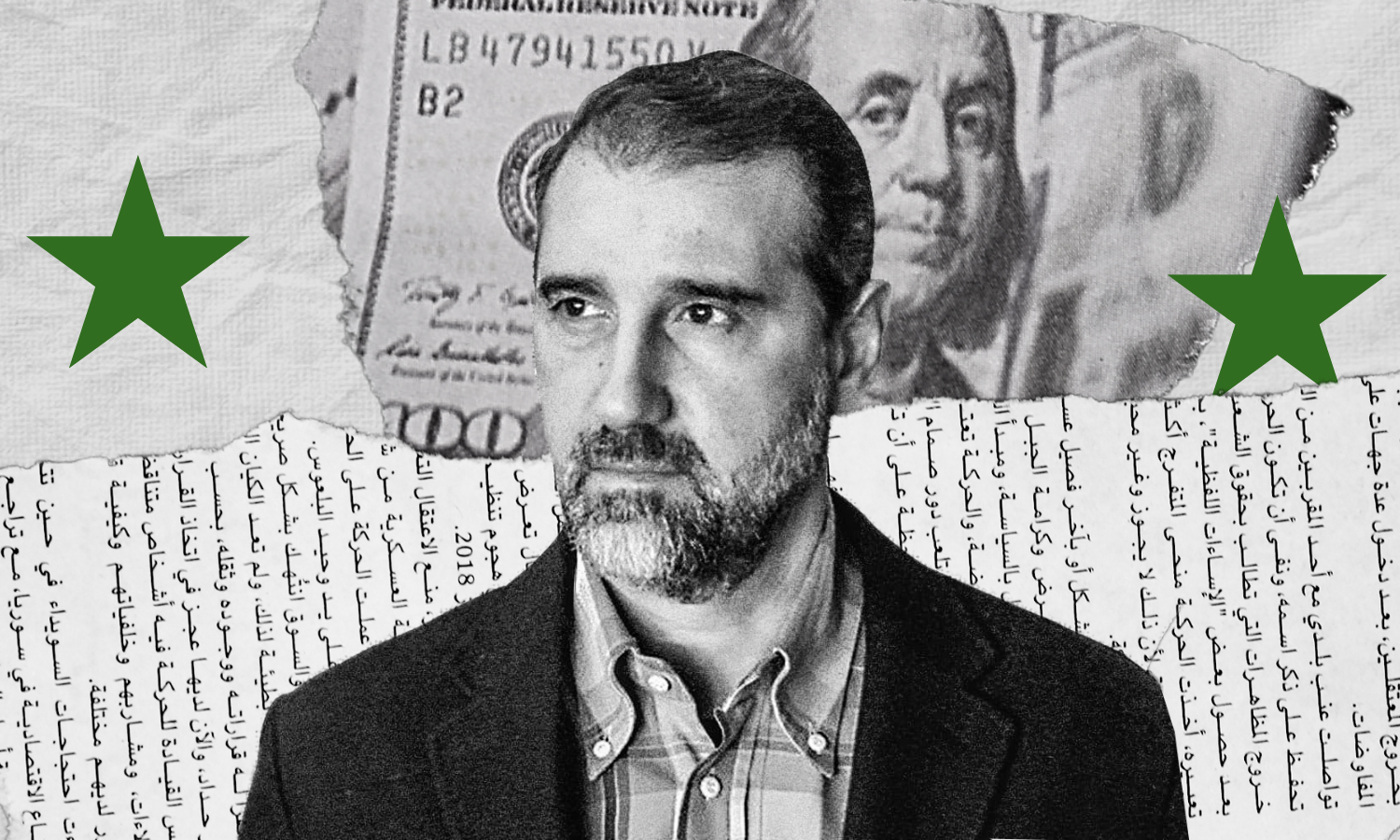 Enab Baladi – Khaled Jeratly
The Syrian regime has been placing responsibility on western countries, blaming them and their sanctions for the economic collapse and dire living conditions in Syria, as 90 percent of Syrians lie below the poverty line according to United Nations' estimations, while ignoring the grave impact of its powerful and close economic tycoons on the Syrian economy. 
The al-Assad regime's disregard to the bulwark of corruption in Syria for nearly 50 years has allowed powerful Syrian tycoons to promote new propaganda exploiting Syrians' fragile economic situation through launching donation campaigns for the benefit of those most affected by war in an attempt to polish their image within the Syrian society.
The latest of these campaigns was launched by Mohammad Makhlouf, the son of Bashar al-Assad's maternal cousin and famous Syrian businessman Rami Makhlouf. Mohammad announced the campaign on his Instagram and Twitter accounts last April under the title "Do Not Leave Your Syrian Brother Hungry." However, the campaign was mocked by Syrians, who know as fact that the Makhloufs are among Syria's wealthiest families, who for years maintained a monopoly over Syrian business and industry.
In the fall of 2020, Rami Makhlouf declared his intention to donate seven billion Syrian pounds (SYP = about 3 million USD) out of Ramak for Development and Humanitarian Projects LLC revenues seized by the regime's government to compensate those affected by the fires in the mountainous areas of the Syrian coast. This move reopened the debate on the impact of the Makhlouf family's incursion into the Syrian economy.
Mohammad Makhlouf:
"The patriarch of the Makhlouf family"
After Hafez al-Assad took over Syria in 1970, his wife's brother, Mohammad Makhlouf, rose to power and became the money manager of the al-Assad family over the following years.
The kinship to Hafez al-Assad allowed Mohammad Makhlouf, the founding father of the Makhlouf financial empire, to take the position of the General Organization of Tobacco (GOT) director.  From there, Makhlouf started a legacy of corruption, according to Firas Tlass, former Syrian Defence Minister Mustafa Tlass's son, who named Mohammad Makhlouf "the patriarch of the Makhlouf family."
Tlass said in an interview with Russia Today (RT) television network that Mohammad Makhlouf had hired experts from Lebanon and the UK to help him establish a financial empire built mostly on oil sales. He requested a 7 percent share of any oil purchasing deal from Syria, profiteering from the al-Assad family's influence and power. In return, Makhlouf received a daily amount of six to seven million US dollars from oil sales alone. He also imposed himself as a partner on all oil companies operating in Syria, according to Tlass.
Unlike the rest of the family, Mohammad Makhlouf's name rarely appears in any public business activities. This was the case until leaked documents from HSBC Bank accounts in Switzerland revealed in 2015 that Mohammad Makhlouf had presented his bank statements to the bank as a local agent for American Tobacco Company Philip Morris, the owner of the Marlboro tobacco brand, and for the Japanese company Mitsubishi, and US-based company Coca Cola in Syria.
In August 2011, the European Union (EU) imposed sanctions on Mohammad Makhlouf for being in Bashar al-Assad's inner circle and banned him from entering the EU countries.
In 2015, Mohammad Makhlouf appealed to the European General Court (EGC), challenging the EU's sanctions under the claim that they are a violation of his right to privacy and preventing him from maintaining the living standards his family had been accustomed to; but, the EGC rejected his appeal.
The Makhloufs' monopoly over Syrian economy
Mohammad Makhlouf's two sons Rami and Hafez Makhlouf are at the top of prominent names who rose to fame since Bashar al-Assad took office in 2000. The familial connection to al-Assad has helped both Makhlouf's sons to have a huge economic influence in Damascus, and it was widely known that any foreign company wishing to work in Syria must have the "blessing" of Rami Makhlouf, who seemed to control all aspects of the Syrian economy. 
Al-Assad's relatives in general, and Mohammad Makhlouf's offsprings in particular, controlled leading companies in various Syrian business sectors, and their authority was superior to that of the ministries running these sectors.
Despite political divisions in Syria, most Syrians agree that the deteriorating living conditions in their country over the last three decades are mainly attributed to the privileged Makhlouf household who passed down financial power from Mohammad Makhlouf, the father, to Mohammad Makhlouf, the grandson.
This popular consensus on the Makhlouf family was reflected after Rami Makhlouf posted on his Facebook account several videos to impact public sympathy following the seizure of his assets by the Syrian government; however, his videos were widely mocked by the Syrian population.
Rami Makhlouf:
Inheritor of telecommunications business
As his father aged, Rami Makhlouf smoothly took over the responsibility as a manager to al-Assad's and Makhlouf's fortune. His father, Mohammad, was a government employee at the Syrian Airlines Company, living a simple life like other low-income employees in Syria.
Hafez al-Assad's seizure of power in the 1970 placed the humble employee on the road to glory and helped him create a parallel economy within Syria.
Rami Makhlouf's influence stretched out to include many Syrian economic sectors. He was known to be the owner of Syriatel, a mobile network provider company founded in 2000, which Rami chaired with 40 percent shares.
In 2010, Syriatel reaped an estimated profit of 53.7 billion Syrian pounds (SYP = 1,3 billion USD), according to the company's announcement and the Iqtisadi local website focused on financial news.
Back then, Syriatel announced that its profit grew by 11.3 percent from the profits of 2009, reaping an overall 1.3 billion USD (around 8 percent of Syria's announced budget for 2009).  
Former Syrian Minister of Finance Dr. Mohammad al-Hussein stated at the end of 2010 that Syria's gross domestic product (GDP) for 2009 amounted to 2,513 billion SYP (nearly 53 billion USD).
The Syrian General Organization of Radio and TV website cited al-Hussein at that time, saying that the actual deficit for the 2009 State budget of 685 billion SYP (about 17 billion USD at the 2009 Syrian pound's exchange rate against the US dollar) amounted to nearly 5.42 billion SYP, at a proportion of about 7.1 percent to Syria's GDP.
Rami Makhlouf's financial gains equalizing 8 percent of the State budget were obtained from Syriatel's profits only, aside from other revenues generated from the rest of the economic sectors he broke into, such as real estate, oil, among others.
Thieves of Syrian oil
In 1965, the Syrian government issued a decree nationalizing oil companies and making oil and fuel in Syria a state property. Still, the oil industry remained a mystery to Syrians, as revenues generated from the oil sector were not calculated into the general state budget since the al-Assad family came to power in the 1970s and was made a national security secret. 
Before 2011, the regime's government did not issue any official figures for the oil sector revenues, and those announced were exclusively disclosed to United Nations agencies and international organizations.
In September 2020, Rami Makhlouf mourned the death of his father on Facebook. He defended his father's reputation claiming that "he was born, lived and died in the lap of luxury," negating accusations against his father as a "thieve of Syrian oil."
Hafez Makhlouf:
Rami's security arm in Damascus
While Rami Makhlouf was reputed as Bashar al-Assad regime's financial magnate, his brother Hafez played the role of the regime's security arm in the Syrian capital of Damascus.
Born in 1971, Hafez Makhlouf worked in the Syrian intelligence services and took several positions until he became the head of Division 40 of Branch 251, known as the Internal Branch (251) or al-Khatib Branch of the General Intelligence Directorate (GID).
In the branch, Hafez Makhlouf exercised powers beyond his position where he dominated the security services of Damascus and Rif Dimashq governorates, according to the Pro Justice website that tracks down the Syrian regime's most prominent figures involved in war crimes.
Hafez Makhlouf was among the leading voices calling for security and military measures against peaceful demonstrations that erupted in Syria in 2011. Former Brigadier General Manaf Tlass, who defected from the regime's army in 2012, said that Hafez Makhlouf thwarted early settlement attempts in Daraa governorate and led the incursion operation into the al-Omari Mosque.    
In a report prepared by the Violation Documentation Center in Syria (VDC), Hafez Makhlouf was named as directly responsible for the killing of demonstrators in Douma city in April 2011. He was also reported to order elements from Division 40 to practice "the worst forms of torture and violations against detainees." 
In 2017, the United States imposed sanctions on Ihab Makhlouf for helping his brother Rami evade international sanctions and for moving his assets abroad.
According to the Panama Papers leaked in 2016, Rami Makhlouf's brother, Ihab, was a secret manager to Hoxim Lane Management Corporation, founded in June 1998 and closed in March 2012.
Firas al-Assad:
A family rift over wealth
Enab Baladi contacted Firas al-Assad, the son of Rifat al-Assad (brother of Hafez al-Assad), who said that economic problems caused by the Makhlouf family to the Syrian economy cannot be counted, but what can be known for sure is that the economic situation of Syrian citizens would have been ten times better if it were not for the Makhlouf family corruption. 
He added that causes of economic losses in Syria are not limited to misuse of public money or embezzlement but also favoritism and corruption. 
Firas al-Assad, a claimed opponent to the al-Assad ruling family in Syria and his father, said that the political power's decision to not hold accountable any corrupt figures has led to the deterioration of the Syrian economy. He added, had there been a real intention of reform or work, we would have had a different Syria today. 
Firas al-Assad posted on Facebook in late 2020, commenting on the public rift between Rami Makhlouf and Asma al-Assad "The dispute is bigger than taxes or Syriatel, or anything inside Syria that the Syrian government can simply lay a hand on. Billions of dollars are at stake; stolen, smuggled, and hidden from the eyes of Bashar al-Asaad over the past ten years."
When asked about Rami Makhlouf's implied accusations against Asma al-Assad in his videos, Firas al-Assad said that Rami's public statements are a "moral downfall" that fit very well with Mohammad Makhlouf's son, who knows that his problem is with Bashar al-Assad and not with his wife. 
According to Firas al-Assad, had Rami Makhlouf's 4 billion SYP revenues from the two mobile companies been invested, there would have been enough food for Syrian people for five years to go, and it would have provided substantial returns for the Syrian economy.
Economic analyst and researcher Khaled Turkawi told Enab Baladi that the Makhlouf dynasty had positively impacted the regime and negatively affected Syria. Before 2011, Makhlouf attempted to expel foreign investors and businessmen from Syria.
According to Turkawi, Hafez al-Assad used socialism to monopolize the Syrian economy, and after Bashar al-Assad inherited the presidency he abandoned his father's methods of monopolization and focused instead on using Rami Makhlouf and some businessmen to build a financial empire. 
Syrians live in extreme poverty
In June 2020, Reuters cited the United Nations World Food Program (WFP) spokeswoman Elizabeth Byers who noted that nine million and 300 thousand people in Syria lack sufficient food.
Byers said that the number of Syrians lacking basic foodstuffs increased by 1 million and 400,000 during the first half of 2020.
Food prices went up by more than 200 percent in less than one year, and the WFP spokesperson has attributed this to the economic meltdown in Lebanon and preventive measures taken against the COVID-19 pandemic to curb its spread.
Prices continue to hike in Syria in conjunction with the Syrian pound's drop in value, with the exchange rate of 1 USD about 3000 Syrian pounds, according to the Syrian Pound Today (a Syrian Pound tracking website).
According to Reuters, the World Health Organization (WHO) representative to Syria, Akjamal Majtimova, said in a press briefing that 90 percent of the Syrian population lives below the poverty line by less than 2 USD daily.
if you think the article contain wrong information or you have additional details Send Correction