Syrian Labor in Lebanon: Unemployment and Exploitation Traders and Government Restrict Independent Projects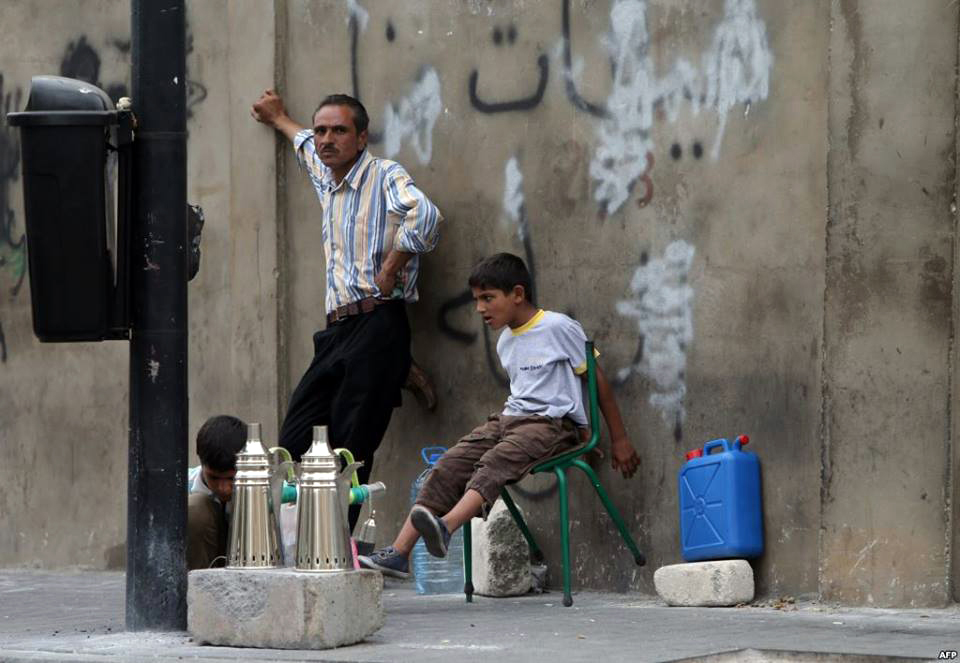 Enab Baladi Issue # 124 – Sun, July. 6, 2014 
Muhammad Ziadeh- Beirut
Lebanese traders and government diminishing Syrians' independent projectsafter fleeing to Lebanon due to the violence in Syria, Syrian workers are facing many difficulties resulted in the diminishing policy of the Lebanese government towards Syrians, which has increased the level of unemployment amongst Syrian workers in Lebanon. This has prompted some workers to think about traveling to other countries or to migrate to Europe to look for a job.
Enab Baladi highlighted some of these difficulties experienced by the Syrian worker in Albekaa region of Lebanon and the problems arose by that.
Scarcity of job opportunities
Alaa, a young man in his twenties, works as an aluminum carpenter, has fled to Lebanon with his mother and grandmother after his father was arrested in one of the Western Gouta cities 5 months ago. In his talk to Enab Baladi, Alaa said that he searched for a job of his profession in Beirut and Albekaa region for 4 consecutive months, but he didn't find any suitable vacancy. "I even lost hope to find any job opportunity, the exhausting search and transportation costs to move from one region to another". He added, "If I stayed at home, I would have saved the transportation fare for one month".
Alaa also pointed out that he worked in an aluminum workshop at the industrial city of Zahle, yet he quit that job due to the "work pressure, long working hours and little pay", since "his salary was not sufficient even for the transportation fare from and to work" according to him. Fora month, Alaa has been searching for any job opportunity "no matter what the profession was. I need to work to cover our living expenses" especially under the miserable financial situation he described, given that he is "the only breadwinner for his family", and that "his savings is about to run out".
However, his continuous search has not resulted in any outcome yet. Therefore, he has started to think of immigration "in any way", as some of his friends "who are now in Europe" did.
Exploiting the Syrian worker
Abu Omar, had mastered the sewing profession in Syria, and resorted to Lebanon illegally due to his failure in doing the military service with Alassad's forces. This has prevented him from moving freely amongst Lebanon cities, as he didn't obtain "checking in permission documents". Therefore, he had to accept to work in one of the sewing factories in Albekaa in an exploitive situation and harsh treatment.
Abu Omar stated that he initially accepted to work 9 hours a day without asking about salary because of "his need for money", a month later he got surprised by the salary he got which was "no more than $240, while the salary for a worker like me in Beirut exceeds $700 at least" and also "the normal worker's fare at the same factory doesn't exceed $150 per month". Whenever Abu Omar or any of the other workers object on low wages they get, the workers' supervisor replies "indifferently, and in a way that implies a threat of expulsion". In addition to that, the supervisor has always pointed out to the possibility of attracting other workers for the salary he chooses" since "the unemployed are a lot" according to Abu Omar.
Abu Omar and his fellows had continued this way for 7 months, till the partnership between the supervisor and the project's financiers broke up, which had a positive impact on the workers' conditions. Consequently, treatment has improved, and salaries' rates have increased which made Abu Omar "a bit more comfortable" although "the added value to the salary was still low" according to the working hours rates in other factories.
On the other hand, Abu Ahmad, a graduate student who had worked in 5 areas for different professions, said, "the Syrian employer controls Syrian employees more than the Lebanese employer does". He added, "They are building their wealth on the backs of poor workers, although they came to Lebanon from the same country under the same circumstances."
The Lebanese government request Syrians to get job licenses
Batool, a refugee who has recently fled to Lebanon, tells the story of her father "Hajj Abu Yasser" who has been running his own job in Lebanon for around 20 years at an upholstery shop. Yet, since a large refuge movement of Syrian workers started, and since they started working in different Lebanese territories, Lebanese stakeholders and workers complained to the concerned authorities about the fact that "Syrian workers are disrupting the Lebanese business and rivaling it". Consequently, the Lebanese government has made a decision to not allow Syrians to open their own commercial shops unless they hold a shop license and a worker visa". Accordingly, "Hajj Abu Yasser's shop was shut down and he was requested by the public security". Batool added, "When my father went to the public security, his ID card and entry documents were taken, and he was granted a paper that allows him to move freely on the Lebanese territories for only two months" until he pays the money due to the responsible authority. Moreover, the Lebanese government imposed a "work violation" fine estimated at $350 on Hajj Abu Yasser, with an extra cost of $100 per year for getting the work permit, in addition to the shop's license, which costs up to $600. This applies to all shops and workshops opened and run by Syrians in the region of Albeqaa. As a result, most Syrians closed their shops because they were not sure they could afford the governmental costs imposed upon them, especially after they spent all savings to start their projects. Other resorted to establish a partnership with a Lebanese group to overcome the government's pressure.
Changes in working equipment and styles
Rida, a worker in the "wood carving" profession, reported to Enab Baladi that most machines used in drilling wood in Lebanon are very different from those in Syria. Rida has also confronted a big difficulty in his first month of work "to cope with the quality of the new machines" as he had to repair one himself after he changed its settings. Add to that the "fear factor that stalks any Syrian worker" given that "work's equipment and style are different from those the Syrian workers are used to".
Rida added that working with the Lebanese customer represents an extra burden; popular terms and conditions used in the work market in Lebanon are different from those used in Syria, what sometimes causes "misunderstanding about the piece required for purchase". He also referred to a "confidence issue" occurring between the Syrian worker and the Lebanese customer, he said, "I can't trust any new customer, I always fear that he doesn't fully pay me the cost of a piece I made for him".
Husam used to be an owner of an electric-tools shop in Damascus, he moved to Lebanon trying to establish small business after his interests in Damascus went low. He considered the influx of traders and Syrian labor to Lebanon as a chance to "create job opportunities and new industrial projects particularly in the region of Albeqaa, which has been famous for its industrial and commercial sluggish a few years ago".
Abdullah Aldardari, head of the economic development and globalization department in the United Nations Economic and Social Commission for Western Asia (ESCWA), said earlier this year "the issue of Syrian labor in Lebanon has caused an increase of unemployment's rates, especially that most of the workforce belong to the youth class among which the unemployment rates are the highest comparing to other aging groups in Lebanon. However, in contrast, this factor has raised the growth rate, since it provides less expensive labor comparing to the national labor force.
Translated by: Rahaf Alabar
if you think the article contain wrong information or you have additional details Send Correction