Syrians' Baccalaureate in Turkey: Blurry Curricula and Ambiguous Career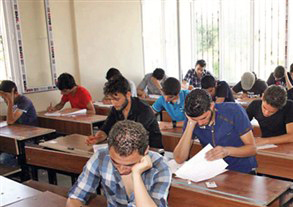 Turkey-According to the recent statistics released by the United Nations Children's Fund (UNICEF), an approximate number of 5.5 million Syrian children are in need of education. Some of them have been accommodated in public schools in neighboring countries or in schools founded by a number of international organizations and supported by some foreign and Arab donors, while 3 million Syrian children remain uneducated according to Laila Zarouqi; the representative of the general secretary of the United Nations that concerns children and armed conflicts.
Hadeel, one of the Syrian students who completed her high school study in the Turkish city of Antioch talked to Enab Baladi about some problems that she and her fellow students have experienced. She said, "We started the academic year studying the Syrian curriculum adapted in Qatar, yet, 3 months after we were informed about alternatively adopting the Libyan curriculum to grant the secondary school certificate". She continued, "We've heard a lot of news about university admissions, but unfortunately, most Turkish universities have not accepted any certificates except the ones issued by the regime. Add to that, the difficulty in getting an offer to study in the scientific fields such as medicine and engineering, as well as the high costs required to study at universities which never commensurate with our status as refugees". She ended her talk by hoping that "establishing Syrian universities in the neighboring countries of Syria or at least in safe areas can be considered in order for her and for thousands of students not to be deprived from completing their educational journey".
Mr. Salem Jamous, the educational adviser of "Albashaer" educational association in Antioch, responded to these questions, and explained to Enab Baladi that adopting the Libyan curriculum for secondary school examinations is due to several facts, most importantly is that "the Syrian certificate granted by the coalition is considered unverified and so can't be recognized as a document, in addition to the Arab league's refusal to give Syria's seat to the Syrian national opposition which forced us to find alternative solutions".  He added, "our brothers in Libya have responded positively to our request, and agreed to grant Syrians students the Libyan certificate under the supervision of the interim government".
When asked about students' opportunities to study at Turkish universities, Mr. Jamous confirmed, "the Turkish government has recently launched a number of opportunities and grants to accommodate Syrian students in Turkish universities and pay for their expenses. Yet, these grants have been restricted by age and incomprehensibility to all applicants, in addition to the fact that some students were not able to submit all the supporting documents, such as visas, passports and IDs".
The Turkish government had announced that "the certificate issued by the Libyan interim government will be recognized, and its holders will be dealt with as foreigner students".
The minister of Education in the interim government, Muhyeddin Bananah, had confirmed, "There is a mating process going on between the Ministry of Education and the union of liberal academics which was established last October to include a number of Syrian activists". The purpose is to "provide postgraduate scholarships at masters and PhD levels to a number of students, and to offer opportunities for further scientific research at various universities in the world". The minister also disclosed a project aimed "to establish a university to accommodate a large number of students who had to leave their universities for some reason". However, and these statements have not yet been into force according to the students waiting for the ministry grants.
It is worth noting that the Syrian student is required to take an acceptance test of another Turkish university (Hughes), and to learn the Turkish language for about a year if they succeed. Yet, some other universities have allowed students to study their desired field in English language.
Since forming the interim government and assigning Muhyeddin Bananah as a minister of Education, voices louden to expand schools and organize them in one institution, as well as sorting out the issue of universities' offers that concerns students; especially with the dearth of opportunities and grants, the non-recognition of the certificate given by the coalition by a lot of universities and the huge obstacles put in front of it.
Translated by: Rahaf Alabar
if you think the article contain wrong information or you have additional details Send Correction