Solar energy saves agriculture projects in eastern al-Hasakah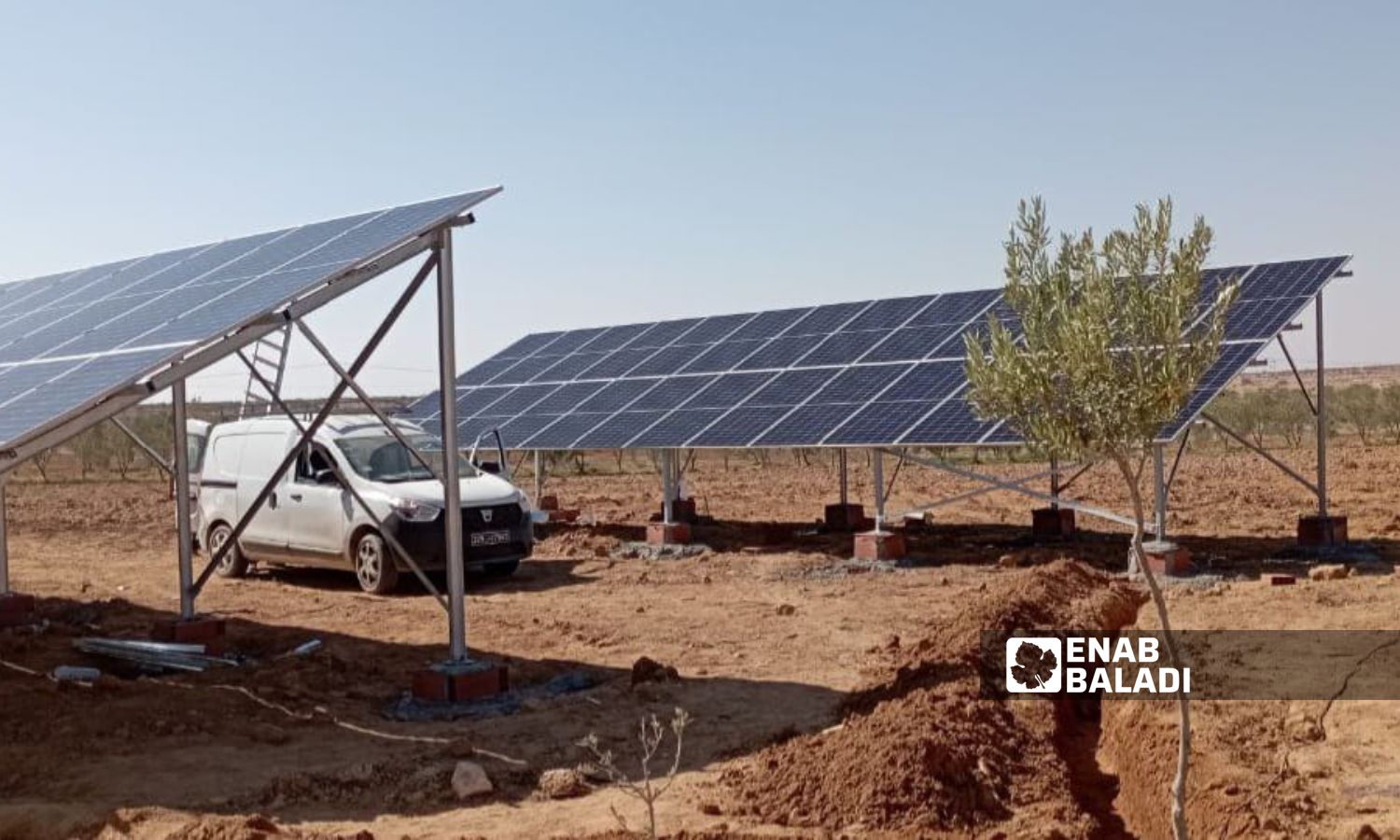 Al-Hasakah – Rita al-Ahmad
Farmers in al-Hasakah have resorted to installing solar energy systems as it has become the only solution to save their agricultural crops affected by the decision to raise fuel prices in the areas controlled by the Autonomous Administration of North and East Syria (AANES)
With preparations for the wheat planting season in the Amuda area currently underway in eastern rural al-Hasakah, farmer Osama al-Hamdoun was able to save his agricultural project by installing solar panels, just like other farmers in the region, he told Enab Baladi.
The solar panels on al-Hamdoun's agricultural land are not linked to the current crisis. He stated that he had been relying on them to provide energy for years when the wheat, cotton, and barley crops were at risk of drought due to shortages of energy resources. At that time, the cost of solar panels was low since they were not widely used in the area.
Al-Hamdoun also used the panels to operate the groundwater extraction pumps, which enabled him to irrigate adequately.
He further explained to Enab Baladi that although fuel and electricity are available, they have become unattainable today, especially with the increased prices by the Autonomous Administration.
Last September, AANES raised fuel prices by approximately 300%, with the price of a liter of unsubsidized diesel rising from 1,700 to 4,600 Syrian pounds.
Solar panels are a necessary choice
Farmers used to irrigate their lands using electric pumps or generators that run on subsidized fuel. However, the long years of war, frequent power outages, along with the scarcity of fuel, and the gradual lifting of subsidies pushed farmers to search for alternative options.
Through the energy provided by solar panels in the relatively desert-like region, farmers can now operate water extraction pumps to irrigate their agricultural crops.
Al-Hamdoun, who owns around 400 hectares of land, indicated that this measure helped him save the exorbitant costs of fuel that he used to pay previously, as well as avoid reliance on electricity, which is cut off from the area where he resides for up to four hours daily.
The reasons mentioned by al-Hamdoun prompted many of his farmer friends in different areas of al-Hasakah province to rely on solar energy as a necessary choice, not just as an "environmentally friendly" alternative, as he told Enab Baladi.
Expensive costs
At a cost exceeding $7000, Farouq Zaher, a farmer from the village of Saadoun in Amuda countryside, eastern al-Hasakah, has installed a solar energy system that includes solar panels, batteries, and mobile base systems to maximize sunlight utilization.
Zaher told Enab Baladi that using solar panels instead of electricity and fuel-powered generators proved to be an ideal solution for spray irrigation systems. It became possible to increase the irrigated land area without being limited by the availability of fuel resources or the electricity supply to the region.
He added that the mobile base system, on which solar energy relies, allows tracking the movement of the sun, contributing to better utilization of larger quantities of solar energy compared to fixed panels on the ground, which give lower performance.
Solar energy operates agricultural wells for a duration ranging from 8 to 10 hours daily. The operation usually starts at 7:00 a.m. and continues until 5:00 p.m. The operating hours vary according to the type and model of the solar panels used, whether they are mobile or fixed.
Water crisis added to the farmers' problems
Syria is among the countries most affected by climate change, which has further worsened the situation with rising temperatures and decreasing rainfall rates, leading to a decline in groundwater levels.
Al-Hamdoun told Enab Baladi that groundwater used to be extracted from a depth of 30 meters but has now receded to a depth of 80 meters, based on his personal experience.
He added that this problem has made irrigating crops even more challenging. With the rise in temperatures and the decrease in rainfall rates, as happened last year, coping with water scarcity and resource shortages has become more difficult.
Al-Hamdoun believes that the decrease in groundwater levels has made irrigating crops more difficult, and farmers now have to water their lands from sunrise to sunset, relying on solar panels.
if you think the article contain wrong information or you have additional details Send Correction