Qamishli: Limited-income people can't afford used clothing prices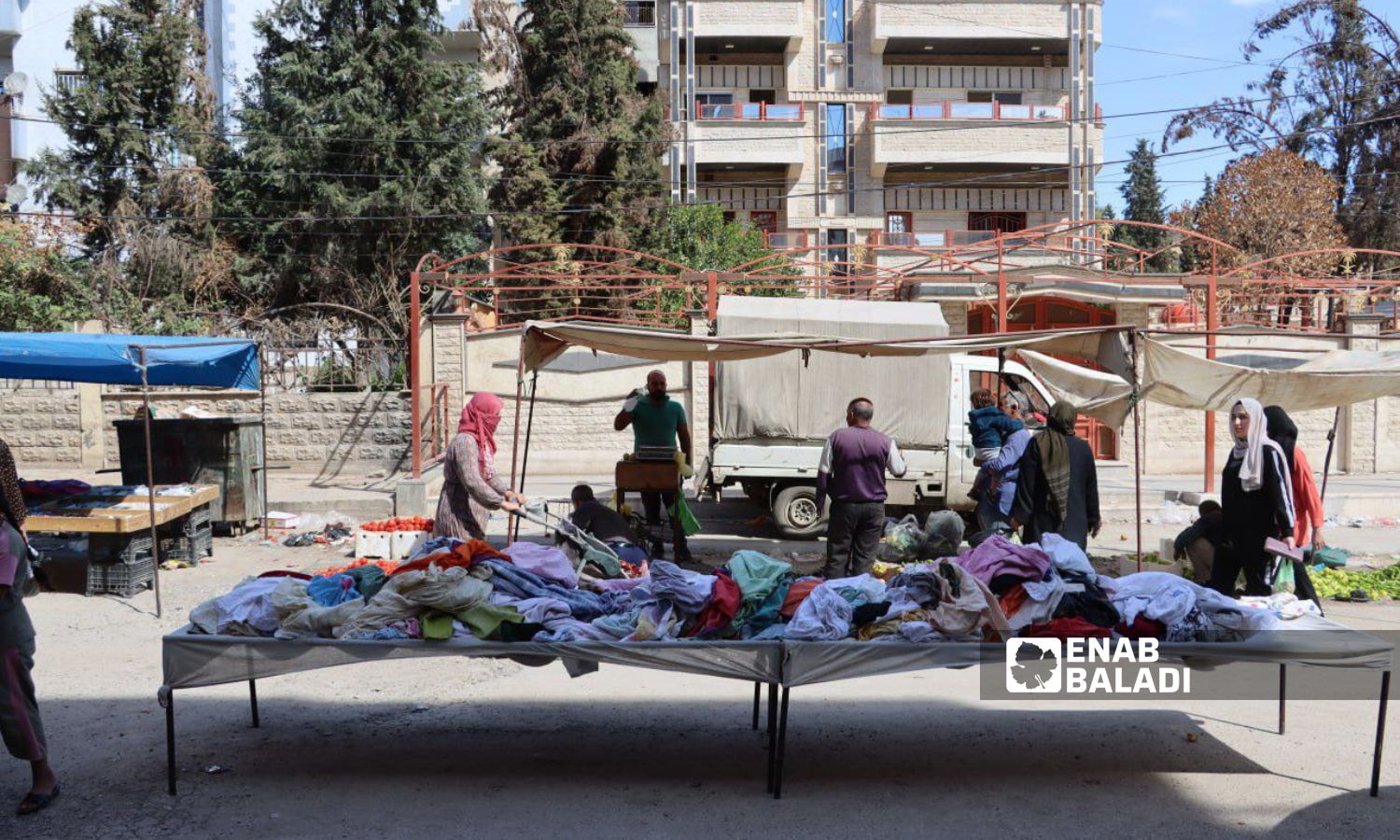 Qamishli – Rita Ahmed
The prices of winter clothes on used clothing stands in the city of Qamishli, northeastern Syria, are witnessing an unprecedented rise, making them beyond the reach of their primary customers with limited income.
Noha Osman, a mother of two children who works in an institution affiliated with the Autonomous Administration of North and East Syria (AANES), told Enab Baladi that the prices of winter clothes have increased by about two times compared to last year, but they remain a good option in terms of quality, and their prices are cheaper than new clothes.
The cost of buying a winter jacket for a three-year-old child is about 400,000 Syrian pounds if it is new, while one of similar quality can be found for 60,000 Syrian pounds on used clothing stands.
The US dollar is trading at 13,900 SYP according to the S-P Today website, which covers the trading rate of the Syrian pound to the dollar.
Noha uses used clothing stores, considering that her children are young and need to change a lot of clothes, and despite the high price, according to her, the difference between the prices of ready-made and used clothes allows her to secure other needs for the family.
Buying new clothes is a "luxury"
A large number of Qamishli people depend on stores that sell used European clothes due to their low prices.
Buying new clothes is a luxury that is not available to most residents due to their economic conditions and the high prices compared to their income, according to Heaven Jenkin, an employee in a regime-run school in Qamishli, with a salary that does not exceed 250,000 pounds.
Buying a full set of clothes for one child requires about two million Syrian pounds, Jenkin told Enab Baladi, considering that it is a number beyond the capacity of many low-income families, which forces them to buy used clothes.
Fahd Aziz, an IDP based in Qamishli city, told Enab Baladi that even used clothes have high prices this year and no longer serve people with limited income, as the price of a used toddler's jacket reached more than 50,000 pounds, and this number is not proportional to his income.
Aziz, who works as a stall seller in the city's popular markets, tries through his work throughout the week to pick up some winter items for his four children from vendors at prices that suit him.
Fuel and the source behind the rise
Amir Mohammad, the owner of a used clothing store, told Enab Baladi that European goods, in general, come to the city of Qamishli from European Union countries, are classified based on the degree of quality, and range between $30 and $500 dollars for each bundle.
The "bundle," locally known as Rassa, includes a specific type of clothing, for example, "a bundle of women's sweaters" or "a bundle of children's clothes."
During the summer season, Gulf countries' goods are available in groups that vary between first, second, third, and fourth class, and prices vary according to the degree of quality.
Regarding the high prices of used clothes, the shop owner said that the prices cannot be determined because the sources from which sellers buy used clothes are different.
There are those who buy used European clothes from the city of Erbil in northern Iraq or from Turkey via the Manbij crossing, explaining that prices are affected by their rise from the source and the rise in fuel, which affects shipping costs.
Regarding price control, or the extent of control over used clothing markets and stands in Qamishli city, Enab Baladi addressed questions to the Economics Commission in the Autonomous Administration and received answers stating that the AANES does not interfere in matters of buying and selling or even importing.
However, used clothing stores are subject to cleaning, electricity, and water taxes from the "municipal" commission, and some of these stores may need licenses to open depending on the store's location and needs.
if you think the article contain wrong information or you have additional details Send Correction