Idlib hospitals: Severe shortage of baby incubators amid lack of funds, staff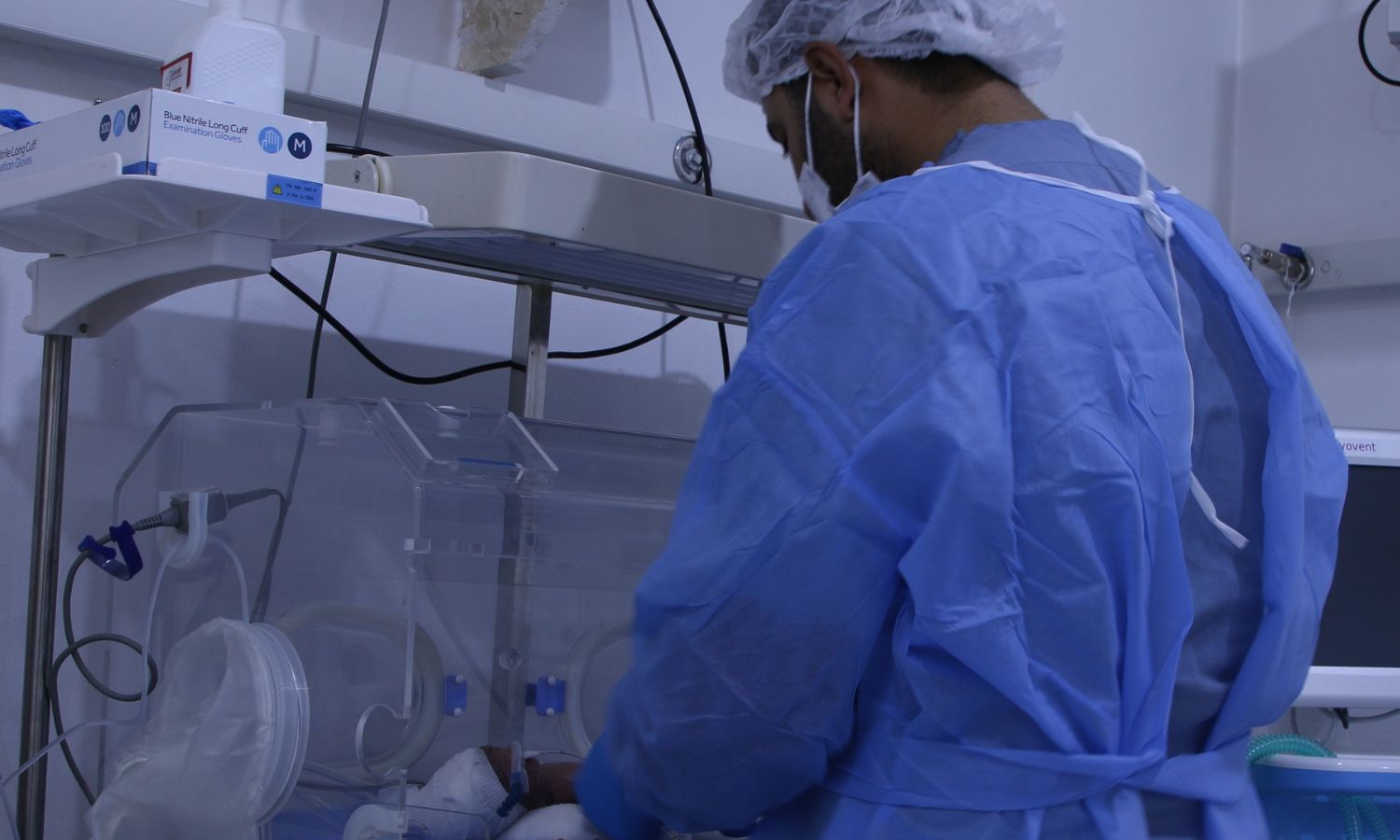 Idlib – Anas al-Khouli
The 34-year-old Anas al-Saleh launched a distress appeal among his relatives and friends in search of an incubator in public hospitals in the city of Idlib due to his newborn child's need to remain in the incubator for ten days and his inability to bear the costs of private hospitals in the northwestern Idlib region.
Al-Saleh, an IDP, said that the pediatrician told him immediately after his wife gave birth that the child's condition required him to remain in an incubator for ten days. He initially tried to search in Idlib's public hospitals but did not find an available incubator.
The cost of a child's stay in a private hospital in Idlib is $100 (about 2,800 Turkish liras) for one night, in addition to the costs of x-rays, tests, and medications, with the amount reaching more than $1,200 within ten days until the child's health condition stabilizes.
The people of Idlib suffer from the limited number of incubators in public hospitals or those supported by relief organizations and the high costs of incubators in private hospitals, which forces them to embark on a search for an available incubator or to go into debt, which is an exhausting and unsuccessful option, amid the deteriorating living and economic situation in the region.
Abeer al-Hassan and her husband began the journey of searching for an incubator in Idlib city even though her daughter had been diagnosed with acute bronchitis, and her condition today does not require an incubator unless the child does not respond to the medications.
Al-Hassan told Enab Baladi that her husband began searching for an incubator as a pre-emptive step in case the child's health does not improve.
Acute shortage
The need for incubators increases with the approach of winter and the increase in the rate of respiratory diseases among newborns as a result of weather conditions, the absence of sanitary means of heating, and heating fumes using plastic materials or other harmful materials amid a severe shortage in the number of incubators compared to the number of residents in the region.
Dr. Mulham Ghazi, hospitals in-charge in the Idlib Health Directorate, told Enab Baladi that there is a significant shortage of incubators compared to the number of residents in the region, despite the fact that the price of incubators has not increased and it is easy to import them.
The doctor stated that the Directorate urges medical organizations to bring what is necessary for the health sector in accordance with the existing health map and the shortage and need, pointing out that there is an acute shortage of children's incubators, care incubators, respirators, and Jaundice treatment incubators.
Northwestern Syria is home to 4.5 million people, 4.1 million of whom are in need of assistance, 3.3 million of whom suffer from food insecurity, 2.9 million of whom are internally displaced, and 2 million live in camps, according to the United Nations, while local statistics stand at 5.5 to 6 million people.
Lack of funds is a reason
Mohammed al-Abdo, a pediatrician at SAMS Hospital for Maternal and Child Care in al-Dana, north of Idlib, said that the hospital includes eight incubators in good condition and two Jaundice treatment incubators, one of which is broken and needs maintenance.
The doctor believes that securing incubators is relatively easy, but the main obstacle lies in the financial allocations for qualified medical and technical staff to supervise incubators and the possibility of attracting more doctors and technical and nursing staff.
Al-Abdo told Enab Baladi that the hospital administration had asked donors to open financial funds to employ a pediatrician and nursing and technical staff for more than two months without receiving a response, noting that the medical staff was suffering from psychological pressure and was making increased efforts to care for and supervise the available incubators.
The doctor added that the hospital is qualified to receive many incubators, and there are places designated for them, pointing out that the administration has developed a plan to gradually increase the incubators to 20 if donors cooperate by opening additional funds.
The medical sector in Idlib suffers from a shortage of equipment and personnel and weak funding, and medical facilities are hit by shells from the Syrian regime forces and their allies.
In early October, five medical facilities were directly targeted by regime forces, including the Idlib National Hospital and the University Hospital.
In a previous interview with Enab Baladi, Idlib's health director, Dr. Hossam Qara Mohammed, said that the medical sector is suffering a real crisis due to the bombing that the region witnessed, in addition to some hospitals being out of service, and medical personnel being directly targeted and exposed to danger.
Qara Mohammed added that hospitals are no longer able to accommodate more injured people because many of these injuries are violent and life-threatening and require specialized and specific surgical interventions, such as neurological, vascular, and general surgery.
Patients in Idlib resort to charity pharmacies to obtain free medicines, most of which are expired, as they cannot buy medicine. Enab Baladi monitored the severe overcrowding witnessed in some pharmacies that provide free medicines but are limited in number.
if you think the article contain wrong information or you have additional details Send Correction