Azaz residents resort to small projects to earn income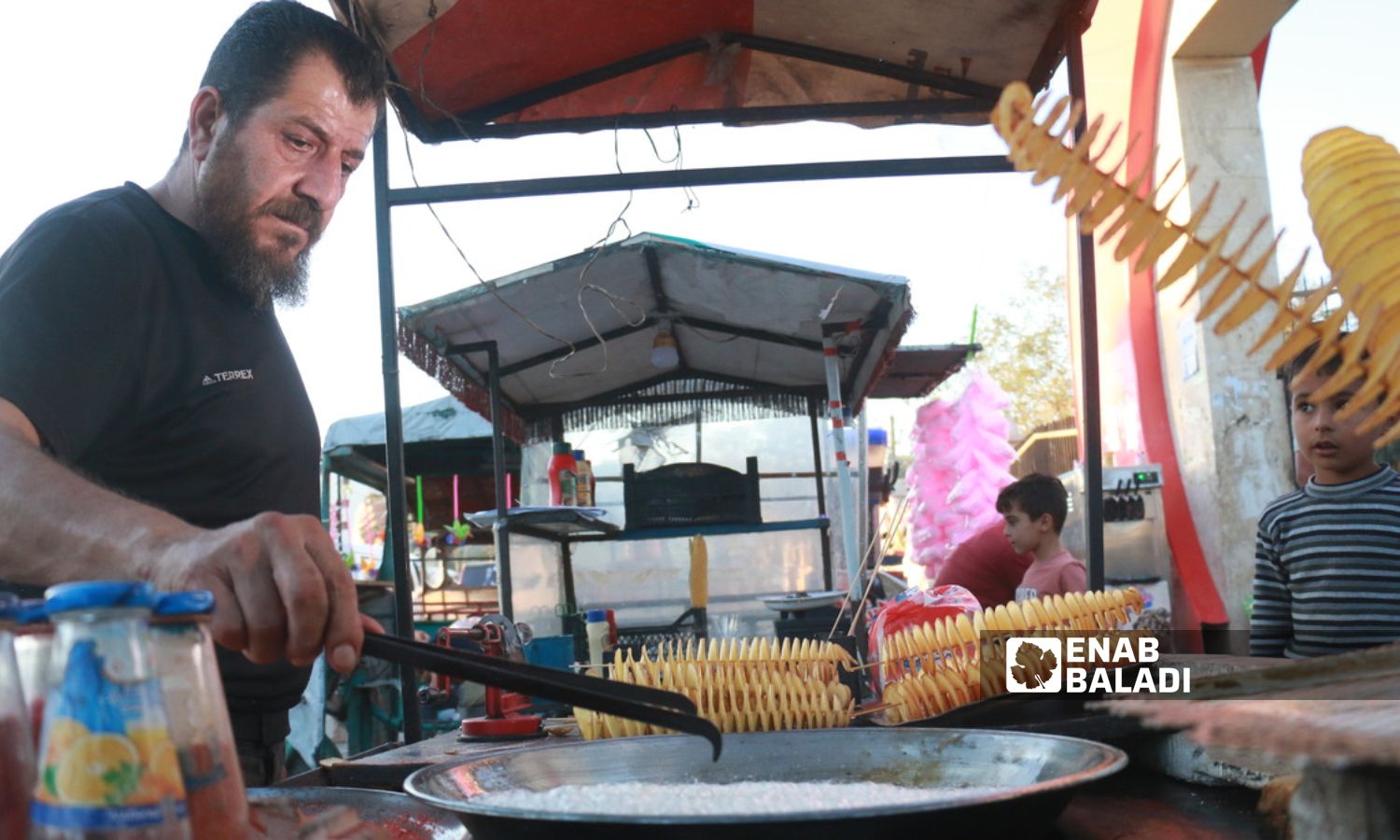 Azaz – Dayan Junpaz
The movement of selling food and drinks on carts has recently become buoyant in Azaz in the northern countryside of Aleppo, as small projects provide those working in them with a simple income that secures the needs of their families.
The situation is not new, but it has become more active, especially with the decline in the financial capacity of the residents, because they depend on limited capital, as carts spread on the sidewalks and in parks and gardens.
What is new about these carts is that they carry new ideas in the region, such as sugar cane drinks, seasonal items such as fried potato rings and corn, and children's food such as candies, popcorn, and others.
Many people headed to these projects because they provide a better income than a worker's daily wages, as daily wages range between 50 to 80 Turkish liras ($1=28 TL), and vary according to the number of working hours and the nature of the profession, such as agriculture, manual labor or construction work.
Sugarcane juice
Youssef Jejo sells sugarcane juice on a stand in front of his car in Azaz, taking the idea from Egyptian soap operas and films at a price ranging from 10 TL to 25 TL, depending on the size of the cup.
Jejo told Enab Baladi that he imported the juice-making machine from Egypt, and it arrived to him through the Bab al-Hawa border crossing with Turkey, and he continued importing sugar cane through one of the merchants.
Regarding the method of presenting it, he mentioned that he places the sugarcane in a small hole at the top of the juice machine and operates it using an electric generator. The young man begins pressing the sugarcane, and then the juice emerges from the bottom through a small tap and is poured into a plastic container with ice cubes and lemon slices.
Jejo, a displaced person from Aleppo governorate, explained that there is no possibility of reducing prices due to the high cost of importing this plant, as he brings tons of cane, and the cost of one ton reaches $650.
Better than daily labor
Most small business owners and carts resort to the main roads and public parks in the city and look for gathering places to attract the attention of customers.
Musaab Badran, an IDP from Maarat al-Numan city, told Enab Baladi that he chose a place for his three-wheeled vehicle next to the Ottoman park in Azaz in order to sell fried potato rings and gain more customers.
Badran was inspired by the idea of cutting potatoes in a spiral shape from the social media platform TikTok. He put the potatoes in cooking oil, then added flavors to it, such as "cheese, curry, ketchup, and vinegar," and sold a piece of potato for 10 TL.
For his part, Mustafa Khairallah considered selling corn on his cart a better option than sitting idle, and it could be better than working for a daily wage, with less effort and more independence.
Khairallah told Enab Baladi that his daily allowance ranges between 100 and 150 Turkish liras, covering all requirements for preparing corn, such as spoons, plates, and flavors.
Domestic gas is considered the most expensive in the corn preparation process and the price of the cylinder is 350 Turkish liras, and it needs to be replaced every 10 to 15 days.
Many people inside Syria are trying to secure suitable job opportunities or implement new commercial projects with little capital.
The Syrian Response Coordination Group (SRCG) said that the indicators of the economic limits of the population in the northwestern region have increased based on the exchange rate, the quantity of needs, and the rise in prices.
The local relief group said that the recognized poverty limit rose to 6,473 Turkish liras and the extreme poverty limit to 4,669 Turkish liras.
A large number of residents of northwestern Syria suffer from extreme poverty, a decline in purchasing power, and a lack of job opportunities.
if you think the article contain wrong information or you have additional details Send Correction