"Accreditation" obstacles hinder journalists' coverage in Aleppo countryside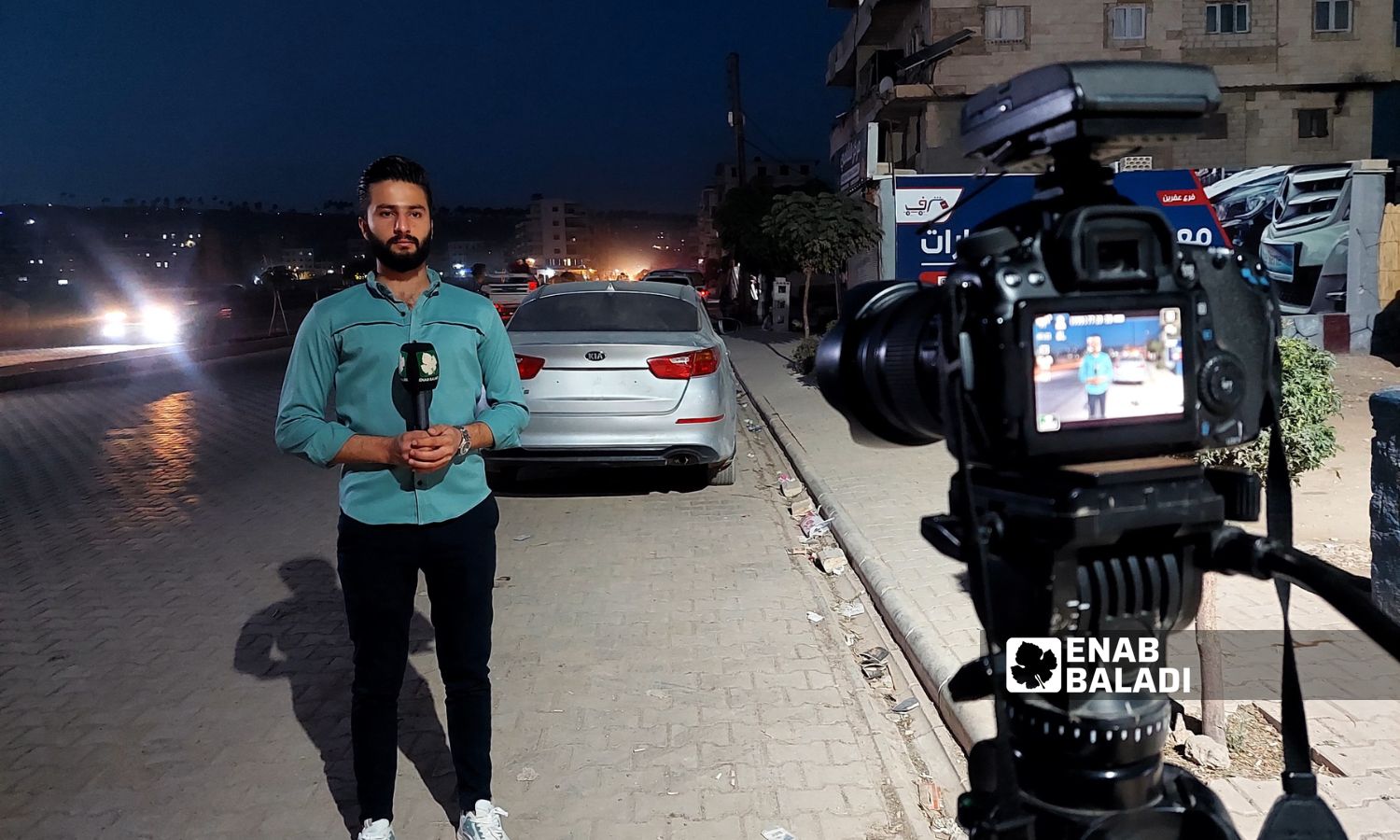 Azaz – Dayan Junpaz
Media workers and reporters in the opposition-held northern and eastern Aleppo countryside face difficulties in performing their work and coverage related to obtaining licenses or accreditations from responsible authorities.
Journalists are obliged to get permits from local councils and civil and military institutions operating in the region to photograph and cover events and meetings, although there are differences in procedures from one region to another.
These steps constitute an obstacle to press workers due to the many complications and procedures they face, in addition to the numerous abuses and restrictions they endure, according to journalists interviewed by Enab Baladi.
Local bodies and entities seek to protect media professionals and defend their rights, but they often do not prevent or limit the difficulties they face or the violations they are exposed to.
Accreditation goes through stages
Idris al-Nayef, a freelance journalist based in Azaz, told Enab Baladi that when he is assigned to cover an event or prepare a press report in the border city, he must apply for permission to film from the headquarters of the Union of Syrian Media, also known as the "Local Councils Unit." After obtaining permission to photograph, he must go to the media office in the local council to have it authenticated.
Al-Nayef added that the biggest challenge lies in waiting until the written permission is ratified by the head of the media office in the local council.
The problem is exacerbated when the head of the office is not present, as he can be available at some times and absent at others, and this delay may last for hours or even two days or more.
The local journalist believes that these measures hinder media work and cause a delay in covering the event, keeping up with it, and transmitting the image in real time.
For his part, Bashar al-Fares, Radio Rozana correspondent and a member of the Union of Syrian Media working in the Aleppo countryside, told Enab Baladi that it is difficult for any photographer or journalist to photograph in public areas, especially on occasions such as the month of Ramadan and holidays, unless he has a photographic permit certified by the local council, even if he has a press card issued by a media body.
Al-Fares added that the work requires obtaining specific written approval for a specific period of time, and this can lead to a delay in media coverage and difficulty in delivering news on time.
Press badge to pass through the barriers
Although there are many media institutions and websites that represent journalists, most press workers are in urgent need of support, guidance, and greater protection mechanisms to facilitate procedures that hinder their journalistic work and enable them to perform efficiently.
Since 2011, many media associations and unions have been formed in northwestern Syria, some of which did not continue to operate for long, while others maintained the continuity of their work, which is often limited to documentation, advocacy, or statements of condemnation, without networking with human rights or judicial bodies to preserve media professionals' rights, amid several obstacles they still face.
The Union of Syrian Media is the most prominent entity in the northern and eastern Aleppo countryside. It was formed in 2018 in the northern Aleppo countryside. It defines itself as "an independent institution that includes Syrian media professionals, according to an agreed-upon code of honor, and declared goals for organizing efforts, developing skills, and protecting rights."
Jalal al-Talawi, head of the Union of Syrian Media, told Enab Baladi that the Union includes 455 members distributed in all regions of northern Syria, pointing out that the Union enjoys legal personality and financial independence.
Al-Talawi stated that the Union relies on a common code of honor for its members and clearly announces its goals to be a means of organizing efforts, developing the skills of media professionals, and protecting their rights.
On the other hand, Louay al-Has, a correspondent for the Turkish TRT Arabic channel and a member of the Union of Syrian Media, said that the Union's press card has become limited only to dealing with some obstacles at military checkpoints during movement between cities.
Al-Has told Enab Baladi that despite the card's contribution to facilitating the passage of journalists through the checkpoints, its effect is limited, and it appears to be ineffective in managing and facilitating journalistic work.
He also pointed out that the Union signed agreements with the local councils and concerned parties in the areas under the control of the Turkish-backed Syrian National Army (SNA), and therefore, it is assumed that the role of these cards will be strengthened to achieve greater effectiveness, and this requires providing facilities by local councils and controlling factions.
Continuing violations
Violations continue against activists and media representatives in SNA-held areas in the northern and eastern countryside of Aleppo and the cities of Tal Abyad and Ras al-Ain in northeastern Syria.
These violations appear in the context of a state of security chaos, as accountability of aggressors and perpetrators of violations lacks transparency despite the presence of security, judicial, and military institutions, and local committees.
On June 23, journalists, including a team from the local Halab Today channel, were attacked by Azaz policemen while they were covering the crowding problem in front of the Turkish Post and Shipping Center (PTT).
The military police in Jarablus city in the northeastern countryside of Aleppo released Hamed Aal-Ali, the correspondent of Alkul Radio and TV, after being held for several hours over criticizing the Turkish presidential elections in a Facebook post on May 30.
October 7, 2022 Unidentified gunmen assassinated journalist Muhammad Abdel Latif (Abu Ghanoum) and his pregnant wife in the city of al-Bab, east of Aleppo. Despite the arrest of those involved in the incident and their confession, demands to reveal the results of the investigation are still present and ongoing. It was later revealed that the killers were operating in al-Hamza (Hamazat) Division, a key unit in the SNA.
Media workers are exposed to many violations in various areas of control in Syria, and Syria ranked 175 out of 180 countries on the World Press Freedom Index for the year 2023, according to a report by Reporters Without Borders, which it issued on May 3, on the occasion of "World Press Freedom Day." 
if you think the article contain wrong information or you have additional details Send Correction