Social media physicians: Services and consultations for commercial purpose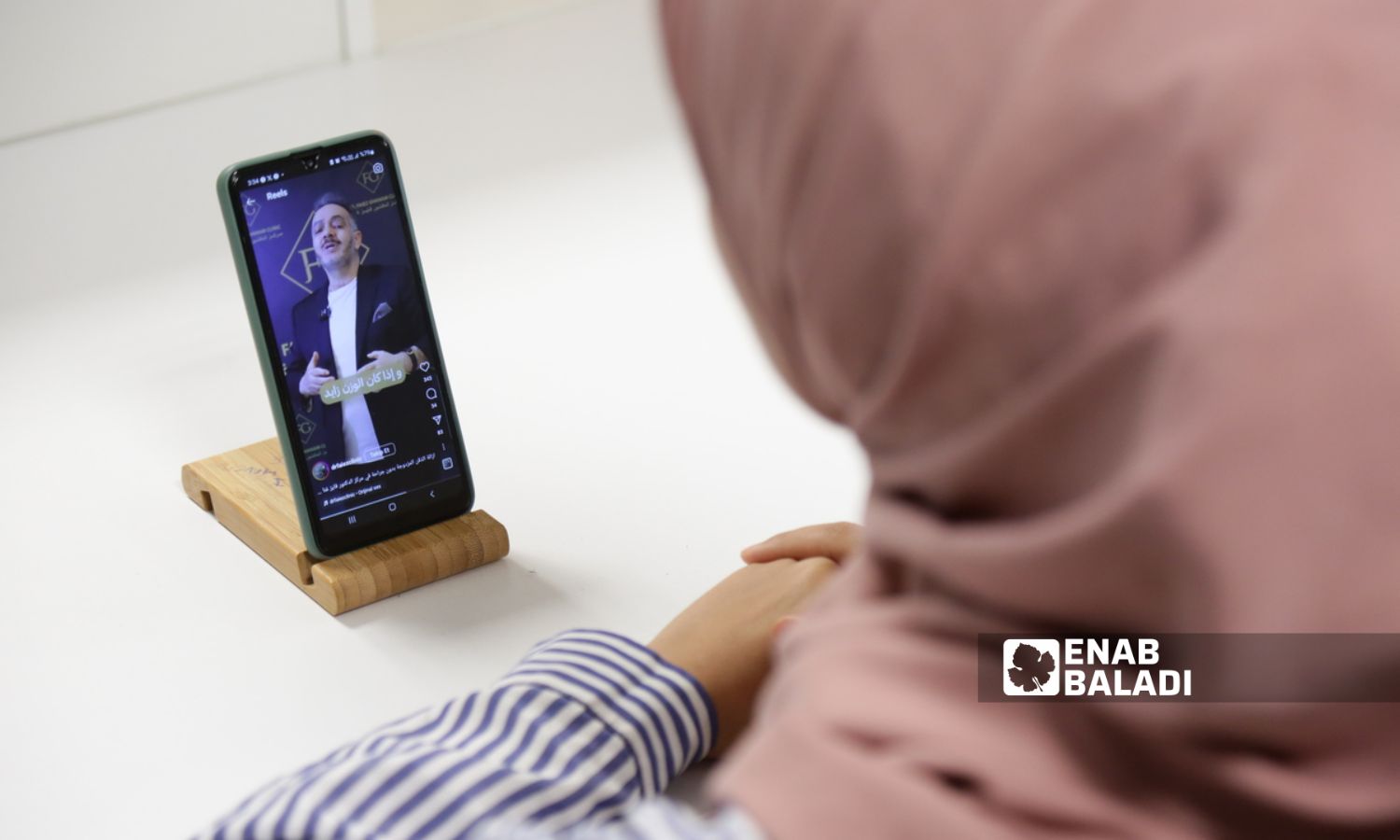 Enab Baladi – Fatima al-Mohammad
Through social networking services, white-robed doctors are active through their personal pages or groups under medical names, through which they provide their medical opinions and advice and recommend some medicines and cosmetics to the public.
These physicians are widely known, followed by tens of thousands across the network, and use their medical expertise as a convincing marketing method that makes a number of followers take their advice and recommendations without questioning their credibility.
This is not limited to doctors, but bloggers and content makers participate in these tips and information by marketing therapeutic products specifically related to beauty and offering them through their accounts while encouraging their use.
On the digital platforms of Instagram, Facebook, and TikTok, doctors provide medical advice, diagnose diseases, and prescribe medications based on a picture sent by the patient of his health problem, in addition to interpreting medical tests and analyzing X-ray images.
Syrian people interviewed by Enab Baladi spoke of their reliance heavily on the recommendations of these doctors, their continuous follow-up, and their preference over doctors in clinics.
High cost and negligible results
Nour Abdullah, a mass communication student, told Enab Baladi that a skin disease affected her skin, which prompted her to resort to a dermatologist because she did not benefit from the medications he prescribed, she resorted to a cosmetic specialist at a medical center in the Turkish border city of Gaziantep, who in turn prescribed lotions and moisturizers for her, but without any positive result.
Abdullah, 24, added that the reasons that prompted her to lean toward doctors' advice on social media platforms were that they recommended using skin washes and cosmetic serums away from the pills and ointments prescribed by dermatologists.
But at the same time, she expressed her understanding of doctors' marketing intentions on social media, which made her constantly research the effectiveness of the products they recommend and learn about other people's experiences.
Abdullah pointed out that the majority of the products promoted by doctors are products bearing expensive brands such as La Roche, Ordinary, and CeraVe, which cost her large sums of money in an attempt to solve her problem.
Nour trusts clinic doctors more because they conduct many tests and examinations before prescribing a treatment plan.
The case of Tamara Zaidan, a student at the College of Nursing, is no different from the case of Abdullah, who suffered from skin problems for many years and resorted to many dermatologists and cosmetic specialists without access to radical treatment, which prompted her to follow doctors' advice on social networking sites.
Zaidan told Enab Baladi that the doctors' convincing way of presenting the medical product, talking about its benefits, and showing pictures of successful experiments encouraged her to buy it, even though the prices of the products were high and they bore the names of "famous" brands.
Zaidan refrained from taking the advice of social media doctors after she continued using the products they promoted for long periods.
She only saw minor differences that did not lead to the results she was hoping for, and from her point of view, what she spent to buy these products was "wasted money," so she returned to consult skin specialists.
Purely commercial objectives
Istanbul-based Syrian dermatologist Mohammad Jazzar told Enab Baladi that many people resort to obtaining medical information from social media platforms for several reasons, including saving time, effort and the examination fee.
Jazzar added that there is an important medical rule that says, "There is a disease, and there is no patient," meaning that the same treatment cannot be diagnosed for two different people. When two patients come with, for example, pimples on the skin, each case is analyzed separately, and the appropriate medication is prescribed according to specific criteria.
He ruled out the ability of doctors to provide a correct diagnosis of the condition through social networking sites because many important details before developing a treatment plan and even prescribing medications are based on several factors, including skin type and degree of sensitivity.
If the reviewer is female, her treatment method varies according to her marital status, pregnancy, etc., and many other details that are taken from the direct meeting with the patient and are known through direct examination, according to the dermatologist.
The diagnosis of two patients may be similar, according to the doctor, but the difference is due to age, weight, marital status, medications previously used by the reviewer, and his cooperation during the treatment period and therefore there is no medical advice that is suitable for everyone.
Dr. Jazzar pointed out that the majority of medical pages are completely for purely commercial purposes, and part of them are for the purpose of the doctor marketing himself because practicing the medical profession cannot be done in this way.
Content creators act as medical guides
Souad Amqi, founder of the Psychological Happiness Online Mental Health Services clinic, told Enab Baladi that there are several reasons that prompt followers to resort to social media sites to obtain medical information instead of consulting a doctor.
The most prominent of which is the person's curiosity and desire to obtain immediate answers or to communicate with other people who share their personal experiences with diseases, the steps for dealing with them, and treatment methods.
The psychologist added that smartphones make it easier for an individual to obtain information at any time and any place without the need to schedule appointments or medical visits. Searching online is less expensive and faster, while the individual feels that having medical knowledge gives him greater confidence and that he is in control of his health.
Amqi says that the patient's previous exposure to negative experiences with the doctor may lead to searching for other alternatives through networking services.
Content creators on social media use a language and style that suits the younger generation, leaving them with the impression that the blogger understands their challenges and needs better, especially if he is talking about his personal experience in dealing with a health problem.
Young people feel that they are dealing with someone who understands what they are going through, and the fact that bloggers interact directly with their followers and have a large fan base makes young people trust their guidance and advice.
Souad Amqi – Psychologist
Amqi stressed the need to be aware that social networking sites are not a substitute for consulting a doctor, and the follower must distinguish between accurate and reliable information and incorrect and harmful information by searching for reliable medical sources such as the World Health Organization (WHO), scientific studies, research articles, and medical organizations.
The psychologist called for the follower to verify information from more than one source and to select the most recent articles because medical information may change with time.
Studies: A third of young people prefer "TikTok"
An online survey conducted in 2018 by the American Osteopathic Association (AOA) finds more than half of millennials (54%) and more than four out of 10 (42%) adults are or would like to be friends with or follow their healthcare providers on social media.
Also, 32% of people took health-related actions such as modifying their diet, taking nutritional supplements, changing their exercise routine, or trying an alternative treatment based on information from social media.
Through a survey that included 2,204 American adults, the study stated that 15% of parents with children under the age of 18 self-diagnosed health problems based on information they read on social media.
The survey results found that patients want to be friends with their physicians on social media, and the younger patients feel more comfortable communicating with their doctor directly via social media or searching for health information online.
In another survey conducted by CharityRx to understand the sources that people turn to to obtain their medical information, it was found that young people are accustomed to searching for health advice through platforms.
The company's survey, which specializes in providing a discount service in more than 70,000 pharmacies and was based on a sample of 2,000 American adults, stated that a third of young Americans take their information from the TikTok platform before consulting a doctor, and approximately 44% of people follow the same habit on YouTube, according to the survey results.
Half of the people surveyed said they were more likely to purchase medication or supplements recommended by a blogger on social media, and the vast majority of respondents, 89%, realize that bloggers contribute to spreading misinformation in the health field.
if you think the article contain wrong information or you have additional details Send Correction