Latakia: Residents resort to pharmacists and online doctors over expensive diagnosis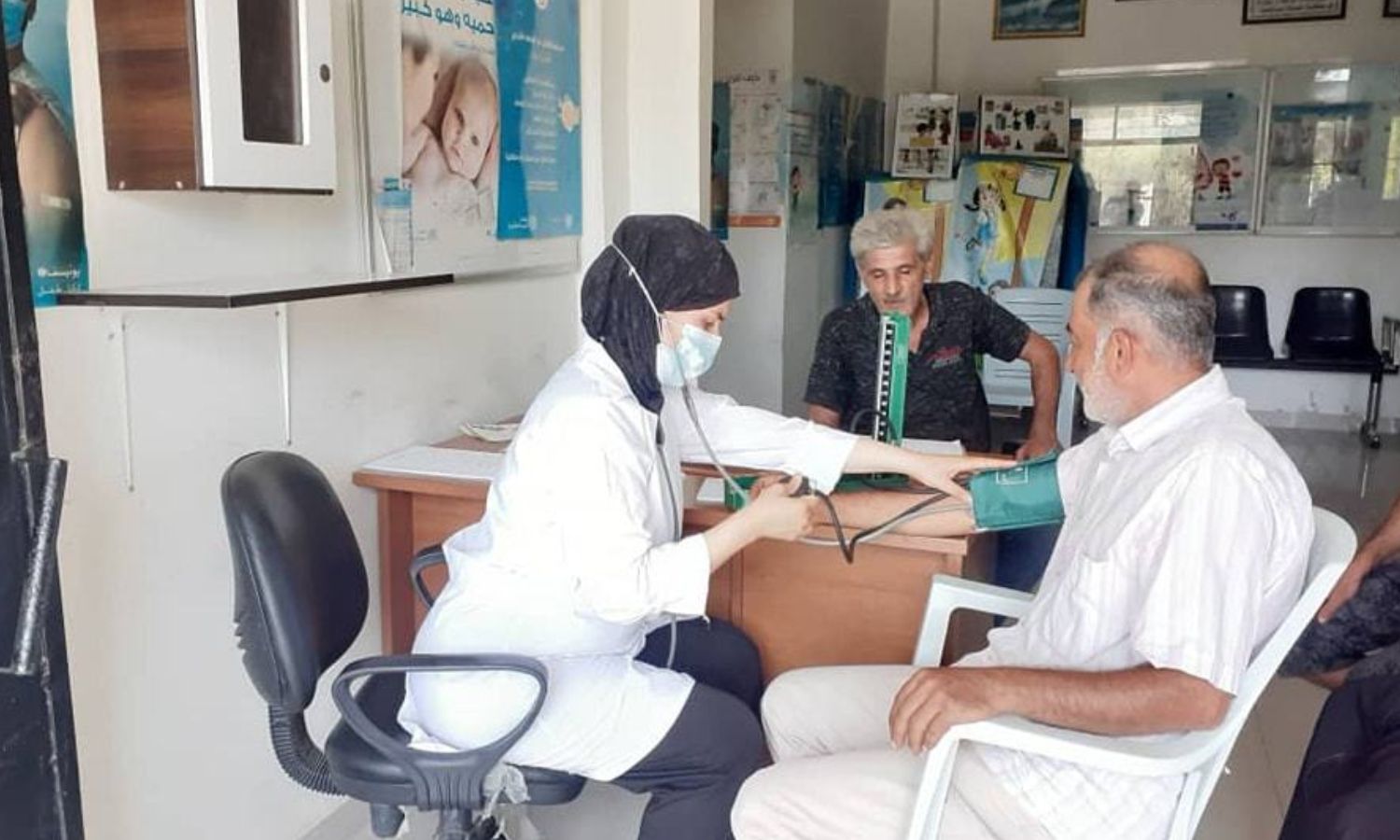 Latakia – Linda Ali
Ali, the 38-year-old government employee, chose to take his six-year-old child, who had a sudden fever several days ago, to a pharmacist rather than visiting a doctor in his Basanada suburb of the coastal city of Latakia.
The pharmacist told him that his child was suffering from pharyngitis, and based on the symptoms, the pharmacist prescribed the medicine to him and sold it to him along with a box of fever reducers.
Ali paid about 25,000 Syrian pounds for medicines, saying that if I had gone to see an ENT doctor, I would have paid about 50,000 Syrian pounds at the minimum. Doctors' wages in the popular area where he lives range between 25,000 SYP and 35,000 SYP.
Doctors' diagnosis costs in Latakia vary, depending on the doctor's experience and fame, in addition to the location of the clinic. Wages are low in popular areas and somewhat average in other areas, such as the al-Ramel al-Shemali neighborhood, where the average visits are about 35,000 SYP.
The amount of a doctor's visit increases slightly on Hanano Street in the city center, reaching 40,000 pounds on average, and it increases more in The American Street, where it reaches about 50,000 pounds.
Families often turn to a pharmacist, especially in cases of high fever or symptoms of diarrhea and all other symptoms that they consider "minor," while they are forced to go to a doctor when the symptoms are more serious, such as joint pain, fainting, and pain in the heart muscle.
Inspection wages increased after the increase in salaries in Syria in mid-August, as they ranged between 15,000 SYP and 25,000 SYP only, while the average public sector salary in Syria does not exceed 186,000 SYP ($1= 13,100 SYP).
35,000 SYP per month
Ensaf, 36, who works in programming, is following her second pregnancy with a gynecologist, and his visits increased from 20,000 SYP to 35,000 SYP per month after the salary increase. She said that despite the high cost, she is forced to visit him once a month to check on her child's health.
The pregnant woman said that she pays about 70,000 SYP every month for the medical examination and vitamins she takes.
Ensaf believes that it is unfair for the doctor to raise the fee for his consultation in this way, while he is aware of the living difficulties that people suffer, which make some of them unable to think about visiting the doctor, except when the pain becomes excruciating, and they cannot bear it.
No money to visit the doctor
The seventy-year-old Ghusoon is trying to manage her pain in front of her retired husband and her children, who live near her in one of the villages of Jableh countryside, so as not to burden them with more than they can bear by visiting an orthopedic doctor.
She told Enab Baladi that her knee pain increases unbearably in the winter, and she refuses to go to the doctor and is content with asking her children to buy a box of analgesics from the pharmacy in addition to applying a popular recipe of rubbing the knee with olive oil and wrapping it well with a piece of cotton and a corset.
Ghusoon ignores her pain and tells her children that she feels comfortable after applying these steps, but her condition worsens to the point where she is unable to move her knee during the extremely cold days, during which she sits inside her bed because there is no means of heating in the house.
Although Ghusoon can endure her pain, her husband cannot do that, as he suffers from heart problems, which forced him to have a catheter installed two years ago, and he needs to visit his doctor in the city of Latakia periodically, and the fee for his examination has now risen to 70,000 SYP from 50,000 SYP before the salary increase.
Cardiologist consultations are considered the largest, as the patient undergoes an ECG and an Echo scan, and all of this requires the operation of generators that operate on expensive diesel fuel due to the absence of electricity as a result of harsh rationing, as it is only available at a rate of two hours a day, at best.
The average wage for an ophthalmology diagnosis is about 35,000 SYP, a cardiology diagnosis is between 70,000 SYP and 100,000 SYP, and gynecology diagnosis is between 25,000 SYP and 40,000 SYP, and endocrinology diagnosis is between 35,000 SYP and 45,000 SYP, and pediatrics diagnosis is between 25,000 SYP and 40,000 pounds, the orthopedics diagnosis price is between 35,000 SYP and 50,000 SYP.
Public hospitals are "useless"
"Only needy people go to it" is how Mirna, 31, an employee in the private sector, described the condition of government hospitals in the city of Latakia.
She told Enab Baladi that she had to take her mother on one occasion to Tishreen University Hospital, and her mother remained writhing in pain for about half an hour until they reached a doctor who could help them, as he was not there yet, even though it was 12 noon.
The fee for a government hospital examination does not exceed 1,000 pounds, but the "bad treatment, procrastination, and often lack of doctors" make it useless for many, while those who do not have any other solution or enough money to pay for an examination at a private clinic resort to it.
In general, the fees for consultations in government hospitals do not exceed 1,500 pounds, as in the children's hospital, but the problem lies in waiting for the doctor until he arrives.
Free diagnosis
On Facebook, many medical groups are active that provide free services to patients, including the possibility of medical consultation.
In the "Doctor" group, a question is asked by one of the patients, which includes a description of the problem, along with pictures or tests, so that one of the specialist doctors directs the patient, either regarding the need to go to a specialist doctor or to prescribe an appropriate medication for the condition.
Although sometimes dangerous, many people find less expensive solutions to their health problems in this group.
The chaos regarding the issue of medical tariffs and its disparity between one doctor and another is directly caused by the failure to issue any medical tariffs since 2012.
According to the laws of the Ministry of Health, the cost of a medical examination is 700 Syrian pounds, and it has not been modified since 2012, knowing that the dollar at that time was about 70 Syrian pounds.
Nidal Bayazid, Secretary of the Medical Syndicate, told the local al-Watan newspaper last September that the search for a fair medical tariff for the doctor and the patient is still ongoing, indicating that the equation is complex and not easy.
It is impossible to find a fair medical tariff for both the doctor and the patient as a result of the deteriorating living situation and the low value of government salaries, which may be the reason for the delay in issuing the medical tariff and leaving things to happen as determined by the doctors.
if you think the article contain wrong information or you have additional details Send Correction