Latakia: Increase in begging and homelessness rates among children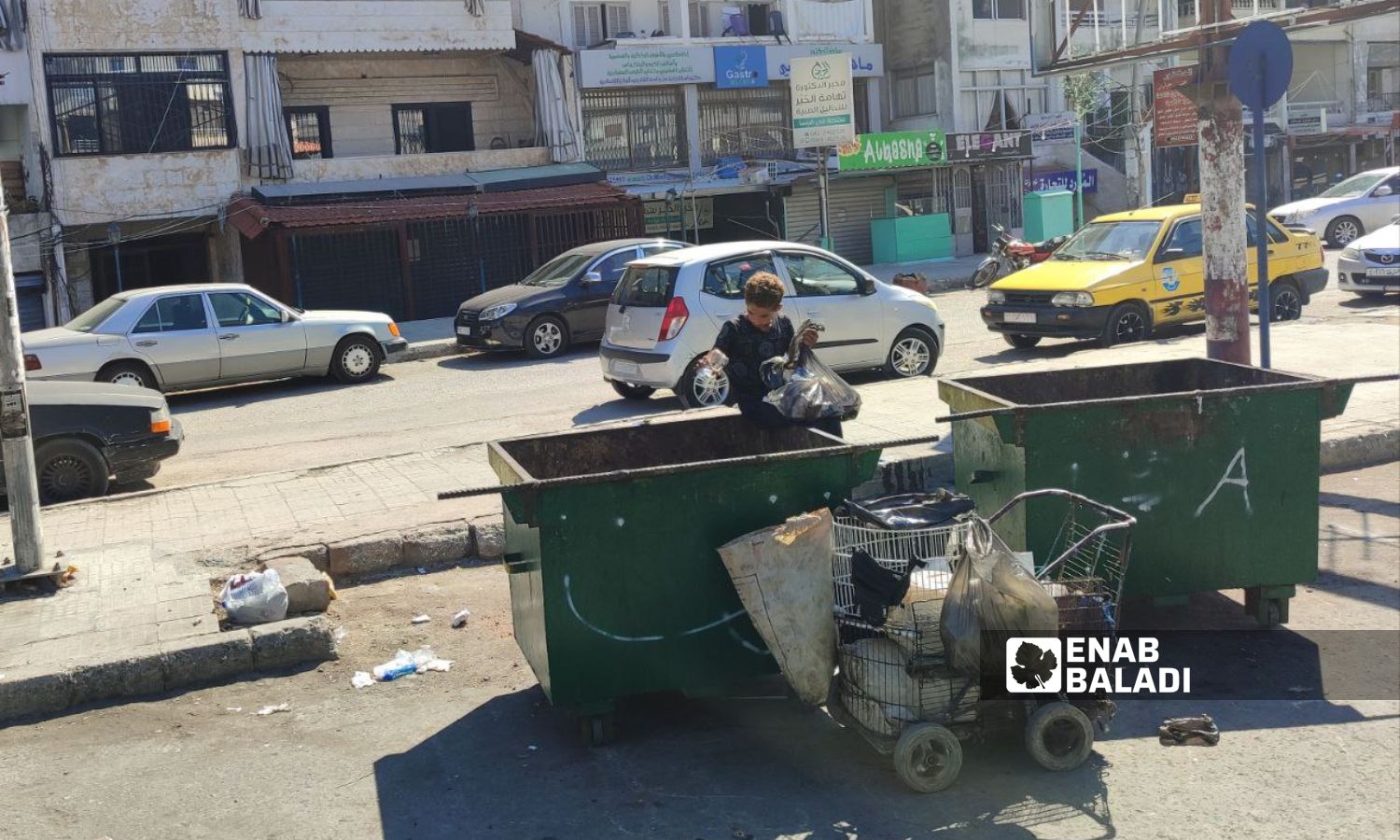 Latakia – Linda Ali
"May God protect you, buy it from me, I swear I am hungry, I want to eat," is the phrase that breaks the heart of the 34-year-old Suhair while she almost hears it in different forms and vocabulary on a daily basis, as she leaves her evening work as a saleswoman in a clothing store in the al-Zira'a district in the coastal Latakia governorate, where there are dozens of children who sell gum, flowers, biscuits and tissues.
Suhair said that she falls between two options, the better of which is bitter, adding that if she grants the child his request, she feels as if she is contributing by encouraging him to work while he appears no more than ten years old or younger, and if she does not grant him, she feels remorseful.
The young woman used to buy a sandwich for the child without giving him money, but the current economic hardships and the low salaries and daily income make her unable to do such a thing, so she often buys him a biscuit or apologizes to him and moves on.
Child labor has increased in Latakia and throughout Syria as a result of the deteriorating and continuing deterioration of living conditions. Children are often spread out at traffic lights, near fast food restaurants, or in markets, and many of them lie down on the street to sleep after a tiring day.
The gardens are a home for many children and the homeless as well, as they sleep outdoors in summer and winter with the help of some cardboard sheets, without any interference from the relevant authorities in Latakia.
"My father kicked me out"
On one of the corners of Hanano Street in the center of the city, a child was extending his hand to passers-by, asking for money to eat, as he said. In a quick conversation with him, he said that his name was "Ayham," and he was 11 years old. His father had kicked him out of the house, telling him that he was of no use for anything, according to the child's narration. 
"Ayham" added that his father asked him not to return home until he becomes a "man" capable of managing his affairs, as he (the father) was no longer able to "feed" him, telling him that he had to work.
It is difficult to verify the child's story, and it may be to seek sympathy, but his mere presence in this place, begging for money from passers-by, is considered a blatant violation of the right to childhood, according to local and international legislation and laws, and expresses a government failure to manage the country and help its citizens overcome their crises.
Syria lacks special places for homeless children and to help them complete their education away from the dangers of the street, such as harassment, drugs, and theft, which ultimately leads them to perhaps take the path of crime.
Painstaking work under government sight
Children in Latakia governorate work in many stressful activities, such as in construction work and paint shops or in car repair in the industrial area, where there are dozens of children whose faces and bodies are covered with black grease while they dismantle cars and help in repairing them.
All of this happens in full view of the concerned authorities and the Syrian Ministry of Social Affairs and Labor, which is supposed to be responsible for these children and work to return them to their schools.
A large number of children work by begging, digging up garbage, and selling biscuits, tissues, or flowers, and the sight of a child smoking has become common in the city.
In the Sbiro area, near Tishreen University Hospital, a child was digging up trash (Photo above), and when Enab Baladi's correspondent approached him to ask him and talk to him, despite all attempts to make him speak, he continued his work without opening his mouth for a word, even after about a quarter of an hour of trying, as he was digging up trash. He extracts plastic containers and leftover bread from them and separates each of them into a different bag.
It is not clear whether he will use the bread for food or whether he collects it with the aim of selling it, especially since the price of a kilo of dry bread has reached about 9,000 pounds, knowing that it is a prohibited trade and its owner is subject to legal accountability in Syria. ($1=13,850 SYP)
Harsh treatment
Firas, 41, was eating with a friend in a small pizzeria inside the city when a little girl took advantage of the waiter's inattention. She entered the restaurant carrying a bouquet of roses, approached one of the tables where two women sat with three children, and asked them to give her some food.
The waiter intervened and grabbed the child by the arm "violently," then shouted at her and threw her out of the restaurant, apologizing to the two women for the incident, according to Firas.
Firas, an engineer preparing to travel to Erbil, Iraq, at the end of October, said that the situation was very harsh and added, "I thank God that I am leaving this country and leaving this quagmire in which no one has any hope of surviving."
"Poverty and need"
Mohammed Firas Nabhan, Assistant Minister of Social Affairs and Labor, told the local pro-regime Al-Watan newspaper in 2022 that the spread of the phenomenon of child labor is a result of poverty, need, absence of a breadwinner, and family disintegration.
Instead of proposing solutions and working on them, Nabhan talked about the bad psychological and physical effects that affect child workers as a result of their work.
He limited himself to listing the "theoretical" measures taken by the ministry, including the issuance of the Children's Rights Law in 2021, which included addressing the phenomenon of child labor.
Two years after the issuance of this law, reality has only changed for the worse, and although there are no government statistics on the phenomenon of child labor, its increase can be easily observed through the increase in the number of children working on the streets, according to what Enab Baladi monitored in Latakia, for example.
After twelve years of brutal conflict in Syria, half of the children have grown up knowing nothing but conflict and crisis. Even before the devastating earthquakes in February 2023, more than 15.3 million are in need of humanitarian assistance- including 7 million children, according to the Save the Children organization.
The organization said that "Multiple displacements, poverty and the deterioration of the household economy, as well as attacks on education, have contributed to a situation in which 2.1 million children are out of school, depriving them of basic skills and a safe and protective environment, leaving them at risk of being forced into child labor or child marriage."
Save the Children added that "1.6 million more are at risk of having to drop out. Rates of malnutrition, disease, and disability have increased markedly over the course of the crisis. Children report feeling afraid, anxious, and sad, with many showing signs of emotional distress and toxic stress."
if you think the article contain wrong information or you have additional details Send Correction