HTS' Salvation Govt excludes music and drawing in schools, Teachers fired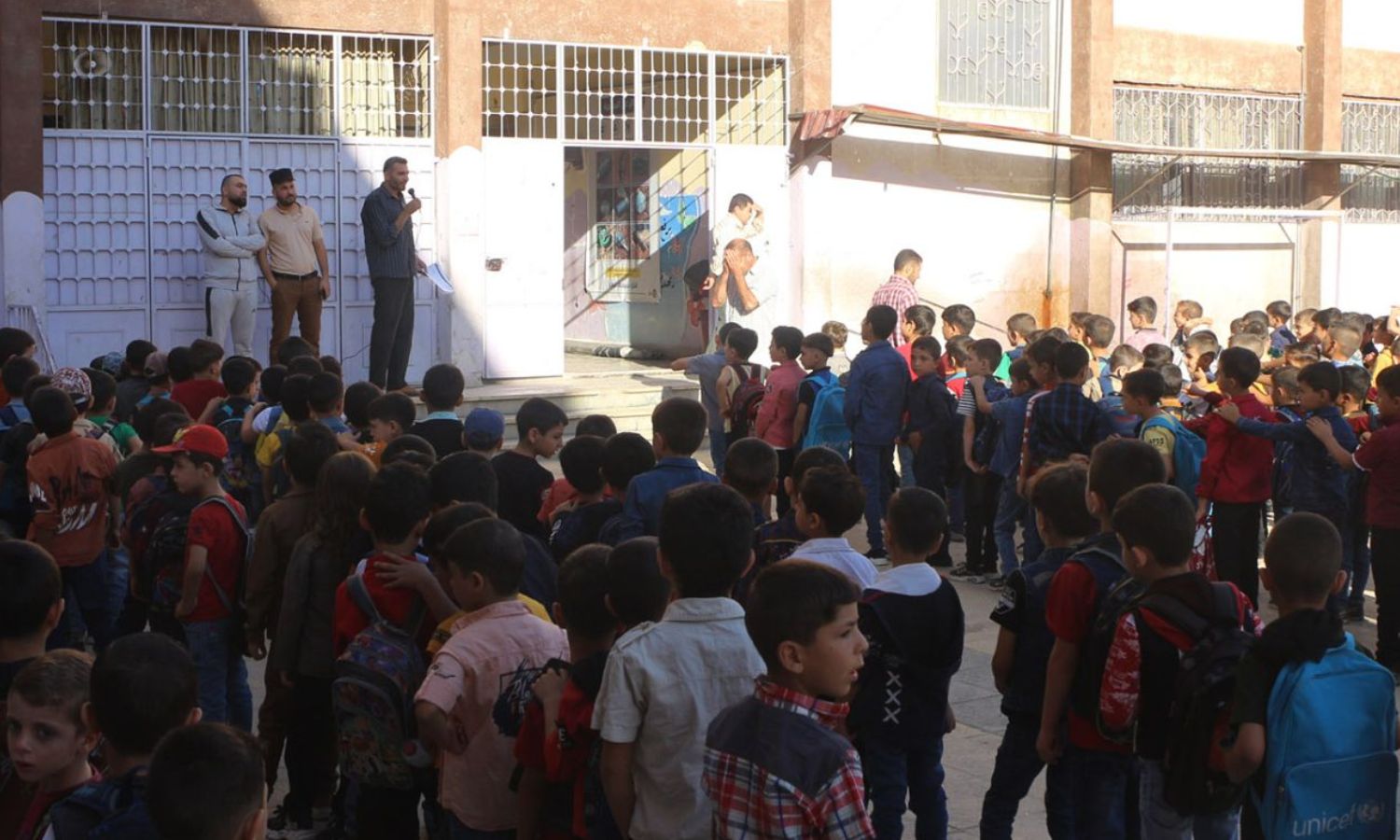 Enab Baladi – Baraa Khattab
"It saddens me to be fired from my job in this way after having endured years of volunteer work and teaching in the harshest conditions and years of bombing and war," says the 36-year-old Rain Haihano.
The fine arts teacher in northwestern Idlib region controlled by Hayat Tahrir al-Sham (HTS) found herself unemployed and expelled from school after teaching hundreds of students who are now in universities.
Idlib-based Haihano told Enab Baladi that she is among the male and female teachers who endured years of volunteer work and teaching in difficult circumstances, and their fate today is expulsion and dismissal, without appreciation for the value of their labor or compensation for their long period of service.
The teacher added that the school principal told her that she had to place herself at the disposal of the educational complex until psychological support vacancies became available in one of the schools after she was dismissed from her current job so that she would be left at home, unemployed, along with her husband, who suffers from vestibular vertigo, which caused him to lose his job as well.
The cancellation or neglect of the subjects of drawing and music from the education curricula in the education ministry of the Salvation Government (the HTS administrative governing body) caused a large percentage of specialist teachers to become unemployed, with the exception of a few of them who joined other vacancies within schools.
For her part, Hasnaa, 35, told Enab Baladi that she spent most of her working years teaching the primary stage without disruption in Idlib city, accompanied by years of volunteer teaching work, and gained strong experience in the field of education.
At the end of the 2022 academic year, Hasnaa was transferred to a school in the village of Mashhad Rouhin in Idlib countryside, and it was only ten days later that she was informed that there was no vacancy for her at the present time and that she had to place herself at the disposal of the education ministry.
The education ministry rejected Hasnaa's request several times to return her to her old job (classroom teacher) and informed her of the possibility of applying for a psychological support vacancy only because she holds a certificate from the Intermediate Institute of Drawing, and she is one of dozens of teachers who hold the same certificate.
She said that she underwent educational qualification courses, teacher preparation, and a crisis education course, and became at a "high" level of competence, and was examined and tested by educational mentors in previous years.
No clarifications from the Salvation Government
The subjects of drawing and music have been absent from the curriculum offered in schools in the city of Idlib since the military factions took control of it in 2015, especially Hayat Tahrir al-Sham, which has major military control.
Ahmed al-Hassan, education director in the Salvation Government, told Enab Baladi that the local education body had replaced drawing and music by other activities in psychological support, sports, and protection activities, which are carried out by drawing and music teachers according to the available vacancy.
Al-Hassan did not provide explanations regarding the reason for the absence of the subjects of drawing and music in the educational curricula in schools and the options of the education ministry in dealing with teachers of these two specializations.
A large number of teachers approached their school principals and the ministry of education to retract the decision, but everyone disavowed their responsibility and contented themselves with what the decision stipulated, according to what some teachers told Enab Baladi.
A school principal in the town of Zarzour, who requested that her name not be mentioned for security reasons, told Enab Baladi that at the beginning of the second semester of the school year, a large number of teachers holding arts and music degrees were dismissed by a decision from the education ministry.
According to the director of Zarzour School, the subjects of music and drawing are subjects that are considered outside the curriculum, and that there are six drawing classes scheduled for high school students without the presence of a specialized teacher, and often one of the teachers takes these classes to complete their number of hours.
As for music, it is not present in the weekly program, as it is considered taboo.
The education ministry replaced the teachers who held these certificates with other specialists and directed the teachers who held these certificates to place themselves at the disposal of the education complex to obtain available vacancies in the specialty of psychological support.
Negative effects on students
Social researcher Aisha Abdul-Malik believes that music is one of the spiritual aspects that a person can be affected by negatively or positively and is used to improve and maintain physical and psychological health.
This includes a wide range of activities, such as listening to music, singing, and playing a musical instrument.
Abdul-Malik added that there are types of music capable of alleviating the symptoms of mental health problems such as depression and anxiety.
The protection and capacity building coordinator at the Guardians of Childhood organization, Mohammad Ziad al-Yassouf, believes that the absence of activities such as drawing reduces the child's artistic expression ability, impairs creative development, can affect emotional expression, and reduces the child's self-confidence.
Al-Yassouf told Enab Baladi that drawing is a way to express thoughts and feelings creatively.
He added that it helps develop the child's imagination and creativity and contributes to developing skills that help with self-discipline and focus.
The absence of such activities leads to a weak child's ability to come up with new ideas, in addition to difficulty expressing feelings, and also affects children's personal development.
According to al-Yassouf, it is important to encourage children to practice drawing because it develops many of their creative aspects, which leads to a positive impact on society.
Alternative careers
A small number of middle and high school teachers were employed in vacancies available in Idlib schools, such as psychological support, and a small number of them went on to teach in institutes, private kindergartens, or elsewhere.
The majority of those holding the two degrees remained unemployed after the two subjects were excluded from the curriculum, according to what Enab Baladi monitored.
Kawthar was dismissed from school in the middle of the last academic year by a decision issued by the Ministry of Education in the Salvation Government in Idlib governorate, which required the suspension of the work of a large number of teachers from several specializations.
She then went to teach in a private kindergarten in the town of al-Hamamah in the Idlib countryside for a monthly wage of $100 until she obtained a job with a better salary.
For his part, Mustafa al-Aktaa, 41, from the city of Jisr al-Shughour, who holds a degree from the Higher Institute of Music, decided to go into self-employment to secure the expenses of his family of five people.
Mustafa told Enab Baladi that he was an employee in the administrative department for several years when the school principal informed him at the beginning of the second semester of the last academic year of the decision to dismiss him and a large number of teachers.
He added that he sometimes works as a harvester during agricultural seasons, sometimes he collects firewood and sells it, and most of the time he sits idly by without working.
Enab Baladi met with teachers during a sit-in in front of the education directorate building in Idlib to demand a reversal of the decision. They described it as "unjust," saying their right is to return to teaching.
if you think the article contain wrong information or you have additional details Send Correction