Daraa: Garlic farmers affected by mounting prices of seeds and fertilizers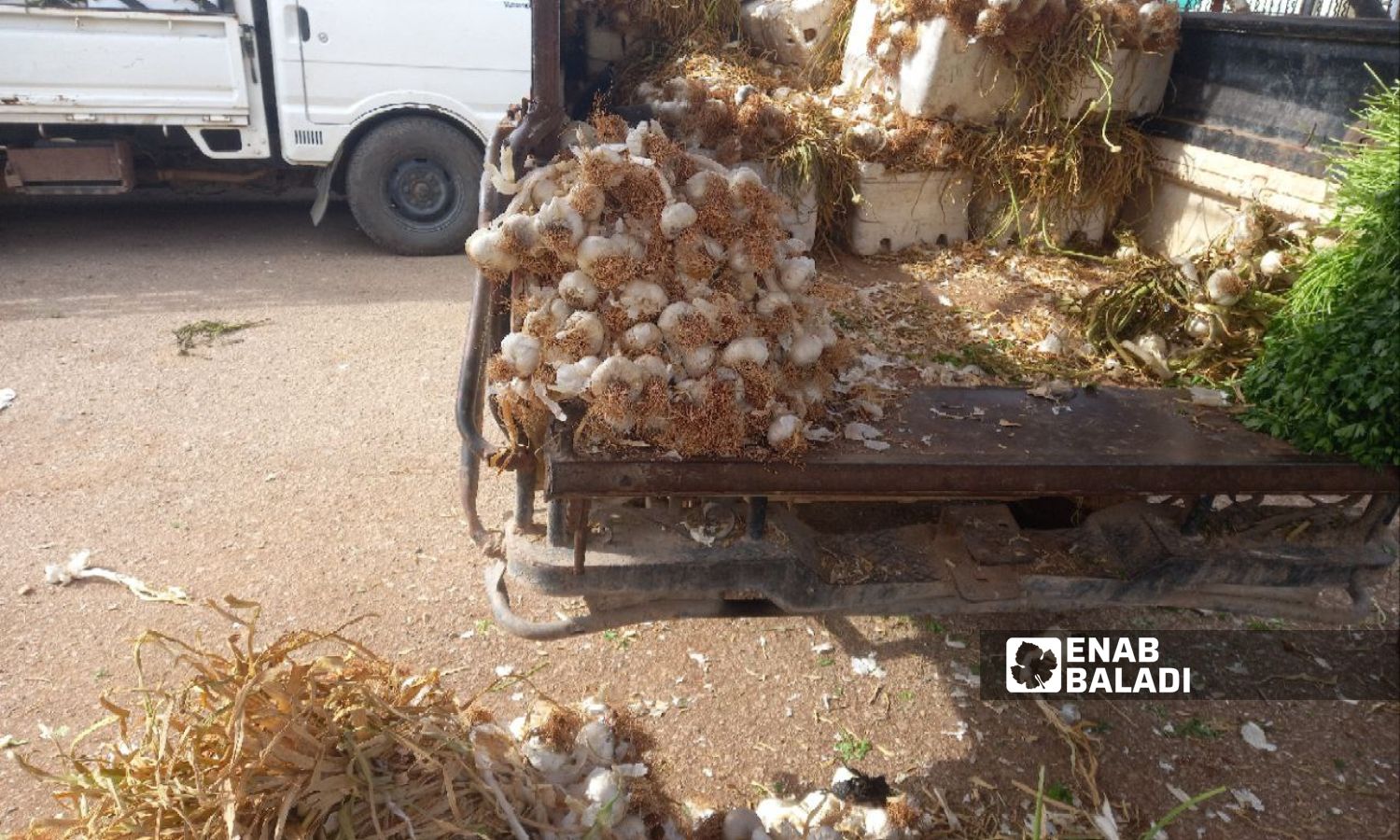 Daraa – Halim Muhammad
Demand for planting garlic is still weak in the southern Daraa governorate despite the beginning of its cultivation, in comparison to previous seasons.
The high prices of seeds, fertilizers, and medicines, and the high wages of labor are standing behind farmers' reluctance, in addition to the scarcity of irrigation water, as garlic is considered one of the long seasons in the land, and it lasts approximately nine months between its planting and the time of harvesting.
Seed prices rise tenfold
The price of a kilogram of garlic seeds during the current season reached 33,000 Syrian pounds in the local market, while last year, its price did not exceed about 3,000 Syrian pounds. ($1=13,050 SYP)
One dunam requires between 75 and 100 kilograms of seed, according to what agricultural engineer Khaled Suleiman, who lives in Daraa, told Enab Baladi. (One dunam is about 900 m2)
Jabr, 51, has been growing garlic for more than 15 years in the western countryside of Daraa. He told Enab Baladi that he did not plant this year's garlic crop due to its high cost in terms of the prices of seeds, fertilizers, and medicines.
The farmer explained that one dunam requires approximately three million pounds after the high prices of seeds.
Jabr suffered a loss in the last garlic season, as he sold the crop for less than 1,500 Syrian pounds per kilo in the form of green garlic for the table, and he did not wait for the storage period for fear of additional loss.
The regime government's decision in mid-May 2022, which allowed the export of 5,000 tons of garlic for only two months, contributed to raising garlic prices over the past year.
The high prices of garlic prompted farmers to sell the crop and not keep it to sell for supplies, as the export period was limited to only two months, which led to the local market being emptied of garlic, whether seed or even table garlic.
Musaab, 40, who plants garlic every year in the western countryside of Daraa, told Enab Baladi that he began preparing his land to plant only one dunam of garlic, knowing that in the past seasons, he had grown no less than five dunams.
The farmer said that the reduction in the area of land that he will cultivate with garlic is due to his lack of financial ability to purchase seeds.
Wael al-Ahmad, director of the Plant Production Department in the Agriculture Directorate, said in a press statement in mid-September that the Agriculture Directorate in Daraa is planning to plant 1,160 dunams of garlic crop for this season.
Fertilizers and medicines also rose
Garlic is considered one of the crops that need chemical fertilizers, such as "superphosphate" and "urea 46." The price of a bag of "urea" fertilizer (50 kilograms) reached one million Syrian pounds, and the price of a bag of "superphosphate" reached about 400,000 Syrian pounds.
Daraa-based agricultural engineer Khaled Suleiman told Enab Baladi that fertilizers are necessary to nourish and loosen the soil, as garlic needs fertile, light clay soil. It is an annual herbaceous plant of the lily family. It is planted in September and continues until June if sold for storage.
It is picked in April if it is sold as green garlic, but it is not suitable for storage and is required to dry in the ground until the end of May in order for it to be suitable for supplies.
The prices of chemical medicines also increased, and the cost of the medicinal spray reached about one million and 200,000 Syrian pounds.
The agricultural engineer Suleiman explained that among the most prominent diseases that affect garlic are fungal diseases such as downy mildew, powdery mildew, erythrocytes, and root rot, which are types that require expensive medicines.
The costs of growing garlic are not limited to seeds, medicines, and fertilizers, but daily workers' wages have also increased, as a worker's wages reached 5,000 pounds, while last season it did not exceed 2,000 pounds.
if you think the article contain wrong information or you have additional details Send Correction