Bad detention conditions inside Turkish deportation camps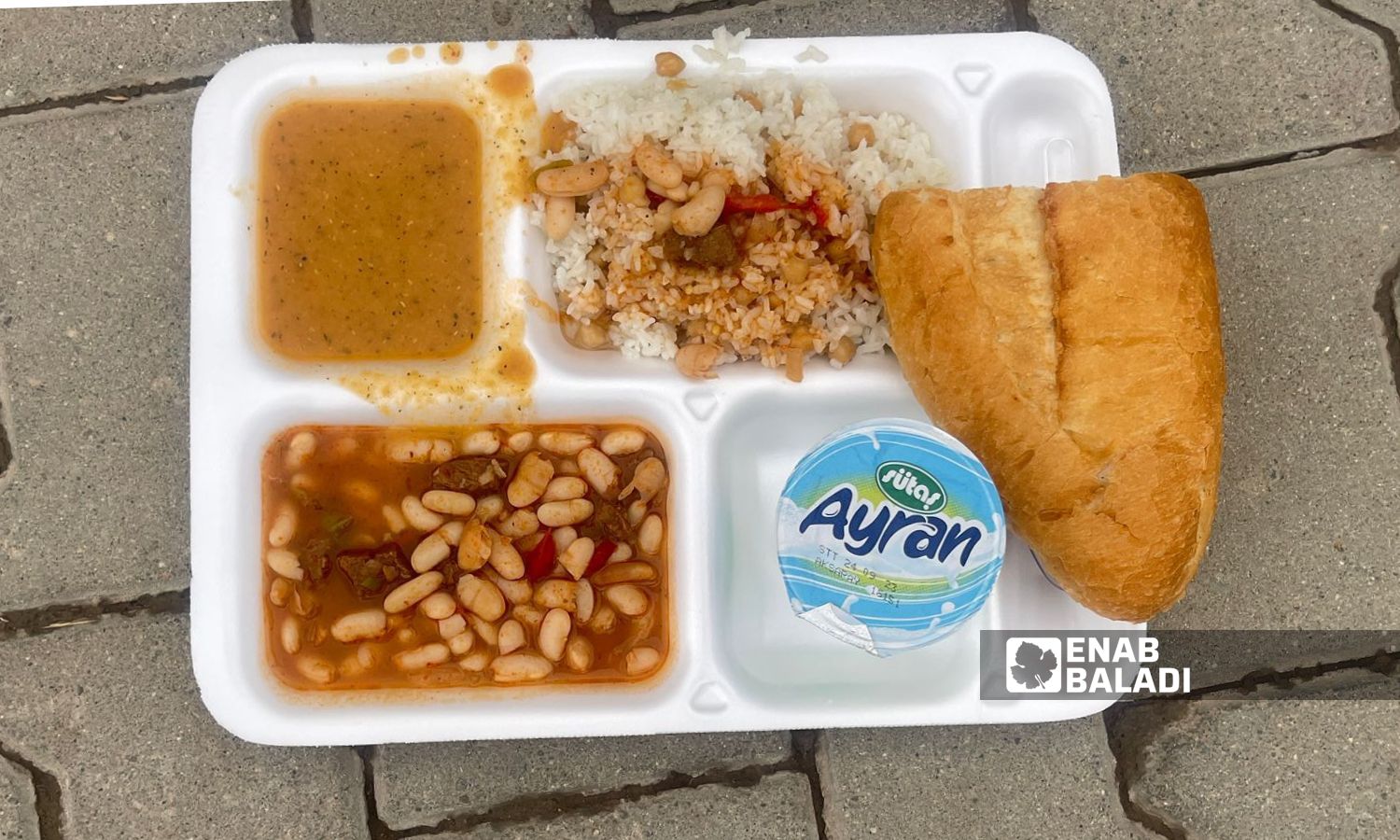 Enab Baladi – Baraa Khattab
"The temperature inside the caravans is very high, and there is no water throughout the day except for an hour or two, and we have no choice but to comply with the fait accompli," this is how Syrian refugees described their situation in the Kilis (Elbeyli) camp, to which they are currently being transferred to evaluate their asylum files in Turkey.
The Turkish authorities continue their security campaign, which resulted in the deportation of refugees to Syria from several cities and states, including holders of the Temporary Protection Identification Document, known as Kimlik, on a "random" trip with "vague details." The campaign was focused in the city of Istanbul, which contains the largest number of Syrian refugees in Turkish cities.
Syrians who violate their identity papers are transferred to the camps without informing them in advance about this step or informing them of the place they will be transferred to, according to what deported refugees told Enab Baladi.
Inside caravans made of steel sheets, where the heat of the sun increases their suffering, Syrians search every day for a glimmer of hope that might emerge from those in charge of detention centers, where they reside in centers that were previously used as Syrian refugee camps in Turkey.
Enab Baladi contacted a group of Syrians who were deported to deportation camps, including the Maraş camp in the state of Kahramanmaraş in the south of the country, which is about 150 kilometers from the Syrian border, the Elbeyli camp in the state of Kilis, and the Oğuzeli detention center in the state of Gaziantep, where the deportees reside in groups in the caravans.
Vague deportation procedures
"I have been detained in the Kilis Elbeyli camp for more than eight months. No one told us when this situation would end, and the camp director is threatening to keep us here or to return to Syria," Ramadan Omar, 26, said, waiting for a decision to end his suffering.
According to what Omar told Enab Baladi, there are about 21 people in the Elbeyli camp, most of whom have courts and travel bans. Some of them tried to hire a lawyer to leave the camp but to no avail.
The camp director repeatedly applies to Ankara to request the deportation of detainees to Syria, but the demand is rejected every time due to the courts preventing them from leaving Turkey, according to Omar, despite him and others signing papers for voluntary return several times.
Anyone who has a court in Turkey is prevented from leaving before the end of his trial and is prohibited from being detained due to trial sessions, in addition to the weekly signature imposed on him at the police station, Omar said.
But the camp director repeats his usual words that no one should leave the camp unless he goes to Syria, according to what was reported by several people interviewed by Enab Baladi.
Omar pointed out that their situation is getting worse within the ambiguity of their current reality, and he continued, "Most of us do not have relatives or acquaintances to help us. We work to support our families in Syria."
With the absence of any prospect of leaving detention centers, many detainees have adapted to the routine of life inside the center, and some of them film their diaries through video clips that they broadcast on the social media platform TikTok.
Water cuts
"There is no water all day except for an hour or two, the caravans are not clean, and insects are widespread," this is how Omar described the bad conditions in the Kilis "Elbeyli" camp, to which he was transferred with a group of Syrians.
Abdullah Abu Arab, a Syrian refugee from the city of Aleppo, told Enab Baladi that staff in the camp meet with them at seven in the morning and seven in the evening, with the aim of counting the number of detainees and ensuring everyone's presence.
He pointed out that anyone who demands any clarification or inquires about his fate in the camp and what will happen to him, or asks to visit a doctor because of a health condition he is experiencing, his request is rejected, and he is met with a phrase that is repeated on the staff's lips every time, which is, "Whoever does not like the camp should go to Syria." 
Abu Arab described the few meals provided to them in the camp, adding that breakfast is not worth waking up at an early hour to get, as he put it, but some residents are forced because they do not have a supplier outside the camp to help them or someone to lend them money.
The refugee said that the way officials dealt with them in the camp and did not provide them with medical care when they became ill or allow them to see a doctor or hospital, in addition to not giving them money to secure their needs, are methods of "oppression."
These methods prompted several people to sign voluntary return papers to return to Syria, but they are of no use as there is a ban on leaving Turkey due to the trials, according to Abu Arab.
Either acceptance or return to Syria
"I don't know what my fate is, and I have no choice but to wait," is how Abu Arab described his situation in the camp, as he faces a court that prevents him from traveling outside Turkey until it ends.
Although the camp director knew about his situation and those with him, he repeated the same words, saying, "I will not let anyone leave the camp unless they go to Syria."
Mohammad, 22, a Syrian refugee from Aleppo, was transferred to the Maraş camp two months ago after four years of residence in Turkey. He indicated that he cannot return to Syria because there is no one from his family in the areas outside the regime's control, as his city is under the control of the regime forces, which makes his return impossible.
"I do not want to return to those areas. There is no one for me there; I do not know anyone, and there is no other breadwinner for my family." Mohammad (a pseudonym for security reasons) described the impossibility of his return to regime-controlled areas, which pose a threat to his life, pointing out that he is a "stranger" to these areas, which Turkey deports Syrians to without considering that some of them do not belong to that region.
Samir, 23, a Syrian refugee who obtained a temporary protection document from the state of Mersin, was arrested by Turkish security forces while working in a clothing store in the Merter district of Istanbul and transferred to the Maraş camp.
He stated that the reason he was taken from his work and deported to the camp was that he was in a state different from the state from which his card was obtained, which is considered a violation of the laws issued by the Turkish authorities.
Samir added to Enab Baladi that "police forces confiscated cell phones and took us to the police station, and we were detained there for about seven hours."
Istanbul's Kimlik is useless
The condition of detainees in the Oğuzeli detention center in Gaziantep is no different from the condition of detainees in the Kilis camp, but it is more difficult, as detainees are prohibited from using mobile phones and are allowed to make one call per day from a public phone in the prison.
Anas told Enab Baladi about the arrest and deportation of his friend Bilal to the Oğuzeli detention center in the state of Gaziantep, as he was arrested in the Fatih neighborhood in Istanbul while carrying travel belongings while trying to flee to Europe.
Although Bilal holds a Kimlik issued in Istanbul, he was transferred to Tuzla prison located in the Asian side of Istanbul, then an order came to transfer him and a number of people who were detained with him to Oğuzeli prison.
Bilal's friends appointed a lawyer for him, and regarding the deportation decision, Anas said that officials cannot deport the young man based on the appeal submitted by the lawyer, but he is forced to remain in the camp until the judge approves his request for conditional release.
Anas pointed out that water and electricity are available in Oğuzeli prison around the clock.
Decrease in the number of Syrians in Turkey
Inspections of "irregular" migrants continue by Turkish security units, as they are sent to their countries via flights or across the border after being forced to sign papers proving that they returned voluntarily.
In a report prepared by the Turkish newspaper Yeni Gun on September 11, it said that about 22,000 Syrians left Turkish territory during last August, based on data updated by the Presidency of Migration Management (PMM) last September.
The number of Syrians residing in Turkey decreased to 3,307,882 people at the beginning of the year, and a total of 205,894 Syrians left Turkey.
According to the newspaper, the number of Syrians residing in temporary shelters reached 73,854 Syrians, which is 2% of the total number of Syrians, while 3,284,697 Syrians live in the cities.
Turkish President Recep Tayyip Erdogan said in a press conference after the G20 summit on September 10 that nearly 600,000 Syrians "returned to their homeland safely, voluntarily, and in a manner befitting human dignity, through the climate and projects Turkey provided in Syria" according to the Turkish Anadolu Agency.
A deadline for the Syrians
The Turkish Minister of the Interior, Ali Yerlikaya, pledged to significantly reduce the number of irregular migrants in all states within a period not exceeding four to five months.
He explained that an irregular immigrant is a foreigner who entered Turkey illegally and continues to reside and work there without an official permit. He also denied that his country deported Syrians, noting that there are "those who exploit digital platforms to incite against us."
On September 24, the deadline given by the Turkish PMM to Syrians residing in Istanbul to return to the states in which they were registered expired, coinciding with security campaigns pursuing violators in the streets, workplaces, and even public transportation.
Syrians residing in Turkey, especially in the southern border states with Syria, find it extremely difficult to obtain travel permission, especially to the state of Istanbul, where the Turkish authorities are trying to reduce the presence of Syrians.
if you think the article contain wrong information or you have additional details Send Correction