Feb.6 quake dragged Syrians into hard jobs in Turkey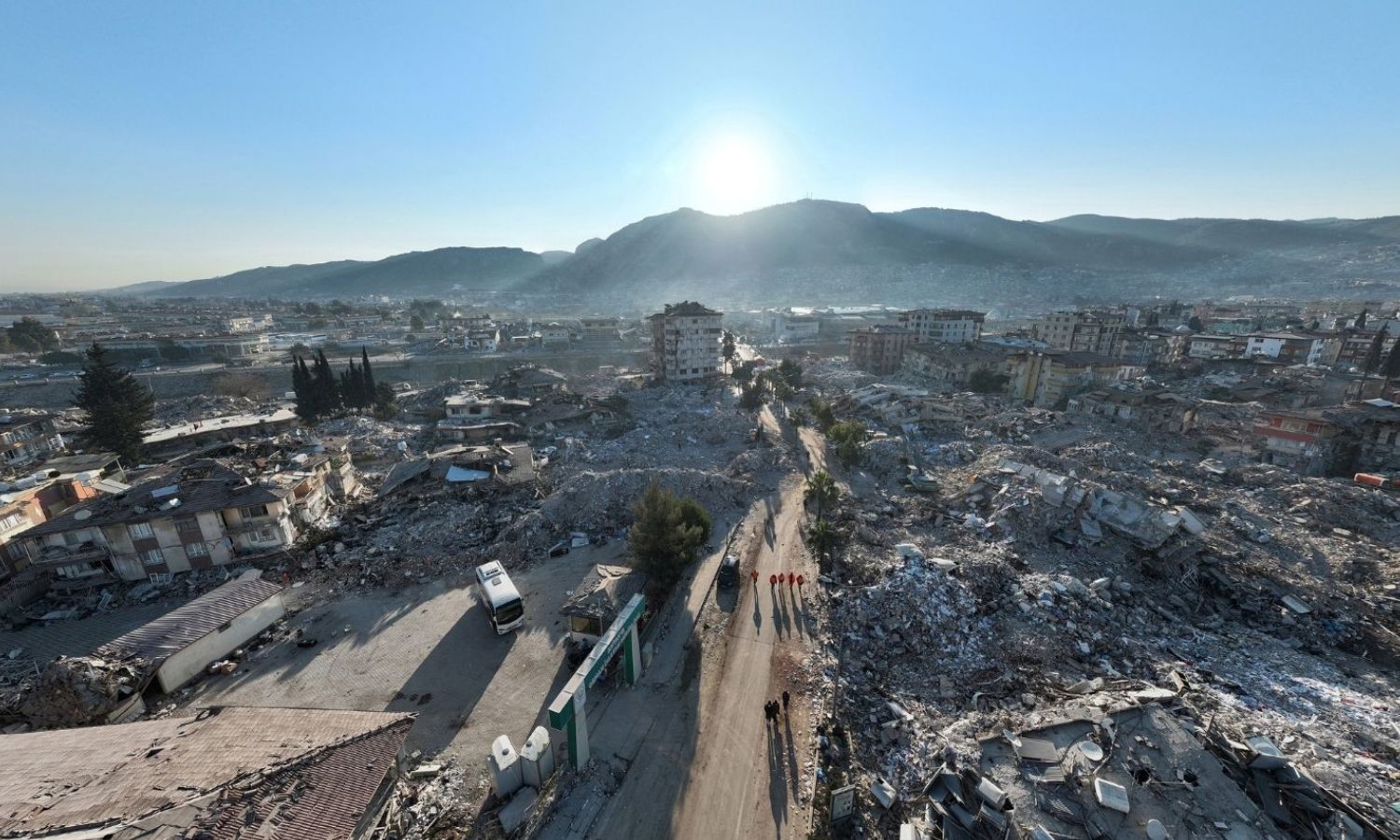 Enab Baladi – Baraa Khattab
Salah lost his job at al-Sabah Foodstuff Company, where he had worked for three years before the massive 7.7 magnitude earthquake that struck southern Turkey and four Syrian governorates as the Antakya-based company's building suffered cracks that forced its owners to close it.
The Syrian refugee is not the only one whose life was upended after the catastrophe of the devastating earthquake that struck southern Turkey and northern Syria on February 6, as hundreds of Syrians suffer because of the cracked houses, which prompted them to live in random places, or to crowd with more than one family in one house, until they find a way to stay legally.
Salah Hasanu, 50, lost his house in the city of Antakya, southern Turkey after it was exposed to cracks that made it uninhabitable, and then it was demolished by a decision of the Turkish authorities later.
Hasanu now works in distributing food supplies to stores and restaurants on his own in the city of Antakya, and he goes to the state of Gaziantep every week to bring and distribute supplies, complaining that he has to exert physical effort beyond his physical ability at his current age, according to what he told Enab Baladi.
After staying for nine years in Antakya, due to its proximity to Syria and his ability to speak comfortably with its people, Hasanu intends to move to another state and start a new job, as his current job always requires a "travel permit" that allows him to move between the Turkish states.
Although about seven months have passed since the earthquake disaster, its economic and psychological effects are clear on many of the survivors interviewed by Enab Baladi.
Mohammad Haskiro, 26, a Syrian from Jisr al-Shughour region in the western countryside of Idlib city, resides in the city of Reyhanli in Hatay province in southern Turkey. He is also looking for stability in another province after his home and workplace in Antakya were damaged in the earthquake.
Haskiro works in a fast food restaurant and complains about the long hours of his work, as he returns home at four in the morning and does not get more than two days off a month, according to what he told Enab Baladi.
Obstacles to re-establishing a new profession
Qusay al-Hassan, who took refuge in Turkey in 2013 to escape the bombing and battles in northern Syria, found himself after the disaster as someone starting refugee life from scratch after losing his home and everything in it.
Al-Hassan told Enab Baladi that his losses were not limited to the contents of his house, which he bought over the years, but rather he lost part of his life and diaries in the neighborhood in which he resided, all of which were buried under the rubble of collapsed buildings, and became a memory like his previous life in Syria.
After losing a women's clothing store he owned in the city of Antakya, al-Hassan was forced to work long hours in a carpentry workshop, which he describes as a "difficult profession."
Al-Hassan took refuge in his relatives' house in the state of Konya after the earthquake, and he worked there to market clothes to Syrian stores, but in small quantities that provided a limited financial return.
A month later, the Antakya Chamber of Commerce contacted him and informed him of the possibility of returning to resume his work and staying in a "caravan" provided by the government, but when he returned, he learned from the concerned authority that the "caravans" are not currently designated for Syrians, and al-Hassan intends to return to Antakya, "but house rents have become very high," according to what he told Enab Baladi.
The value of monthly rents for homes in the affected states increased beyond the capacity of some Syrians, in addition to the conditions for registering the residence of foreigners in some neighborhoods imposed by the Turkish Ministry of the Interior, which increased the complications facing them, and prompted many to think and search for a way out of Turkey to other countries of asylum.
Omar Kaka, 33, and his family live in a relative's house in the state of Bursa with 15 people due to the loss of his rented house in the state of Antakya and his inability to rent a house on his own.
Kaka thought about returning to Syria, but his relatives warned him against it, as did his friends who went on vacation after the earthquake, stressing that the people in Syria were looking for a way to leave the country and that he had the "privilege" of being in Turkey.
He said that the lowest rent for a modest house in southern Turkey currently is no less than 5,000 Turkish liras per month, which is an amount that he is unable to secure at the present time as a result of losing his source of livelihood and that his work in a fish restaurant has increased the difficulties in his life because it is totally different from his previous work in construction.
As for Abdullah, 52, a graduate of the Faculty of Economics who worked as a financial and administrative manager in Syria, he took refuge in Turkey with his family in 2011 and settled in Antakya city due to its geographical proximity to Syria. After the earthquake occurred, he moved to live in the state of Uşak, where his son studies at the Uşak University.
Abdullah told Enab Baladi that he owned a grocery store that he rented from its Turkish owner, but it was destroyed in the earthquake along with the house in which he lived.
Abdullah and his family, consisting of four people, chose to stay in the state of Uşak and search for work that would support himself and his family and that was appropriate for his age, as it was difficult for him to work in workshops and factories due to his weak physical structure, according to what he said.
The Syrian refugee considered that the place has a "comfortable environment for work and stability" compared to the rest of the states that impose many restrictions on Syrians.
Many Syrians whose businesses were damaged after the earthquake are struggling to rebuild their lives, and the burdens of life have increased due to high prices and the difficulty of obtaining housing and work.
658,000 workers were affected
The International Labor Organization (ILO) revealed the impact of the earthquake that struck Turkey and Syria on February 6 on employment and called for "urgent support" for those who lost their jobs and livelihoods in Syria and Turkey.
The organization said in its report, issued on March 28, that the earthquake in Turkey left more than 658,000 workers unable to earn a living.
The ILO estimates that these affected workers face income losses averaging more than $230 per month each.
Along with job losses, the ILO's assessment of Turkey warned of increased risks to occupational safety and health, as well as child labor.
According to the Turkish Ministry of Labor's latest statistics, at the end of 2021, the number of Syrians obtaining a work permit in Turkey reached 91,500 people.
The number of Syrian refugees residing in the areas affected by the earthquake is 1.7 million people, while at least 3,395,000 Syrian refugees reside in Turkey under temporary protection documents, according to the latest June statistics of the Presidency of Migration Management (PMM).
In a previous report, Enab Baladi shed light on the difficult situations of the Syrians as a result of the earthquake in Turkey and reviewed the testimonies of those affected and the method of documenting the unidentified victims and the destinations that the Syrians took or that were imposed on them by the circumstances of the disaster, and the amount of support provided, whether by the authorities or non-governmental organizations.
if you think the article contain wrong information or you have additional details Send Correction