​​Due to weather and lack of customers, losses in the swimming pools sector in Idlib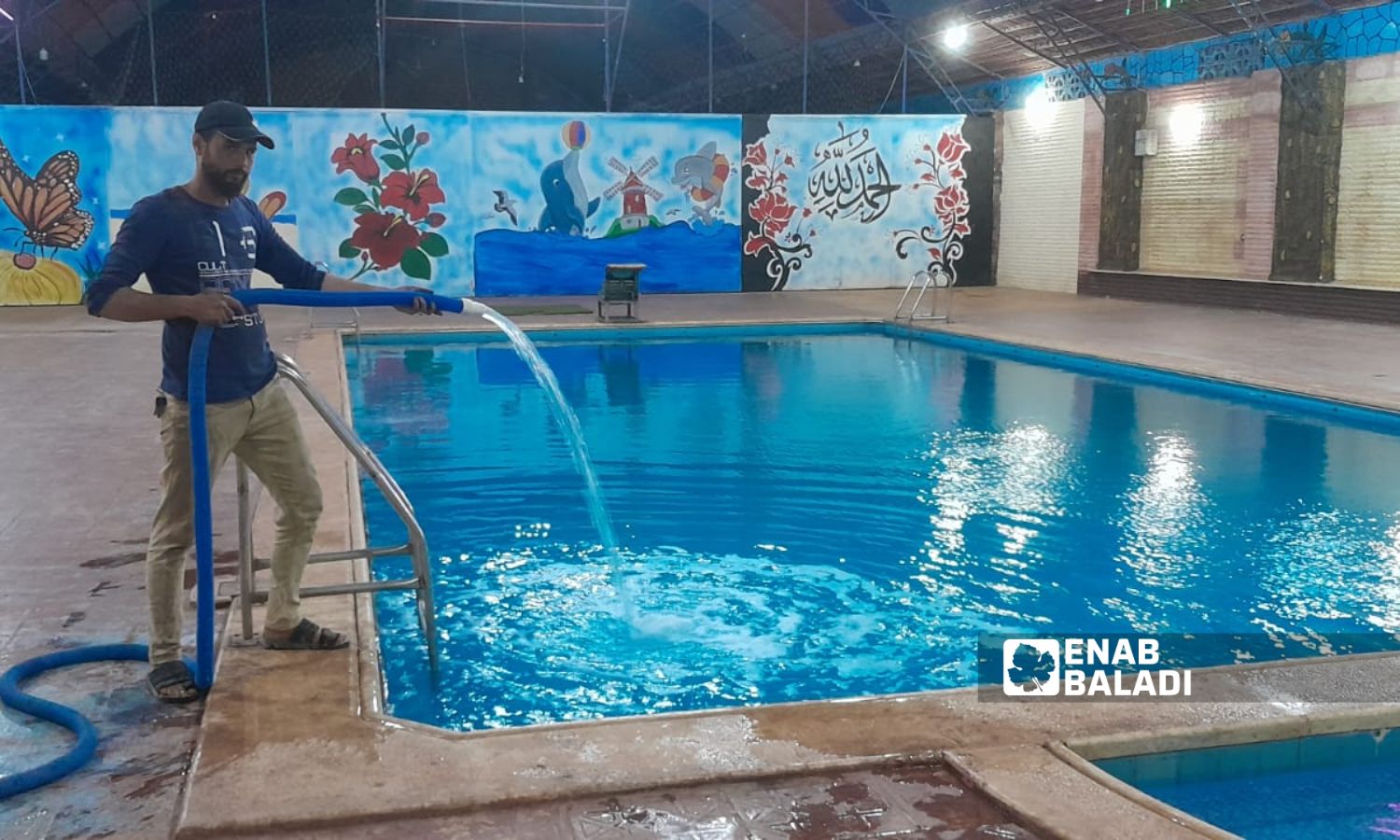 Idlib – Anas al-Khouli
Mohammad Lathqani hopes to compensate in the remaining days of this summer so that he does not suffer major financial losses that prevent him from working again after he spent all his savings investing in a swimming pool and a wedding hall on the outskirts of the northwestern city of Idlib.
Lathqani has been investing in swimming pools every summer for eight years, and he told Enab Baladi that the swimming pool season lasts four months, between May and September of each year, which is a period sufficient to collect the amount paid for the investment and collect good profits, but that did not happen this year.
At the beginning of this summer, the winds were strong, which led to a delay in demand for swimming pools, and the high prices and low living conditions of residents led to a reluctance to rent swimming pools, which caused their owners and investors huge losses.
There are many swimming pools on the outskirts of Idlib city, which are considered the first destination for families and young people to relax by renting them for hours or days.
No demand; High operational costs
Lathqani experienced a great disappointment this year, as the swimming pool season did not start until July 15, that is, two months later than expected, due to the cold and severe airwaves, which caused him and the rest of the investors huge losses, according to him.
He added that he previously used to confirm the pool reservation and receive a deposit a week before the reservation date due to the intensity of demand, but demand decreased by 75% this year compared to previous years, and unusually, most days passed without customers.
On the other hand, Omar al-Jumi, the owner of a swimming pool in Idlib, said that those in charge of swimming pools prefer to receive small families more than groups of young people due to the families' less consumption of water, and not having to turn on all the lighting and adding large amounts of chlorine and sterilization materials.
According to al-Jumi, reservations by families this year were very weak, with groups of young people arriving, forcing pool owners to pay more costs.
He added to Enab Baladi that the pool operator needs to pay $10 (about 265 Turkish liras) every day to change the water, another ten dollars for electricity to carry out the water purification (filtration) process, and the same price for chlorine, precipitating materials, and detergents.
He pointed out that swimming pool owners do not incur these costs if they receive small families.
Offers that do not compensate for losses
In the hope of avoiding and mitigating the loss, pool owners are looking for solutions by making offers that include reduced fees, while some of them prefer to open the pool to everyone, like public swimming pools, and set low fees for entry for young people.
Al-Jumi said he usually rents the pool for $50 during the day and $25 at night, while the pool fee for parties and events reaches $125 due to renting the chairs and tables needed for the event.
The people believe these wages are high and exorbitant, as the exchange rate of $50 amounts to about 1,320 Turkish liras.
At best, a worker's wage does not exceed 70 Turkish liras (less than $3) in Idlib, and the people prefer to spend this amount on priorities such as food and medicine.
This year, the owner of the al-Jumi swimming pool was forced to open the swimming pool to everyone during the weekdays, except for Friday, and set the entrance fee at 30 Turkish liras for those wishing to avoid the swimming pool remaining without reservation.
In exchange for this offer, he was also forced to spend additional sums to repeatedly add water and chlorine to the pool and contract with a full-time child lifeguard to avoid being responsible for someone drowning, which led to him incurring additional losses, he said.
In turn, Lathqani said that the severe decline in demand for swimming pools forced investors to announce incentive offers. He mentioned that last year, he was renting out the swimming pool for $65 for 24 hours for ten people, but this year, he announced discounts worth a third of the value.
He added that despite the offers that were announced, demand only improved by 25%, and as the end of the season approaches, he hopes that demand will improve, even if only slightly, to avoid major losses that he cannot bear.
Organizing groups
People in Idlib used to rent swimming pools to relax themselves, but the deteriorating financial situation prompted them to abandon going to the swimming pool as a family and to organize youth or women's groups for this purpose.
Abdul-Karim al-Ahmad, 37, lives in the city of Idlib and works in trade. He said that every year, he chooses a suitable day with his family to go to the swimming pool, but he was unable to do so this year due to poor financial conditions.
According to al-Ahmed, the cost of renting the pool is $50, and it requires approximately $30 for food and other expenses.
After a simple calculation, he said that last year he needed a thousand Turkish liras, but today he needs 2,500 liras to spend a day in the pool, which is a large amount that he cannot afford.
This year, al-Ahmed organized a group to rent the swimming pool with his friends so that he would go with a group of young men on one day, and his wife would go with a group of women on another day, and the members of each group would share the cost.
Hiba al-Sayed, 30, said that this year, she went to the pool with a group of women due to the high prices and the family's inability to afford to go individually.
Al-Sayed told Enab Baladi that the fees for going as groups amounted to 150 Turkish liras per woman, which is a small amount compared to a family going alone, pointing out that the visit was enjoyable, but it is not compared to a family visit to the swimming pool.
if you think the article contain wrong information or you have additional details Send Correction