Daraa: Students in search of schools amid lack of staff, educational institutions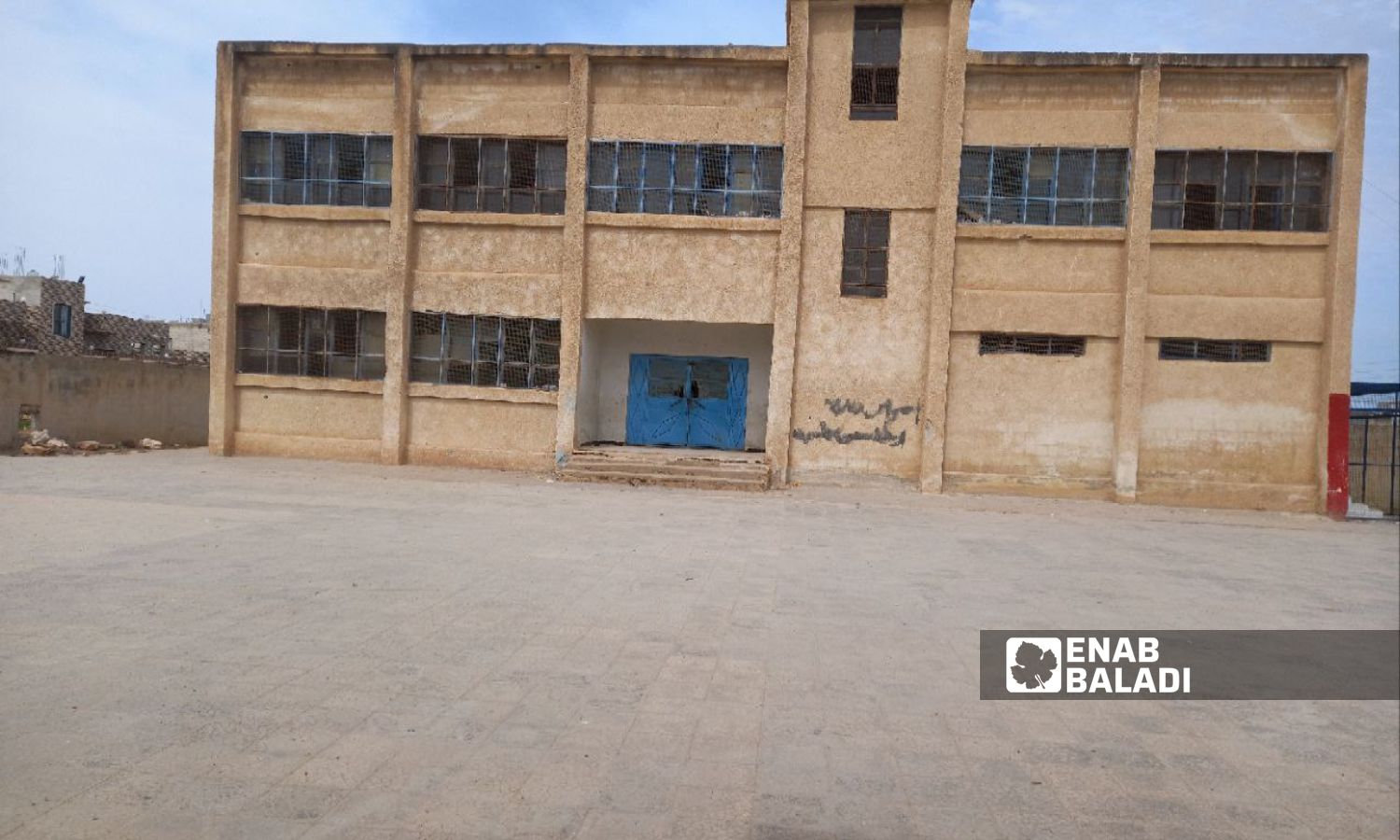 Enab Baladi – Halim Muhammad
Mohammad needs 120,000 Syrian pounds per week as a fee that he pays in advance to transport his children to and from school daily from his town of al-Ajami to the town of Muzayrib in the western countryside of Daraa, which is approximately seven kilometers away from his place of residence.
There is only one primary school in the town of al-Ajami, which forced Mohammad to send his children, middle and high school students, outside the town.
Mohammad works as a public employee with a salary of about 220,000 Syrian pounds, while he needs double his salary just to cover the transportation fees for his children, according to what he told Enab Baladi. ($1=13450 SYP)
Transport fees increased in Daraa governorate after a decision was issued on August 16, requiring the rise in kilometer fares for internal transportation operating on diesel fuel as a result of the increase in fuel prices in regime-controlled areas in general.
Towns without schools
Some rural areas in Daraa suffer from the lack of schools for the middle and secondary levels, which forces students to study in neighboring areas or in the city of Daraa. This results in a daily financial cost that the student pays to go and come back, and the cost increased this year after raising transportation fees.
Zeyzoun, in the western countryside of Daraa, is one of the towns that lacks a secondary school, and its students are distributed between the town of Tal Shihab or the city of Daraa.
Islamic Sharia schools and vocational and industrial training schools are not available in the villages of the western countryside, forcing students to study in the city of Daraa, which entails a high financial cost, as it has become necessary for the residents of those villages to travel daily to schools in the city of Daraa.
The villages of Asim and Sur in the al-Lajat area also lack secondary schools, as students from there go to study in the cities of Izraa and Khabbab.
Although there are high schools in Jadal and al-Najeeh, which are among the villages of al-Lajat and closer compared to Izraa and Khabbab, traffic towards them is cut off, which forces students to head towards Izraa schools.
Weakly staffed schools
There are secondary schools in some villages, but some students prefer to study in neighboring towns or in city centers because these schools suffer from difficulties, the most important of which is the lack of staff, which drives students to search for schools with a full quorum of teachers with proven experience.
Farzat, a third-secondary school student in the town of Nahta, told Enab Baladi that he studies in the town of al-Harak, which is about seven kilometers away from his town, in a private school.
Education in the town's high school is weak with the absence of experienced teachers, and despite the transportation costs and school fees estimated at three and a half million, he is looking for a school with qualified teachers, the young man added.
More than 30 students from the village of Umm Walad, in the far eastern countryside of Daraa, contract with buses that take them daily back and forth to the town of Maaraba. Although there is a high school in their town, the lack of staff prompted them to study at Maaraba High School, which has a full teaching staff.
One of the teachers in the village of Umm Walad, who requested that his name not be mentioned for security reasons, told Enab Baladi that there is a high school in the town, but it suffers from a shortage of staff due to the costs of transportation fees for teachers, low salaries, and the migration of a large number of teachers, which led to the loss of teachers in scientific and linguistic specializations.
The teacher added that the town's notables tried to collect donations to pay additional wages to some teachers equivalent to the value of their salaries, but the capabilities are limited, and the town was unable to collect wages for the entire staff present during the last academic year.
He explained that some experienced teachers contract with private schools, where their salaries reach about 600,000 Syrian pounds, while some teachers devote themselves to private lessons because they are more profitable than the returns of a government job.
The number of school students at various levels in Daraa governorate this year reached 270,331 students, including 241,255 students in the basic education stage and 22,439 in the secondary education stage, according to a statement by the Director of Daraa Education, Manhal al-Amarin, on September 3 of this year.
Out of 943 schools in Daraa governorate, 179 schools have been out of service due to military operations in the region since 2011.
if you think the article contain wrong information or you have additional details Send Correction