Beauty centers are active in Idlib despite deteriorating living conditions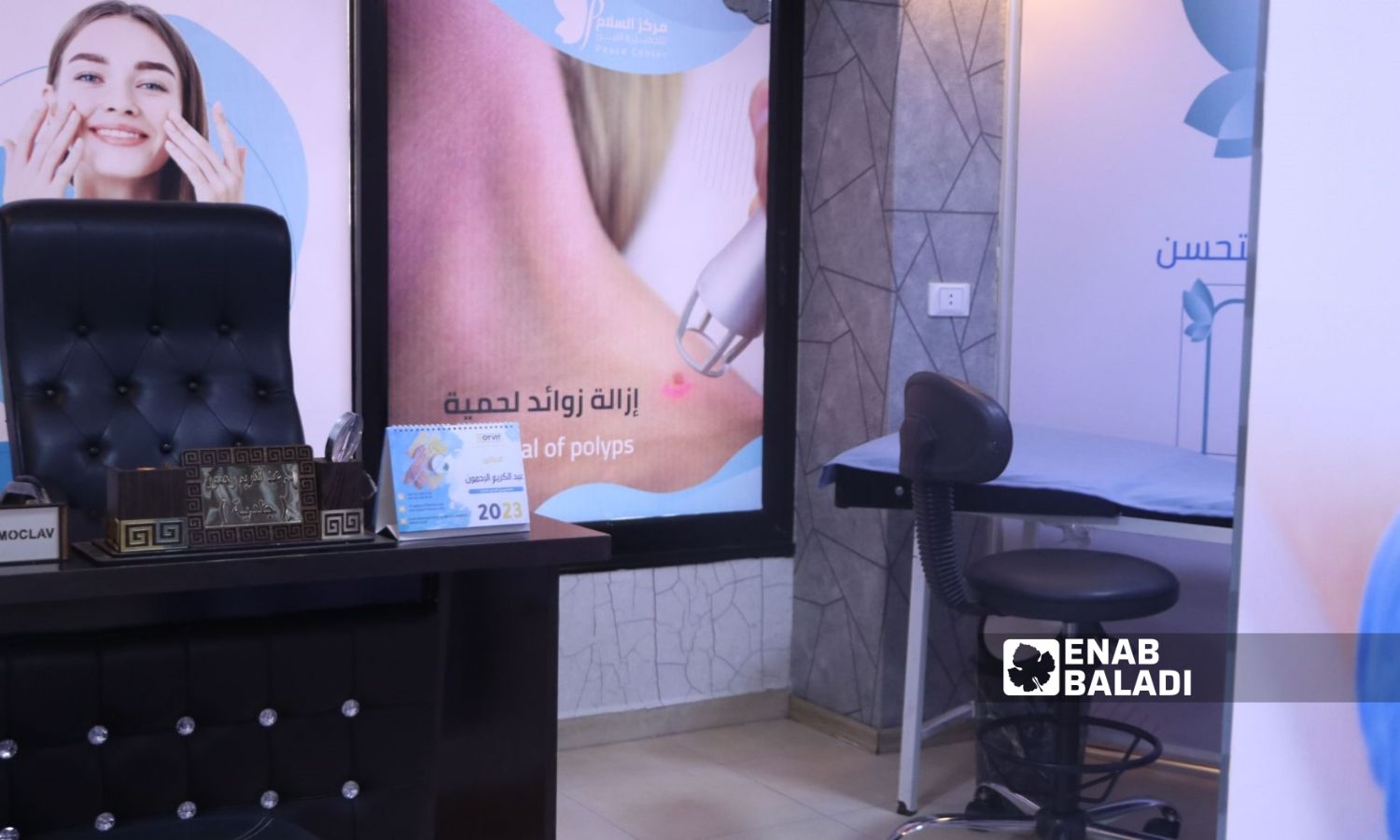 Enab Baladi – Hassan Ibrahim
Fares feels happy after some of the deformities in his six-year-old daughter's hand disappeared following her treatment at a cosmetic treatment center in the city of Idlib, northwestern Syria.
The treatment period lasted five weeks and consisted of laser sessions to remove the deformity resulting from a burn the girl suffered a year ago.
Fares went to the cosmetic center because he had to, according to what he told Enab Baladi, for fear that the deformity would affect his child's physical and psychological health. He added, "We did not see a radical change in the deformity, and I think the percentage of change did not exceed 15%, but that is better than nothing." 
On the other hand, Ghosoun, 32, considered that her experience in a beauty center in Idlib was good, and she told Enab Baladi that she had performed laser hair removal sessions and laser tummy tuck and achieved positive results.
Beauty and cosmetic treatment centers are widespread in Idlib and offer a variety of services, attracting different categories despite their high prices and specializing in things considered a luxury by a wide segment, while some see them as a necessary need, especially operations to hide scars and deformities left by the years of war in Syria.
These centers are witnessing demand despite the economic hardship, deteriorating living conditions, and relative instability, and they are not limited to the well-off. Rather, beauty care options have multiplied and are now accessible to everyone from different economic classes.
Cosmetic, Plastic surgery
The director of al-Salam Beauty and Laser Center in Idlib, pharmacist Reem Kanjo, told Enab Baladi that most of the centers provide beauty services and have advanced devices for the skin and hair, including hydrafacial, (a device that exfoliates the skin chemically and crystally), "plasma" for hair and face, and Dermapen (to tighten pores and reduce spots), mesotherapy (to renew skin cells), and a device for tightening sagging skin in the body, skin, and hands, removing moles, polyps, and breaking down fat.
Kanjo added that the services provided by the centers are laser hair removal, correcting skin defects such as pigmentation, scars, burn marks, and other problems that the skin, in general, and the complexion, in particular, are exposed to. The centers also address problems of hair loss and split ends.
She explained that the center she runs includes a department for treating obesity and achieving the ideal weight through diet, with the help of devices, and with the presence of a specialized doctor.
The centers include specialized staff such as nutritionists or dermatologists, but they rely more on technicians and trainees to treat skin and complexion problems.
It provides hair transplant operations, tattoo removal, gastric sleeve operations, and correction of congenital deformities or those resulting from war injuries, and all surgical and reconstructive operations are carried out in specialized centers.
Cost in dollars, normal turnout
Ghosoun, who underwent laser hair removal and tummy tuck, says that the biggest obstacle was the cost, which amounted to $65 (about 1,750 Turkish liras), including $45 for three hair removal sessions, and $20 for two sessions to tighten sagging.
As for Fares, he stated that the treatment sessions for his child's hand deformity must be repeated after a while because their effect is not permanent.
He pointed out that the doctor initially asked to conduct five sessions at a cost of $15 per session, and after intense insistence, they agreed to reduce the fee to ten dollars, with promises that the sessions would give 50% good results.
The price of a full-body laser session ranges between $45 and $50, and the price of a "carbon" session for facial rejuvenation and whitening of elbows and sensitive areas is $15.
The price of a Botox needle is $50, a filler is $100, a full body sculpting session is $20, a HIFU session to tighten wrinkles is $15, and a deep skin cleansing is $10.
For her part, Hanaa al-Shami, 24, said that she does not trust entering a beauty center in Idlib, explaining that these operations require a specialized doctor with great experience in the field.
During her interview with Enab Baladi, she mentioned that she often hears about failed cosmetic surgeries that may happen to celebrities in international centers, so she is not convinced that a center in a narrow geographical area with deteriorating living conditions will provide good results for a nose reduction or eyebrow lift operation, for example.
Pharmacist Kenjo described the demand as moderate, and it is often for a therapeutic purpose rather than a cosmetic one. However, the difficult financial circumstances of people are a factor in keeping them away from the centers.
Ahmed Sattouf, a plastic surgeon, runs a cosmetic, laser, and dental center in the city of Idlib. He said that cosmetic centers have increased in the region in light of relative stability, but demand is limited for cosmetic categories and is good for those suffering from war injuries and in need of reconstructive and cosmetic surgeries.
Sattouf told Enab Baladi that the prices are high due to the high cost of devices, especially lasers, but they are reasonable prices compared to the cost of such operations outside the region.
The doctor stated that there are local medical organizations that cover the fees for treating deformities of war-injured patients, who are essentially treated at reduced prices, taking into account the living conditions.
He considered that the services provided in the centers are good and give the desired results, which are the same results provided by external centers.
Terms and licenses
The official of the Hospitals Directorate in the Ministry of Health of the Syrian Salvation Government (SSG), the ruling administrative body in Idlib, Mulham Ghazi, told Enab Baladi that the ministry has established several technical standards and executive instructions for issuing licenses for beauty centers.
Ghazi explained that the most important condition is the presence of a doctor who specializes in plastic surgery, dermatology, or any specialty related to the services provided by the center, adding that the license is granted to the doctor who is the technical director and supervisor of the center and is not granted to anyone other than the doctor.
These 12 centers are affiliated with the private sector, and the Ministry of Health supervises their work and monitors their commitment to its approved medical protocols.
During the preparation of this report, Enab Baladi discovered that there are several centers that do not meet the conditions mentioned by the government, yet they obtained licenses that allow them to continue their work and provide their services.
Escape from psychological pressure
These centers are active in the northwestern region of Syria, whose population suffers from extreme poverty, a decline and deficit in purchasing power, and a lack of job opportunities.
The opposition-held northern region includes 4.5 million people, 4.1 million of whom are in need of assistance, 3.3 million of whom suffer from food insecurity, and the worker's daily wage does not exceed 70 Turkish liras at best (less than $3).
Social psychology specialist Safwan Qassam told Enab Baladi that human needs are logically supposed to be in order of priority, or what is known as Maslow's pyramid of basic human needs, which are defined by five needs in a hierarchical form starting from the bottom of the pyramid to the top, which are:
Physiological needs (such as food and clothing), then the need for security (such as living and job security), thirdly, social needs (such as friendship and family), fourthly the need for esteem (such as self-esteem and respect), and fifthly the need for self-actualization (such as innovation and problem-solving).
Qassam believes that the priorities in northwestern Syria are illogical for people who live on the minimum level of subsistence, and in return, some of them go for plastic surgery.
He considered that the reason for visiting the centers was to search for a way out of the psychological distress that a person experiences, such as poverty, deprivation, and low living standards.
The sociologist added that a person's desire to search for social appreciation and meet the need for self-esteem and confidence increases when the person resorts to these operations and that they serve as compensation for his psychological pressures.
Qassam stated that media and promotion play a major role in confusing an individual's priorities, especially the media, which is governed by agendas and has interests behind them, as it has a role in implanting different values and teachings.
Dangers of plastic surgery
Cosmetic surgery is one of the oldest healing treatments in the world, and scientists believe that the oldest facial plastic surgery was performed more than 4,000 years ago, and doctors in ancient India used skin grafts in plastic surgery as early as 800 BC.
These operations gradually transformed from necessary reconstructive operations, limited to repairing damaged parts of the human body and patching them so that they return to their natural state as much as possible, to cosmetic operations that keep up with "fashion."
Some of them are intended to resemble a famous person or simply because plastic surgery has become widespread and accessible to most people.
All surgeries carry some risks, and plastic and reconstructive surgery procedures are often complex and may alter sensitive structures near major body organs or sensitive tissues.
The possibility of complications depends on various factors, including the type of surgery, the person's health condition, and lifestyle factors such as smoking and others.
Some complications may occur during surgery, while other complications may develop after recovery, and one of the most prominent risks is that a person may not achieve the result he/she expected.
According to the Cleveland Clinic Academic Medical Center, other potential risks of plastic surgery include:
-Abnormal scars.
-Blood clots.
-Blood loss.
-Complications of anesthesia, such as respiratory problems during the procedure.
– Fluid accumulation.
-Infection.
– Nerve damage, leading to neuropathy.
-Scars that prevent normal movement.
-Slow healing of wounds and skin incisions that take longer than expected to heal.
---
Enab Baladi's correspondent in Idlib, Shams al-Din Matoun, contributed to this report.
if you think the article contain wrong information or you have additional details Send Correction