Azaz: Training centers to enhance the capabilities of university students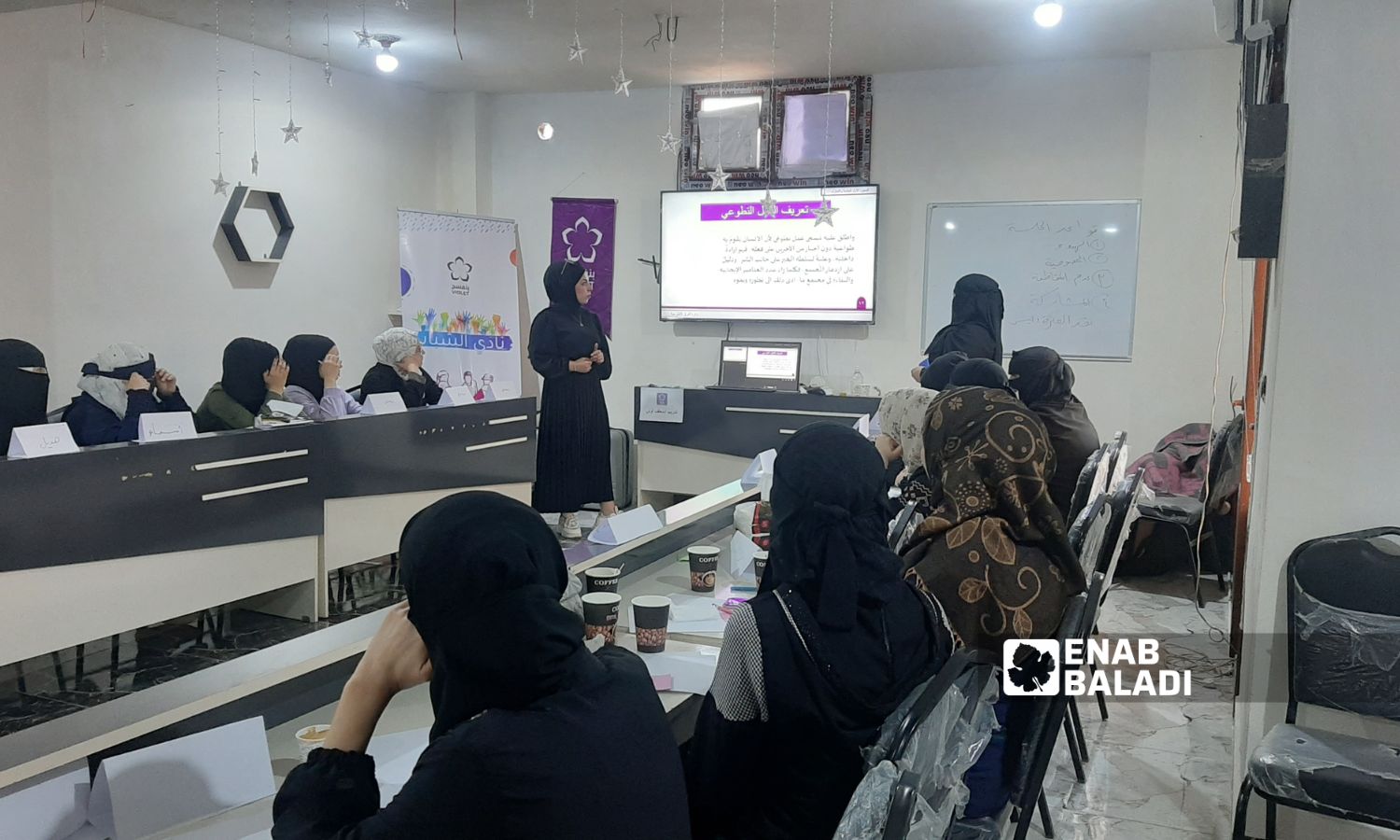 Azaz – Dayan Junpaz
Several centers in the border city of Azaz, in the northern countryside of Aleppo, are active in organizing training in various fields targeting university graduates and students, including those related to critical thinking or qualification for training such as TOT (Training of Trainers) courses.
The training also aims to develop daily and practical abilities and skills, and provide opportunities to enter the labor market, such as technical training that include the Office package, the Google series of programs, and others.
The training is free in public centers under the supervision of various organizations, while they are paid in some private centers.
At the end of the training hours, the entity in charge of the training grants a certificate of attendance to the trainee after undergoing a theoretical test.
Gaining skills and experience
Many university students turn to training different from their university specialization, with the aim of acquiring skills and building a general culture, and some of them may be similar to the content of their university major, with the aim of gaining practical experience.
Sabreen Jablawi, a student at the Faculty of Arts at the Free Aleppo University in Azaz, said that she joined the critical thinking training within the Watheqoon (Confident) center in the city, pointing out that it contributed positively to her personal life, and provided her with different and new skills and experiences.
Critical thinking is rational objective thinking that is based on facts, without bias towards a particular party. It is known as independent thinking, and requires the ability to use logic.
Zahraa al-Sheikh, a student in the English Department at Free Aleppo University, told Enab Baladi that her orientation is often towards training in foreign languages, because university studies are academic and involve details and grammar, and do not allow her to master conversation, while training is more directed towards conversations in order to improve pronunciation, and to show confidence and strength of character when speaking the language.
She added that mastering conversations in different languages opens new horizons for her and provides more work opportunities, whether with local institutions or international bodies.
The two students, Sabreen and Zahraa, agree that university education is no less important than these trainings, but the method that is followed during the training differs from university education, as it is more flexible and enjoyable, and contributes to the formation of a general culture among the trainees.
The managing director of the Youth Club of the Violet-Syria Organization, Ahmed Kallo, told Enab Baladi that the organization is interested in providing disaster and crisis management training, given the crises that northern Syria is suffering from.
He added that the training aims to prepare the largest possible number to deal with these crises, pointing out that the source of the training is an international curriculum approved in times of crises and disasters, and is not a substitute for any formal education, but rather is directed towards empowering society with knowledge and skills that increase its resilience in light of danger.
At the end of last July, 25 economics graduate trainees in northern Syria completed a two-month training course in Azaz, at the office of the Education Without Borders-Midad Foundation, in cooperation with the Ministry of Finance and Economy in the Syrian Interim Government (SIG) and the Syndicate of Free Syrian Economists.
The Minister of Economy in the Interim Government, Abdulhakim al-Masri, told Enab Baladi that this is the first course in the region, and the ministry will try to announce a similar course every year, preceded by a course for applicants to undergo scientific subjects that qualify them to pass the exam and obtain a certificate, through which they can enter the labor market.
Solutions for job creation
After completing a training of trainers (TOT) course, which is dedicated to preparing trainers with an average of 70 training hours, in the youth club of Violet Organization in the city of Azaz, new horizons were opened for Alaa al-Hussein to become a trainer in Legal Awareness after she passed the training period, acquiring the skills of a trainer. 
She also acquired good public speaking skills, which helped her start her practical career with legal training in several centers.
Al-Hussein told Enab Baladi, that the distinctive factor of the training is the interesting practical methods that differ from the method of theoretical and narrative information, and active participation, pointing out that giving each person his space within the training contributes to giving him new values and interests.
She considered that university specialization alone is not sufficient, and that training provides a person with other and different fields, and the person joins them according to his desire and interest, voluntarily and not by force, and this is what makes him more interested and better able to memorize information.
Have certificates of attendance
Young people in northern Syria accept educational and vocational courses that suit their academic specializations and professional fields, and improve their job opportunities in general.
Abdulnasser al-Kaku, a student at the Media Institute at the Free Aleppo University, told Enab Baladi that he and his colleagues joined the Journalism Editing training course at the Hooz Center for Social Development in Azaz, in order to gain practical experience and prepare to enter the labor market since they do not have previous experience within their specialty.
He added that the motivation for these training is also to obtain a certificate of attendance and strengthen the CV. Most local institutions and organizations, when announcing a job vacancy, often give priority to those with previous work, experience, and training, according to al-Kaku.
Despite their interest in these courses, students and university graduates in Azaz and most regions of northern Syria suffer from a lack of suitable job opportunities, or even unpaid volunteer work that helps them gain experience to increase their chances of obtaining work in the future, according to what Enab Baladi monitored.
As a result of this reality, a number of young people were forced to abandon their ambition to obtain a job appropriate to their academic specialty, and move towards whatever jobs are available, regardless of how compatible it is with their specialty.
Students and graduates of public and private universities in northern Syria also face difficulty in external recognition of university degrees issued by their universities, which forces most of them to accept any job opportunity, even if it is in a field other than their university specialty.
if you think the article contain wrong information or you have additional details Send Correction