​​Summer holidays activities restricted to "wealthy" children in Daraa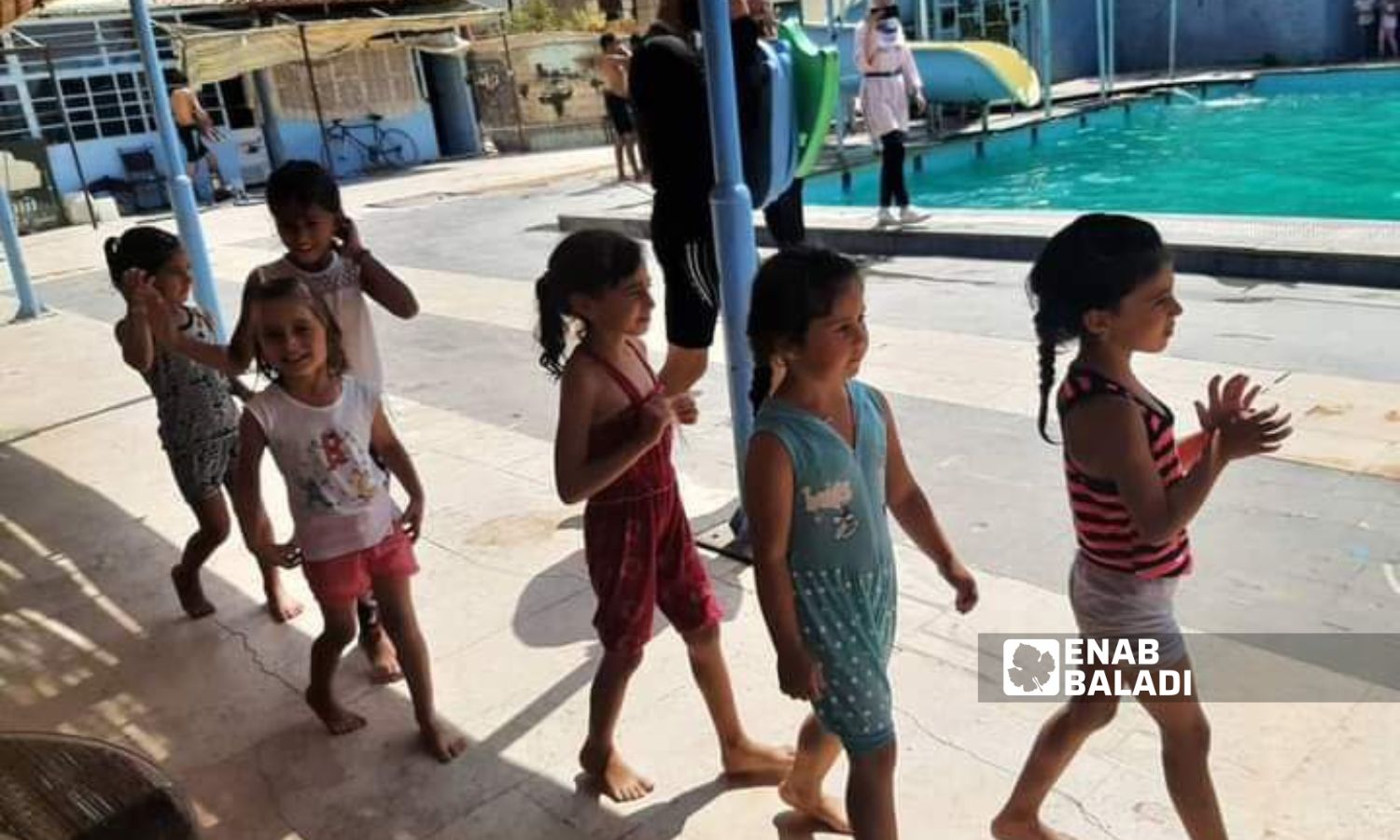 Daraa – Sarah al-Ahmad
Children in the southern city of Daraa wait for the summer vacation to practice various recreational activities during their temporary absence from school. However, during this period, some parents resort to seizing the opportunity of the long vacation of about three months to develop their children's intellectual or recreational skills, while others may want their children to join workshops to learn simple professional crafts.
The high fees for joining this type of summer workshops and clubs for children may prevent many parents from being able to enroll their children in them due to the difficult living conditions, which impose priority on securing basic needs only.
For the able
The activities that children can join vary between recreational activities and others to develop intellectual and educational skills, as well as workshops for learning crafts.
Daraa-based Abeer al-Dukhan believes that the summer club is a necessity for her 7-year-old and 10-year-old children during the long summer vacation period to fill their time with useful activities, whether entertaining or educational.
Al-Dukhan pays 500,000 Syrian pounds a month to enroll her children full-time in the club of the private school in her area of residence.
Al-Dukhan told Enab Baladi that she can secure the costs of recreational and educational clubs for her children because she relies on what her husband, who is traveling abroad, allocates for these workshops.
Yasser Rashidat, a father of four children, told Enab Baladi that summer clubs are very important, but they are not within the financial means of all families, as the average monthly family income does not exceed about 250,000 SYP.
In the absence of his financial ability to enroll his children in these courses, Rashidat and his wife resort to educating their children at home in preparation for their next academic year.
Professional occupations are another option
During the summer holidays, some parents want to teach their children simple crafts in addition to teaching them at school.
George Shana'a, an owner of a sewing workshop in Daraa city, told Enab Baladi that he wants to teach his two 11-year-old and 13-year-old children the sewing profession in addition to their studies, and he takes them with him to the workshop during the vacation period.
Shana'a followed with his two children what his father followed with him, as he said, as he taught him the profession at this time of the year, when he was their age, and the profession helped him overcome the difficult living situation.
In turn, the 12-year-old Mohammad al-Sharaa, of Daraa city, spends the summer vacation working in a carpentry shop with his uncle, he told Enab Baladi, explaining his desire to learn the profession in order to collect some money to help his family, as his mother supports the family alone after the death of the father.
Justified high prices
The rise in prices in all Syrian governorates, including Daraa, affected the costs of summer club activities, which made them out of the accounts of many children's parents.
The wages vary according to the type of training workshop, whether in music, swimming, sports, etc., and there are many clubs that announce the start of their summer activity at the beginning of the summer vacation, with different costs from one club to another.
Private institutes spread in Daraa al-Balad to teach the curriculum for the next academic year at the cost of 200,000 SYP per month, and there are entertainment clubs to teach Zumba, karate, and self-defense skills at a cost of about 40,000 SYP per month, in addition to institutes for teaching Arabic, English, French and mental skills for 70,000 SYP per month.
Tania al-Baramawy, an eighth-grade student, has been learning to play the oud instrument since the beginning of the summer vacation, according to what her mother, Ibtisam al-Miqdad, told Enab Baladi, in return for paying her 70,000 Syrian pounds over three months, which is an acceptable amount compared to what the girl will learn.
On the other hand, Nidal al-Masalmeh believes that the costs of these clubs are exaggerated, as he decided, since the beginning of the holiday, to enroll his eight-year-old son in a club to teach self-defense and karate skills.
However, the costs amount to about 60,000 Syrian pounds per month, an amount that he is unable to pay as he is an employee in the public sector.
For his part, Imad al-Hussein, director of one of the summer clubs in Daraa, considered that the high prices of summer clubs and educational institutes are justified and are linked to the generally high prices, the wages of the cadres working in these clubs who specialize in different skills and the provision of various equipment, in addition to the fares of transportation.
Manhal al-Amaryeen, director of Education in Daraa, said the number of primary education students in the governorate for the past academic year reached 290,000, and the number of students in the secondary stage reached 30,000, and there are 735 schools for the first and second cycle in the governorate, 99 for the secondary stage and 45 schools for vocational education.
if you think the article contain wrong information or you have additional details Send Correction