As-Suwayda: Protests continue using 2011 revolution demands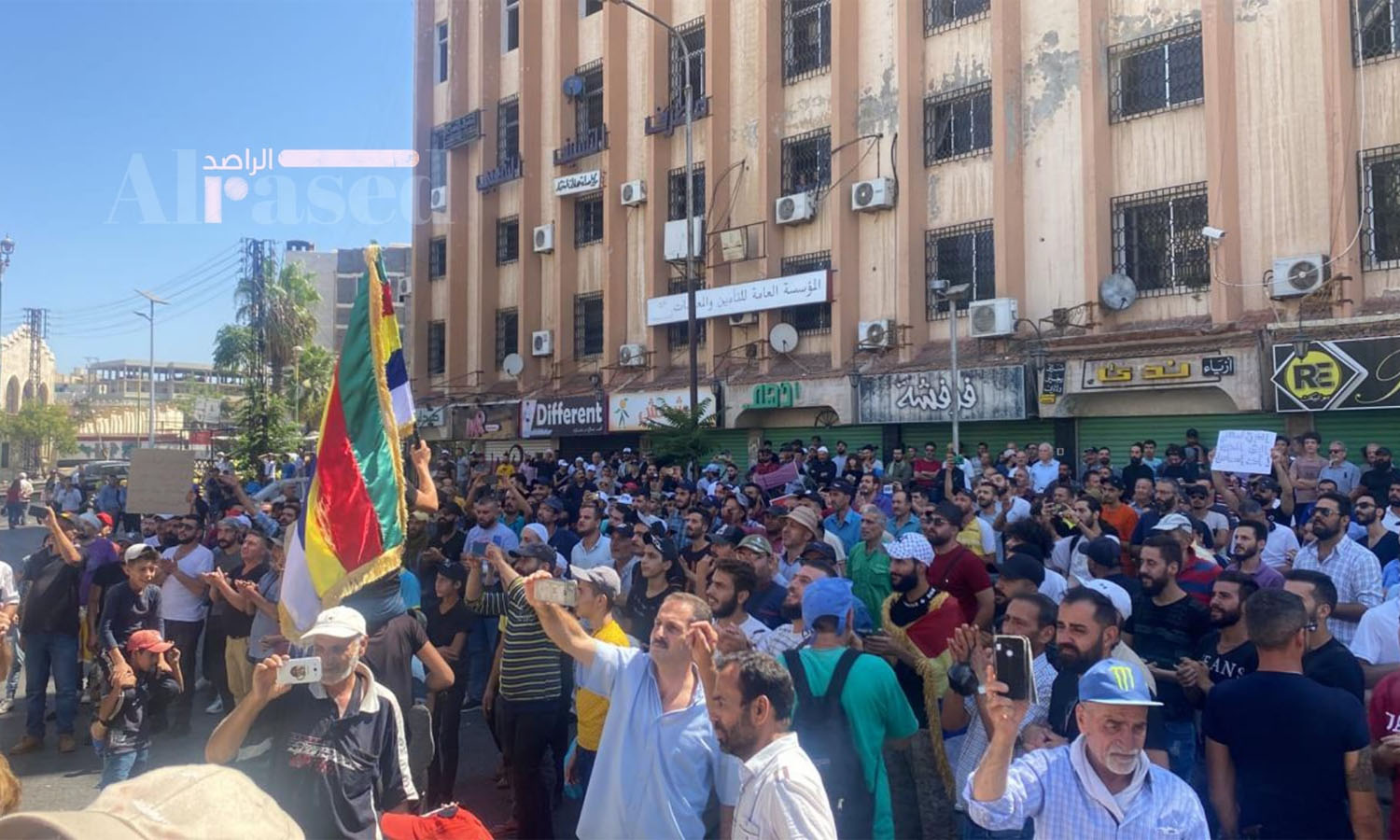 The demonstrations in the southern city of As-Suwayda governorate completed their first week continuously, as the protesters gathered in al-Sayer Square in the city center and chanted slogans calling for the overthrow of the head of the Syrian regime, Bashar al-Assad.
Dozens of protesters gathered on Tuesday, August 22, raising political slogans that mimic the slogans of the first revolution in March 2011, demanding the departure of al-Assad, and calling on the Syrian provinces to join their peaceful movement.
The local Suwayda 24 Network released videos of the protests, showing a gathering of protesters calling for the overthrow of the Syrian regime.
The protests came one day after the spiritual leadership of the Druze community blessed the protests, as the spiritual sheikh of the sect, Hikmat al-Hijri, attended a meeting with protesters in the town of Qanawat in the countryside of As-Suwayda, expressing his support for the peaceful movement.
"We still consider those in charge of the Syrian state to be a national administration. We will wait for what we can see from them in the coming days… We need you in the squares and alleys," al-Hajri added.
Madafat al-Karama (The Dignity Guest House), which constitutes a reference for a segment of the people of As-Suwayda, represented by Sheikh Laith al-Balous, issued a statement on Monday, August 21, in which it endorsed the "righteous demands of the people" and expressed its readiness to respond to any attack on the "revolutionary people."
Madafat al-Karama was established by Sheikh Wahid al-Balous, the founder of the Rijal al-Karama (The Men of Dignity) military movement, which is the largest military faction in the governorate.
The local al-Rased page documented, with pictures, 40 protest points throughout the As-Suwayda governorate, calling for an improvement in living conditions and the overthrow of the Syrian regime.
Since last week, the southern governorates of Daraa and As-Suwayda have been witnessing daily protests in which chants and slogans opposed to the Syrian regime were raised, calling for an improvement in living conditions, while the demonstrators in Daraa raised the flags of the Syrian revolution.
The demonstrations, which have been going on for a week, came after civil calls for protests and civil disobedience in regime-held areas due to the deteriorating living and economic conditions of residents and the failure of the authorities to take any serious decisions that would alleviate their suffering.
On August 16, activists on social media launched calls for a general strike throughout the Syrian governorates in protest against the living conditions of the local people.
Protests are not new to the southern governorates, as the people of As-Suwayda and Daraa previously staged demonstrations at separate times, calling for the overthrow of the Syrian regime, blaming it for the living and security conditions in Syria.
if you think the article contain wrong information or you have additional details Send Correction