Syrian women narrate stories of own daqq and tattoos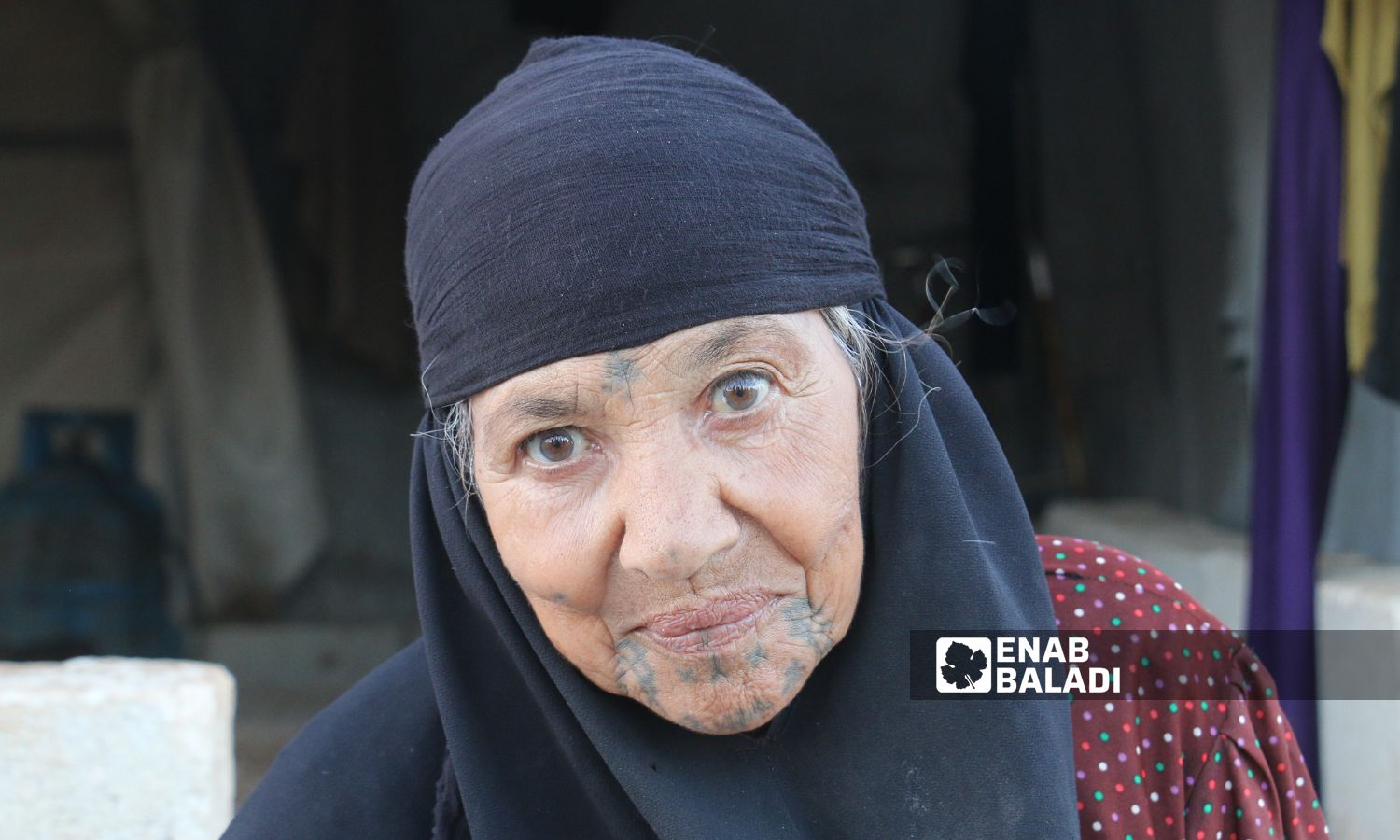 Enab Baladi – Hassan Ibrahim
"Al-Daqq (the Arab tattoo) were for adornment and beauty so that a woman who did not have a tattoo was not desired by men," said the 83-year-old Anoud.
The tattoos on her forehead and on the upper lips have become a distinguishing mark on her face for more than 70 years despite the wrinkles.
The old woman, who came from the al-Baggara tribe, said that the women of the eastern countryside of Aleppo used to compete for getting an Arab traditional tattoo as a form of jealousy and boasting.
They were waiting for the gypsies until they passed through their homes. This was the case with most tribes and clans in Syria, said Anoud.
Tattoos were, in the past, a standard of beauty and lineage and a status of heritage, and their engraving with primitive tools was limited to the areas of the face and hands and sometimes to the feet.
Today, however, tattoos are beyond that inherited tattoo and are placed in various parts of the woman's body, and the motives differ, carrying messages about them, bypassing the health damage resulting from them.
Anoud, who lives in a camp near the city of Azaz in northern Syria, said that tattoos were like makeup, adornment, and identity for women, and it was one of the inherited customs and traditions. She did not know that it was forbidden or carried health risks, pointing out that some of its uses were for medication and treatment.
"Arab tattoo" has own legacy, and each tattoo has a name
Anoud told Enab Baladi the story of the Bedouin tattoo on her face when she was 13 years old and said that a gypsy woman tattooed her face with two needles stuck together.
"I felt the needle piercing my bone," the woman described feeling the pain of the needle prick on her face, which eases with a third prick in the same place as a result of skin anesthesia and its effect, and the number of pricks in the same place reaches nine.
She stated that the tools are primitive and depend on two needles and Kohl (Arabic eyeliner), or ashes, or a substance formed on the bottom of the pot, mixed with a little water, then the shape of the tattoo is drawn on the hand with a stick, then the kohl or soot is placed on the drawing, and the place of drawing is pricked with the two attached needles so that the kohl enters the layers of the skin.
Anoud explained that the tattoo on her forehead is called "Hleiyel, "close to the Crescent form, and the tattoo line from her lip to the bottom of her chin is called "Siyala," and the tattoo of the two lines on both sides of her mouth is called "Allejam" (the bridle), and because she was afraid of pain, she did not get a tattoo near her eyes like her deceased sister Shujoun, and that tattoo is called "Mrawad."
Anoud's sister used to tattoo her wrists for the purpose of treatment, as it was common to tattoo the place of pain, and in the past, women often used to tattoo their hands to relieve pain, due to the large number of tasks they performed, such as logging and preparing bread, according to Anoud.
At the end of her speech, Anoud considered that "al-Daqq," whether for treatment or for adornment, no longer convinced her, but it was valuable in her time, recalling with a laugh that was overpowered by sarcasm that the hand used to swell from "al-Daqq," so how could it be a treatment, and if time returned, she would not have done that.
Traditional adornment that hides tales
Although the tattoo is associated with heritage, customs, and tribal or clan identity, it still exists in abundance among girls and women, with different methods and purposes.
It has become present in multiple places in the body and different from what was previously known, and it has become a phenomenon with different motives, despite health warnings about its dangers and harms.
Latakia-based Nancy, 32, said that she tattooed near the front shoulder above the chest for decoration and eye-catching, considering that it is like any "accessory" that a girl uses to appear more beautiful.
The tattoo, which is a geometric shape of squares with triangles and circles in the middle and small chains hanging from it, does not carry any symbolism to Nancy, except that she liked it, so she decided to draw it six years ago, noting that she paid 40,000 Syrian pounds for it.
For her part, Nancy's neighbor, Lana, 28, carries four tattoos on her body in different places. A rose on the waist, a thin line with small stars parallel to the spine, and an anklet on the foot, considering that they are signs that increase her femininity and beauty.
The fourth tattoo on her finger carries a story in itself, as it was a letter for the beginning of her ex-lover's name, then she made some modifications to it to become a ring, and each tattoo has a different cost.
Lana said that tattoos are personal freedom, that life is lived once, and the individual has the right to own his body and take care of it without harm.
Mona, 50, of Latakia city center, considered that her tattoo, which is a bracelet on her wrist in the form of a rosary ending with a cross, bears the symbolism of adornment and beautification, as well as the symbolism of her Christian religion.
Julia, 32, rejects the idea of tattoos on the body, considering it a distortion of a woman's beauty unless it is necessary.
She tattooed her eyebrows two years ago because the hair of the eyebrows was not thick and had a light color, and she used an eyebrow pencil because the color of the tattoo faded with the frequent use of water and facial moisturizers.
As for Maria, 34, of Damascus, she did not imagine that she would get a tattoo on her hand one day, except after the hot tea left a medium-sized scar on her forearm, forcing her to beautify it with a colorful tattoo to hide the deformity, according to her.
Self-expression
Sandra has worked as a tattooist for ten years in Latakia city and told Enab Baladi that her clients' requests cannot be limited, and they vary according to several motives and indications, including religious symbols, phrases, or sayings of personalities.
She added that girls see tattoos as an expression of their personality, such as tattoos of a dove, a butterfly, a girl with wings without hands, a lioness, or a rose, noting that tattoos are a space for self-expression.
Sandra said there is a misconception that girls' tattoos are limited to "soft" and "romantic" drawings, as many girls wear a snake, an owl, a skull, or a spider, and some of these tattoos may be inside a rose or butterfly.
The third motive or reason that Sandra sees for tattooing is a personal matter related to a story or relationship that has a place in a person's life, such as the story of a person's love, a city, or a loss, whether with drawings or writings such as "Damascus Is My Passion," "My Mother is My Paradise," "You are Enough for Me," and "My Heart."
Sandra believes that the multiplicity of motives does not negate the idea of adornment, as the girl chooses tattoos, but she does not overlook the aesthetic side of it.
She also rejects many requests to put a tattoo in "sensitive" areas, considering that it has become anomalous and not aesthetic.
Prices reach "millions", Henna is an option
Regarding prices, Sandra mentioned that they start from 125,000 Syrian pounds and reach millions, depending on the size of the drawing, its fine details, and its consumption of time and ink, pointing out that she is facing difficulties in securing high-quality ink and she relies on special orders from outside Syria.
Girls in some societies tend to use henna (mehndi) instead of tattooing to avoid falling into the suspicion of prohibition and to avoid health damage that may result from tattoos. Henna is temporary, and its substances do not enter the layers of the skin.
Historically, henna was used in West Asia, including the Arabian Peninsula, and in Carthage, other parts of North Africa, West Africa, Central Africa, the Horn of Africa, and the Indian subcontinent.
Henna was previously associated with weddings and joy rituals. The bride was distinguished by painting her hands with henna, which gives her elegance and beauty.
Henna has recently been used by girls for adornment and as a substitute for tattoos, and women use it to hide gray hair, who do not prefer to use dyes and other materials.
Sandra said that the girls' demand for henna in salons is less, not because of lack of desire, but because it is easy to draw at home and because henna and its tools are available to everyone.
She pointed out that henna painting is active in beauty salons during the period of events such as weddings, and its prices in the salon start at 15,000 Syrian pounds.
Fidaa, 31, of Idlib countryside, told Enab Baladi that she used to use henna on the palms of her hands since she was little, during Eid al-Fitr and Eid al-Adha and at weddings, as a form of adornment.
Years ago, she used henna on the hands of her two daughters.
Fidaa mixes henna with water and waits about half an hour for it to dry on the hand, pointing out that there are ready-made pens filled with henna and many drawings of hollow hearts and roses in the form of stickers placed on the hand to be filled with henna, and then they are removed when they become dry.
She added that some families used to mix henna with tea without sugar, then paint it with a needle or a thin stick in order to give a better result and a brighter color.
Medical caveats
Doctors and medical research centers warn of the dangers of tattooing and the potential damage and complications resulting from it, including allergic reactions.
Different tattoo pigments can cause skin allergies, such as itching and rashes in the tattoo area, and this can appear several years after the tattoo is engraved.
Among the complications are skin infection, and other skin problems such as granular swelling and keloids, as well as diseases transmitted through blood, if the tool used for tattooing was contaminated.
Tattoos rarely cause swelling or inflammation in affected areas during MRI scans, according to the Mayo Clinic Academic Medical Center.
The American National Library of Medicine said in 2019 that more tattoos are on women's bodies than men's, and it is associated with important implications for women's health care, including pregnancy, childbirth, and breastfeeding.
The use of henna is associated with some warnings against causing some damage, including skin pigmentation, difficulty in getting rid of stains if substances are mixed with henna, allergies and skin rashes, and possibly skin infections and burns.
if you think the article contain wrong information or you have additional details Send Correction