Spread of medical waste threatens public health in Ras al-Ain city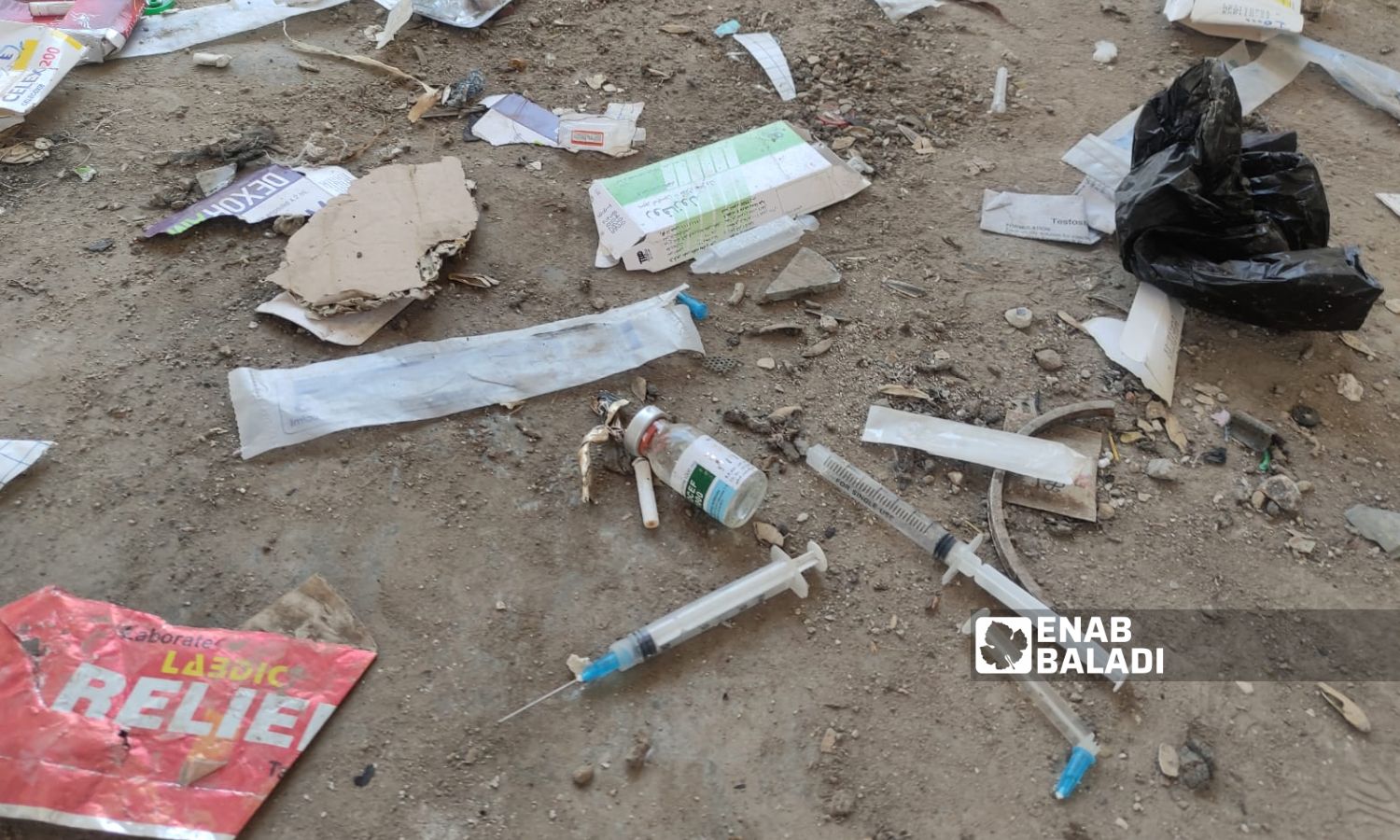 Enab Baladi – Ras al-Ain
Medical waste is widely spread in the city of Ras al-Ain, northwest of al-Hasakah governorate, to the point that it has become a threat to public health and the surrounding environment, causing fear among the people.
Contaminated needles, bloody vials, protective masks, gloves contaminated with blood, disposable surgical instruments, and other equipment that contain dangerous chemicals or carry pathogens are widely spread despite the presence of special incinerators.
The spread of waste carries many negative effects, as it poses a direct health threat to the residents and healthcare workers and exposes them to various diseases.
Serious dangers and proposals
Muhannad al-Abdullah, from Ras al-Ain, expressed his dissatisfaction and concern over the spread of medical waste in the area and considered it a threat to the health of the people and the environment, calling for the need for immediate action by the concerned authorities to solve this urgent problem.
During an interview with Enab Baladi, al-Abdullah proposed a solution by providing incinerators for medical waste in order to address this problem and dispose of it in a safe and effective manner.
Chemist Dr. Abdul Rahman al-Ahmad said that medical waste poses a grave danger to society and the environment, pointing to the urgent need to take effective measures.
Al-Ahmad added to Enab Baladi that one of the primary and basic solutions is to provide incinerators for medical waste, considering it an effective way to eliminate this waste safely and tightly.
Al-Ahmad pointed out that medical waste in this way turns into ashes and harmless gases that are subject to strict environmental standards.
Illegal practices
Rakan al-Jaloud, director of health in the local council in Ras al-Ain, told Enab Baladi that the main reason behind the spread of medical waste is the wrong professional practices of some pharmacies and private hospitals.
Al-Jaloud mentioned that some pharmacies provide treatment to patients inside the pharmacy, which is prohibited by law, and therefore they dispose of medical waste illegally by throwing it in containers or in the streets.
He added that the cleaners in some private hospitals and medical centers throw waste randomly, which poses a threat to public health.
Al-Jaloud explained that the Health Directorate organized violations against those in charge of health centers and pharmacies that throw medical waste in an inappropriate manner and in violation of health conditions and indicated that there are incinerators for expired medicines and medical waste within the National Hospital.
The local health official added that there are special incinerators in every health center, stressing the need to destroy medical waste in those incinerators to maintain public safety.
Medical waste damage
Healthcare waste contains potentially harmful microorganisms that can infect hospital patients, health workers, and the general public.
Other potential risks may include the spread of drug-resistant microorganisms from healthcare facilities into the environment, according to the World Health Organization.
Health risks related to waste and by-products include:
– Burns caused by exposure to radiation.
– Injuries caused by puncture with sharp tools.
– Poisoning and contamination by the effect of pharmaceutical preparations, especially antibiotics and cytotoxic drugs.
– Poisoning and contamination by wastewater and by elements or compounds such as mercury or dioxins that are released during the burning of waste.
The UN agency that is responsible for international public health stated that out of the total waste of health care activities, the percentage of general non-hazardous waste is 85%, compared to household waste, and the remaining 15% was considered hazardous materials that could transmit infection or be toxic or radioactive.
The Health Organization added that the main sources of health care waste are hospitals and other health facilities, then laboratories and research centers, followed by morgues and autopsy centers, then research laboratories and animal examinations, then blood banks and sample collection services, and finally, nursing homes for the elderly.
Causes and solutions
The most common problems related to healthcare waste are lack of awareness of health risks related to medical waste, inadequate training on proper management of waste, absence of waste management and disposal systems, lack of financial and human resources, and the low level of priority given to health care issues, says WHO.
The World Health Organization put forward some solutions to manage this waste, which are:
Building a comprehensive system that addresses responsibilities, resource allocation, waste handling, and disposal, and considered this to be a long-term process supported by incremental improvements.
Raise awareness of the risks associated with healthcare waste and safe practices.
Selection of safe and environmentally friendly management options in order to protect people from dangers when collecting, handling, storing, transporting, treating, or disposing of waste.
Government commitment and support are essential if global and long-term improvements are to be made and immediate action can be taken at the local level.
if you think the article contain wrong information or you have additional details Send Correction