Israeli forces enter Syrian territory near Quneitra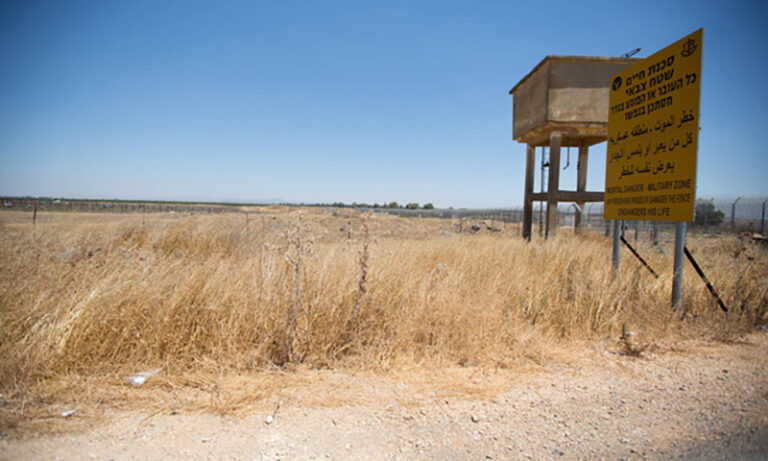 The Israeli forces, accompanied by military bulldozers and a Merkava tank, entered on Wednesday, July 19, the Syrian territory near the border strip separating the Occupied Golan Heights from Syrian territories.
Enab Baladi's correspondent in the southern Quneitra governorate monitored on Wednesday the entry of the Israeli units to continue the work of razing trees and rocks in agricultural lands at a depth of 150 meters inside Syrian territory.
The Israeli units were still deployed southwest of the town of Jubata al-Khashab, west of Quneitra, until the moment this news was published.
The military vehicles started operating near the Israeli military observatory, known locally as the Ruwaisat al-Hamra Observatory, according to the reporter.
Israel does not officially comment on this type of movement in Syria, while the regime's media outlets do not announce the entry of Israeli units into its territory, as it is not the first operation of its kind.
Road "Sufa 53"
Israeli military vehicles have been working on constructing and paving a road inside Syrian territory since June 2022 was called Sufa Road 53, according to Enab Baladi's correspondent, and Israeli media reported about it.
The depth of the work within the Syrian territory, as a minimum, was about 100 meters, while in other areas, it reached a depth of one kilometer.
The Israeli security moves coincided with repeated targeting of movements near the Israeli-Syrian border.
On June 1, 2022, units of the Israeli army penetrated Syrian territory to a depth of about 400 meters west of the town of al-Hurriya in the occupied Golan Heights and razed trees in the town's forest.
While the reasons for the entry of the Israeli forces were not known at the time, they repeated it in early November 2022 and began constructing a road from the Syrian side, parallel to the border with it.
Researchers and analysts attribute the Israeli moves inside the Syrian territories to the Iranian moves that threaten Israel's security in the region.
Rahman Kahramanpour, expert in Iranian affairs, said about the confrontation between Iran and Israel in a previous interview with the Iranian Etemad newspaper last February that the intensity and scope of the "indirect" war between Israel and Iran are constantly increasing.
Since the beginning of the year, the pace of security operations has increased on the Syrian southern borders along the Occupied Golan Heights, as Israel announced a series of security operations during which it seized drug smuggling operations from inside Syria and thwarted a number of infiltration operations into its territory by individuals it said were linked to Iran.
if you think the article contain wrong information or you have additional details Send Correction