Elderly in IDP camps suffer lack of support, neglect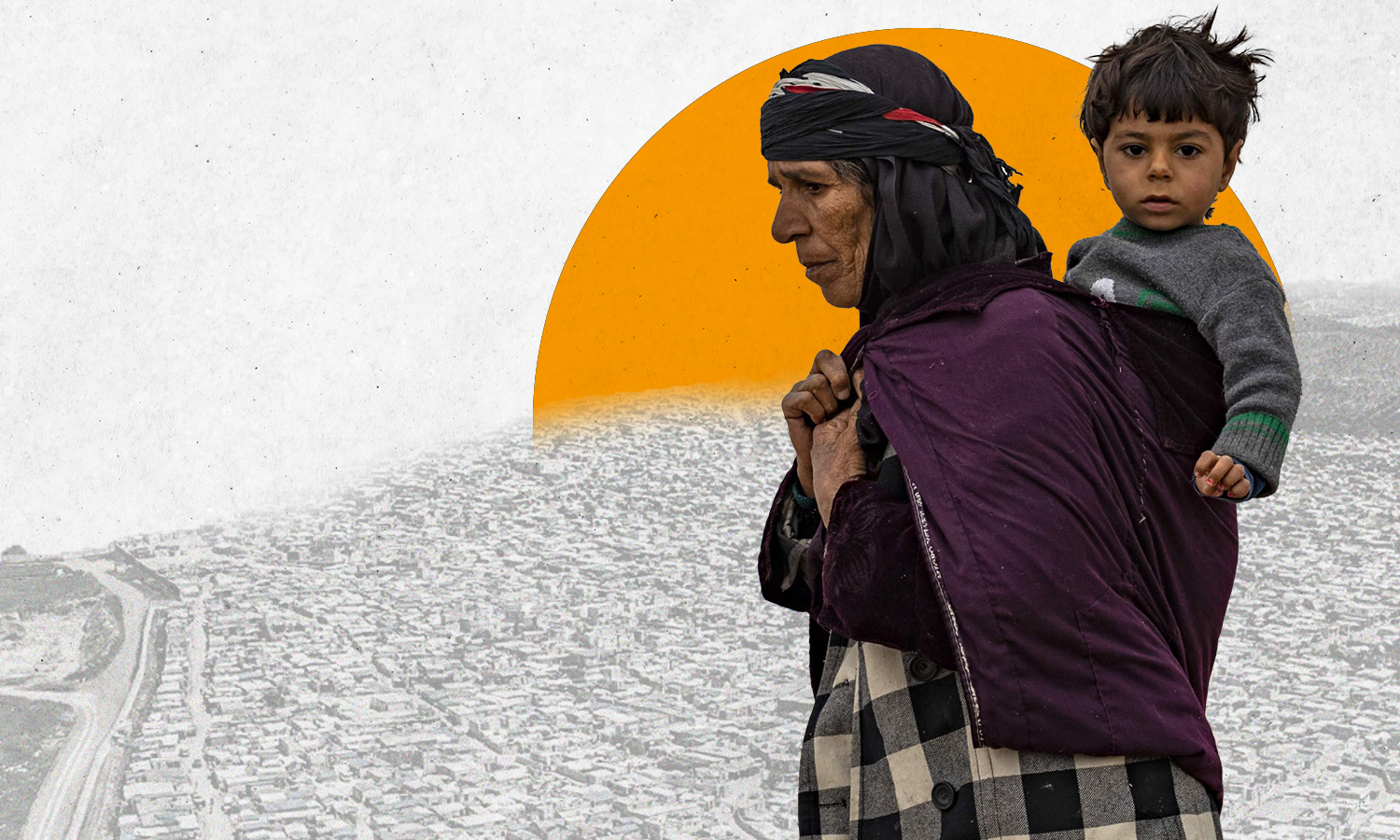 Enab Baladi – Sakina Mahdi
"I only want my children to stay around me, to see them and console my loneliness by having them with their children by my side because I can't find anyone to talk to after two of my sons passed away in mortar shelling," says the 60-year-old Iman.
"I need someone to comfort me. I try to focus on the things around me to turn on the heater or just eat. When my health deteriorates, the people of the camp carry me to the nearest infirmary, and I go back to continue my life alone," she added to Enab Baladi.
June 15 marks the International Elder Abuse Awareness Day, and the World Health Organization (WHO) said in June 2022 that one out of every six people aged 60 and over experiences some form of abuse each year.
Such an inhumane act is expected to continue with the rapid increase in aging among the population in the country, and the United Nations issued a guide in 2021, calling for addressing elder abuse as part of the organization's contract on healthy aging with the WHO, which extends until 2030.
Abuse, deterioration of mental health
The director of the Dar al-Bashir Foundation for the elderly, Yusra Sabra, told Enab Baladi that the nursing home is working to improve the psychological state of elderly women to accept the change of family and to find a replacement for their lost relatives.
Sabra adds that one of the conditions for receiving an elderly woman in a nursing home is that she does not have first-degree relatives to take care of her.
Caregivers' work is not limited to cleaning and feeding, but we also know the need of the elderly to talk to someone who will listen to them, so many caregivers work to just sit and listen and provide emotional care so that the elderly do not feel lost and anxious.
Sabra talked about the case of an elderly woman who came to the nursing home, saying, "We have Mrs. Hamida, a 66-year-old woman from Idlib countryside, who has been living in an abandoned house for three years and begs people to provide her with food after her daughter and husband left to a place she does not know."
"When she came, we tried to provide her with care, but she did not speak at all. We tried to calm her down and sit with her for longer periods until she told us her old stories and her past suffering, but she does not respond to strangers and does not talk to them," Sabra added.
The director of the nursing home described Hamida's situation as "tragic," as she was subjected to ill-treatment by her daughter's husband after her husband's death, and she was forced to live in her daughter's house, and she had no money and no breadwinner, so her daughter's husband was pressuring her to get married in order to reduce her expenses, and he always hit and insulted her.
He also forced Hamida's daughter to work to pay her mother's expenses, and he was working hard to kick her out of the house.
When the bombing began on their area in the countryside of Aleppo, the daughter fled with her husband, leaving the woman alone in the house, then a shell hit the house and partially destroyed it, but she did not leave it, and she remained in that place without mingling with anyone, without electricity or water, until she started making sounds like that of the cats that were living with her, according to Sabra.
Before bringing her to the home, we showed her to a psychiatrist to overcome her condition, and her condition improved significantly, and she was able to return to talking and mingling with people.
However, not all elderly women need urgent intervention by a psychiatrist. Nevertheless, following up on the mental health and mood of the elderly is very important because they, like children, need special treatment and careful care," says the director of the nursing home.
When Yusra Sabra established the nursing home, she was working with the team on a voluntary basis, and she said that they had received fund from an organization, but they returned again to work as volunteers after the fund was cut off, with the exception of one organization that sent a team to provide psychological support sessions only twice, and some cases may require urgent medical intervention such as Hamida's condition.
"Combating ageism is a top priority, as it is a major reason why elder abuse does not receive adequate attention, while more statistics and data are needed to raise awareness of the problem," according to a UN report.
"Countries must also develop and scale up cost-effective solutions to stop abuse and prove that investing in tackling this problem is a worthwhile business, and more financial resources are needed for this," the UN added.
Elderly in IDP camps
The elderly woman, Iman, fled Saraqib town to al-Mahabba camp in Idlib alone after losing her two sons to a mortar shell in Jabal al-Zawiya region.
"I was in a nervous shock when I lost my two sons, then I was displaced, despite the presence of my three sons in Syria. They live in separate areas and do not ask about me." Iman told Enab Baladi.
She added, "I need them often, I feel dizzy, and I can't pick up a glass of water to drink, and at other times I need someone to accompany me to the toilet, and I feel ashamed of the neighbors in the neighboring tents, who volunteer to help me and take turns, then I feel the need for my sons."
Ghazi Abu Talaat, director of al-Mahabba camp, told Enab Baladi that "the number of elderly women over the age of 60 reaches 20, who have no one to support them and no one comes to visit them or to aid them financially.
The elderly need treatment for chronic diseases, and this is expensive, and no association has covered the costs of their treatment. They only take some food baskets like others, and free medicine is no longer available in clinics or pharmacies, Abu Talaat said.
"The camp needs constant monthly financial support or periodic health follow-up for the elderly in this camp and others. We are currently talking about possible assistance to the extent available, but they need more than that," he added.
The camps lack equipment for the elderly, such as adequate bathrooms, placing them close to their tents, sterilizers, and detergents, and saving the cost of clothing and heating them in the winter.
Although the elderly are classified among the "most vulnerable" groups in Syria, according to the international relief assessment, they still suffer from the same bad conditions.
if you think the article contain wrong information or you have additional details Send Correction