Daraa: Ornamental birds breeders abandon their hobby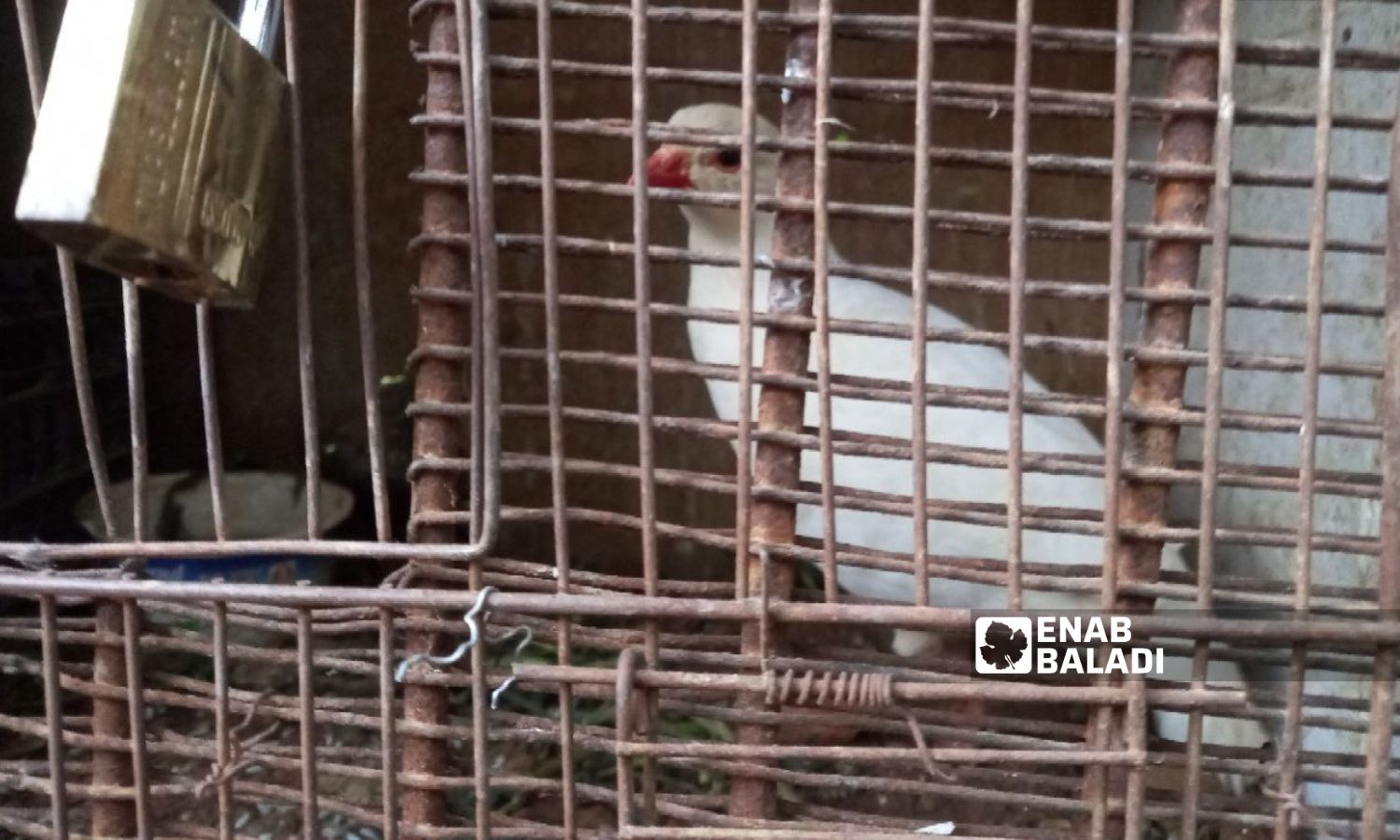 Daraa – Halim Muhammad
"I still keep the cage empty, and I miss the sound of the lovebird every morning," said Mohamad, 18, because of his having to give up his passion for raising birds at his home.
Mohamad sold a lovebird after breeding that lasted for more than three years, explaining to Enab Baladi that there is no longer any importance in breeding birds, as there are more important things, such as raising chickens to secure eggs, especially after they were expensive in the local markets, as the price of a plate of eggs reached 30,000 Syrian pounds.
Mohamad, a third-secondary student, said that raising birds has become expensive due to the high cost of fodder, as each bird needs no less than 30,000 Syrian pounds for food each month.
After it was a hobby and a source of income for many residents in Daraa governorate, southern Syria, many people abandoned the profession of breeding birds due to the high cost of fodder, the decline in the purchasing power of the population, and the loss of communication between the regions of the governorate and other governorates.
Abandoning hobby and profession
The daily worker Saeed, 40, of Tafas town in the western countryside of Daraa, contented himself with raising a partridge and three pigeons after he owned a shop in Daraa that housed dozens of pigeons, partridges, canaries, and goldfinch.
"The profession of breeding birds is a hobby before it is a source of livelihood, but the costs of breeding, including feed and medicines, prompted me to sell all the birds," said Saeed.
Concerning the man's motives for reluctance to abandon his original hobby and profession, Saeed explained that the price of fodder has turned into a loss factor for the breeder.
According to Saeed, each bird has a type of fodder, "al-Bariq" is for the canary, millet is for the lovebird, and hemp is for the goldfinch. Each bird needs about a kilo of these seeds per month.
The price of a kilogram of millet is 13,000 Syrian pounds, "al-Bariq" is 18,000 Syrian pounds, and hemp seeds is 40,000 Syrian pounds.
For his part, Mohamad, 42, who used to work in the bird trade five years ago, said that he left the profession and settled with raising lovebirds, and he works in the men's barber profession now.
"One of the reasons that prompted me to retire from the profession was the high cost of fodder and the stagnation of the selling market due to the residents' reluctance to buy birds," added Mohamad.
While Abd al-Salam, 20, had a group of birds such as canaries, "birds of paradise," and lovebirds, he abandoned them all and settled for one canary, which he placed in a cage on the wall of his room.
Abd al-Salam told Enab Baladi that breeding is expensive, and all these birds together need no less than 100,000 Syrian pounds, the price of fodder.
Abd al-Salam works as an agricultural day laborer for a daily wage not exceeding 15,000 Syrian pounds. ($1= 12,600 SYP).
Bird market affected by disrupted communication
Some bird breeders whom Enab Baladi contacted agreed on the impact of the security situation on bird breeding.
Some of them were unable to continue visiting the bird market in the southern governorate of Daraa due to the regime's security control and fears of arrest and compulsory military service, which isolated some areas from others due to the security situation and its impact on citizens' movements, some of which were shortened to what was necessary, in order to avoid passing through military checkpoints.
This necessarily affected the bird markets, some of which lacked unique types of pigeons in addition to partridges.
The price of a partridge bird reaches 800,000 Syrian pounds, currently, in Daraa, and the price of some types of pigeons (Baghdadi and Burimli) reaches 2 million Syrian pounds, while the price of the most popular canary reaches 50,000 Syrian pounds.
Last April, Ihab al-Zabad, executive director of the Syrian Club for Ornamental Birds and Pets, confirmed to the official Syrian News Agency (SANA) that the most important obstacles facing breeders of ornamental birds are the high cost of fodder and the lack of guaranteed vaccines and medicines.
Al-Zabad said that the club's goal is focused on developing existing bird breeds, preserving alternative breeds, and holding awareness courses and programs for breeders on proper breeding methods.
if you think the article contain wrong information or you have additional details Send Correction