Sports shoes in Idlib: Hard to get, even used ones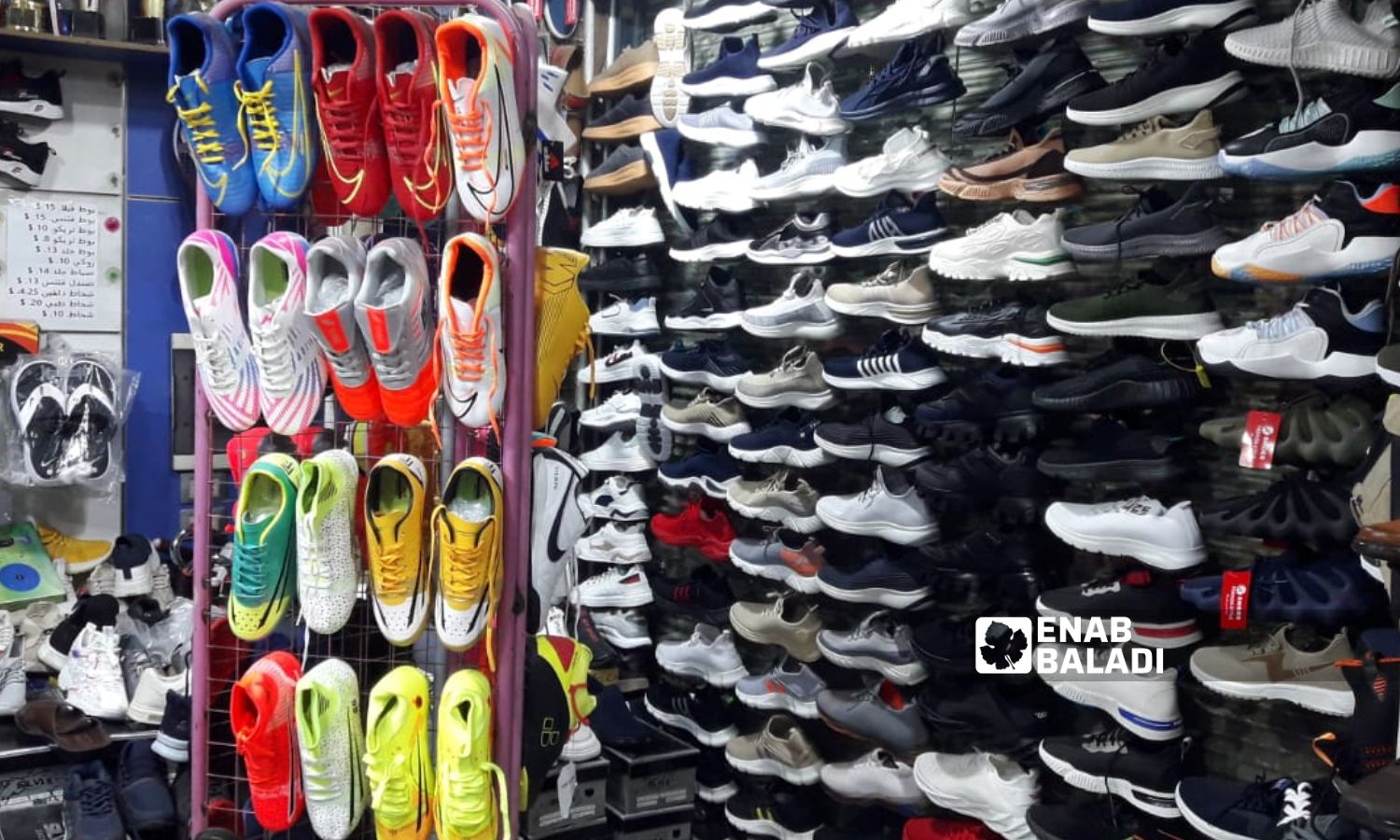 Enab Baladi – Anas al-Khouli
The 33-year-old Amer al-Hamwi loves football and challenges his harsh conditions to practice his favorite sport.
Even during the Syrian regime siege on the Eastern Ghouta Suburbs between (2013-2018), al-Hamwi did not stop playing football despite the lack of basic necessities for life. He has continued to play the game since his displacement to northern Syria began five years ago.
Al-Hamwi and athletes like him faced previous difficulties in finding suitable sports equipment and clothes when they were besieged by the regime forces. In the opposition-held northern Syria, they are currently facing difficulties in securing clothes and shoes due to their high prices.
Prohibition, smuggling
Second-hand sports shoes reach northern Syria with difficulty, as they were prevented from entering through the border crossings from Turkey about four years ago due to Covid-19, and some goods enter through "illegal" routes through Turkey and Iraq.
Used sports shoes meet the demand of athletes and help them practice the sport they love, but they are expensive in the face of a deteriorating economic and living reality, as their prices range between 40 and 50 US dollars ($1= 19.7 Turkish liras).
On the other hand, salaries do not meet the minimum needs, as daily wages in northern Syria range between 30 and 60 Turkish liras, depending on the profession, such as construction, agriculture, loading goods, the different number of working hours, and the unavailability of work at a steady pace.
High prices, reluctance to play
Al-Hamwi said that before the outbreak of the Syrian revolution in 2011, he was looking eagerly for sports shoes for football players, visiting the second-hand clothing markets in Damascus, and buying used sports shoes in very good condition that do not show wear, for about $50.
He added to Enab Baladi that during the regime forces' siege of Eastern Ghouta, it was impossible to secure sports shoes and soccer balls.
He was trying with his sports companions to preserve the available balls and use the possible shoes, even if they were not sports or most of them played without shoes, and whoever had sports shoes intended for football, they would describe him as "the king."
After his displacement to northern Syria, the young man used to search in used shoe stores for what he needed, and sometimes he was successful in finding "cheap shoes in good condition." Their average price was about $10.
Over the years, the prices of shoes began to gradually rise, reaching unprecedented levels in the region since merchants in northern Syria were prevented from entering used clothes in general, including shoes, through Turkey.
Finding sports shoes in good condition now is like looking for a "needle in a haystack," in addition to the price doubling, according to the young man, al-Hamwi, who complains about the condition he has reached, as the price of a used athletic shoe in an average condition has reached $45, which is a large amount that a large number of athletes cannot endure in northern Syria.
Al-Hamwi feels ashamed to play in non-sports shoes or with bare feet, which has prevented him from playing football recently.
Regarding the importance of sports shoes for football, al-Hamwi mentioned that the original shoe lives with the player for a long period of time, which may reach three years, pointing out that it is comfortable to use, prevents back pain in the long term, and provides protection for the foot, especially during collisions between players.
Malik Awwad, 31, is another athlete who, before the Syrian revolution, was a player in the al-Fayhaa Sports Club in Damascus. He was keen on acquiring the original sports shoes due to their quality, ease of use, and their longevity.
Awwad told Enab Baladi that when the financial conditions were good, he would go to the al-Bahsa area in Damascus, where the agencies selling sports equipment are located, to buy the original football shoes, as he bought Diadora shoes for $120, and an Adidas shoe for $140.
He added that in the event of deteriorating financial conditions, he would resort with his fellow players to shops that sell used sports shoes on al-Taliani Street and find what he needs from shoes that are in good condition at prices up to 40 dollars, where the player must purchase two types of shoes, the first is suitable for artificial turf fields (Tartan), and the second with long lower studs (Scarat) suitable for lawn fields (natural grass).
After the displacement to northern Syria, the player resorted to buying used European shoes, but with the recent high prices and poor financial return, the owner bought local sports shoes, but these shoes do not last for more than a month, and this is a large expense that Awwad could not afford, which forced him to stop buying sports shoes, he said.
Triple the price
Since the spread of the Covid-19 epidemic, the Turkish side has prevented the entry of used goods, including shoes, and sometimes bags, toys, and furnishings are allowed to enter, and large quantities of used goods, such as clothes and shoes, enter illegally through Iraq.
Omar al-Hussein, 42, a used sports shoes dealer in Idlib, described the import of used sports shoes as suffering. He told Enab Baladi that the containers of European shoes arrive in Mersin in Turkey and then go to Kirkuk in Iraq, where they are sorted, classified and packaged, and then sold to northern Syrian merchants at exorbitant prices, which led to a threefold increase in the price of shoes.
The merchant added, "Previously, merchants used to import containers of shoes directly from Europe via Turkey, and after entering the shoes, they applied them (each pair separately), and some shoes were not available for the other piece."
He continued that after sorting the shoes, the shoes were displayed in the market, and the price of the shoes ranged between $5 and $20, depending on the type and quality, and some players preferred to buy one of the shoes whose second one was not available, either because they had a good one at home or to apply two shoes at a low price.
Al-Hussein said that after preventing the entry of used sports shoes through Turkey, merchants have to import shoes through Kirkuk in Iraq, then to the eastern regions of Syria, and then to the northwest.
This road is long, expensive, and dangerous, which has doubled the price of used shoes, and good shoes are sold in those areas and do not reach the northwest, he added.
The doubling of the prices of used shoes led to a lack of sales and their scarcity, and it also negatively affected the players, according to the merchant, who mentioned that the shoe, which had a price of 15 dollars, has now reached $45 or $50 today, and the player could also buy one piece of the shoe, but today he is forced to buy a pair of two shoes.
Regarding the demand for shoes, the merchant said that the players are asking for original football shoes from international brands that fit the common artificial turf floors (Tartan) in northern Syria. Players cannot buy these types of new shoes because their price ranges between $120 and $200.
The merchant mentioned that the players in northern Syria are well-versed in the types and quality of sports shoes, and they can easily distinguish the original shoes from the fake ones made in Vietnam or China and prefer the original used shoes over the new fake ones.
Regarding the original "used" shoes, the merchant said that they come to third-world countries from European clubs that do not use the sports shoes for more than two months, even if the shoes were not used during the two months, then they are collected in containers and exported to third world countries as used shoes, although some of them are unused.
Faisal al-Boushi, another dealer of used European shoes, used to work in the vegetable trade and moved two years ago to the shoe trade. He imports them from Kirkuk in Iraq at high prices and in poor condition.
Al-Boushi mentioned to Enab Baladi that the trade in used sports shoes is popular, although it has declined slightly due to the ban on entry through Turkey for nearly two years before he began trading in them.
He continued, "These days, used sports shoes are rarely available in good condition, and the player checks the available pieces and does not like their average condition and high price, so he returns to where he came from without buying."
For his part, Hussein al-Hassoun, a second-hand shoe trader displaced from Jabal al-Zawiya, said that the shoe trade has declined a lot from what it was two years ago, as it was in great demand, whether it was sports or leather shoes.
Used shoes were preferred by customers more than new shoes due to their low price and high quality, but today, with their high prices and low quality, this trade has been affected, and the matter has negatively affected the players and the residents as well.
"Each type has its own customers"
Malik Suleiman, owner of the "Sarmini and Suleiman" sports store, told Enab Baladi that every commodity has its customers. There are players who prefer used European shoes and others who prefer unoriginal sports shoes.
Suleiman, who has been working in the sportswear trade for two decades, believes that the original sports shoes with international brands are useless in selling them in northern Syria due to their high prices and the lack of demand for them. Therefore, he prefers the trade in counterfeit goods (local commercial sports shoes).
The merchant said that the counterfeit sports shoes are suitable for the players because the merchant guarantees these shoes, their quality, and their low price compared to the prices of used European shoes.
According to Suleiman, today, customers are looking for sports shoes that will last for a long time at a price that suits their financial capabilities.
The price of a used medium-quality European shoe is $50, while an imitated sports shoe that lasts for the same period reaches $25.
He added that the prices of counterfeit shoes start at ten dollars and go up to $25, depending on the quality and country of manufacture, noting that Vietnamese goods are better than Chinese and Turkish ones.
Sports in opposition-held areas are witnessing development, especially in terms of sports facilities, after the opening of many training halls and private stadiums.
However, players and local clubs suffer from several difficulties, most notably the lack of financial support that has created other organizational problems, such as the inability to secure transportation for clubs or equipment allowance.
if you think the article contain wrong information or you have additional details Send Correction