Quneitra's Gundelia: Nutritious food, seasonal income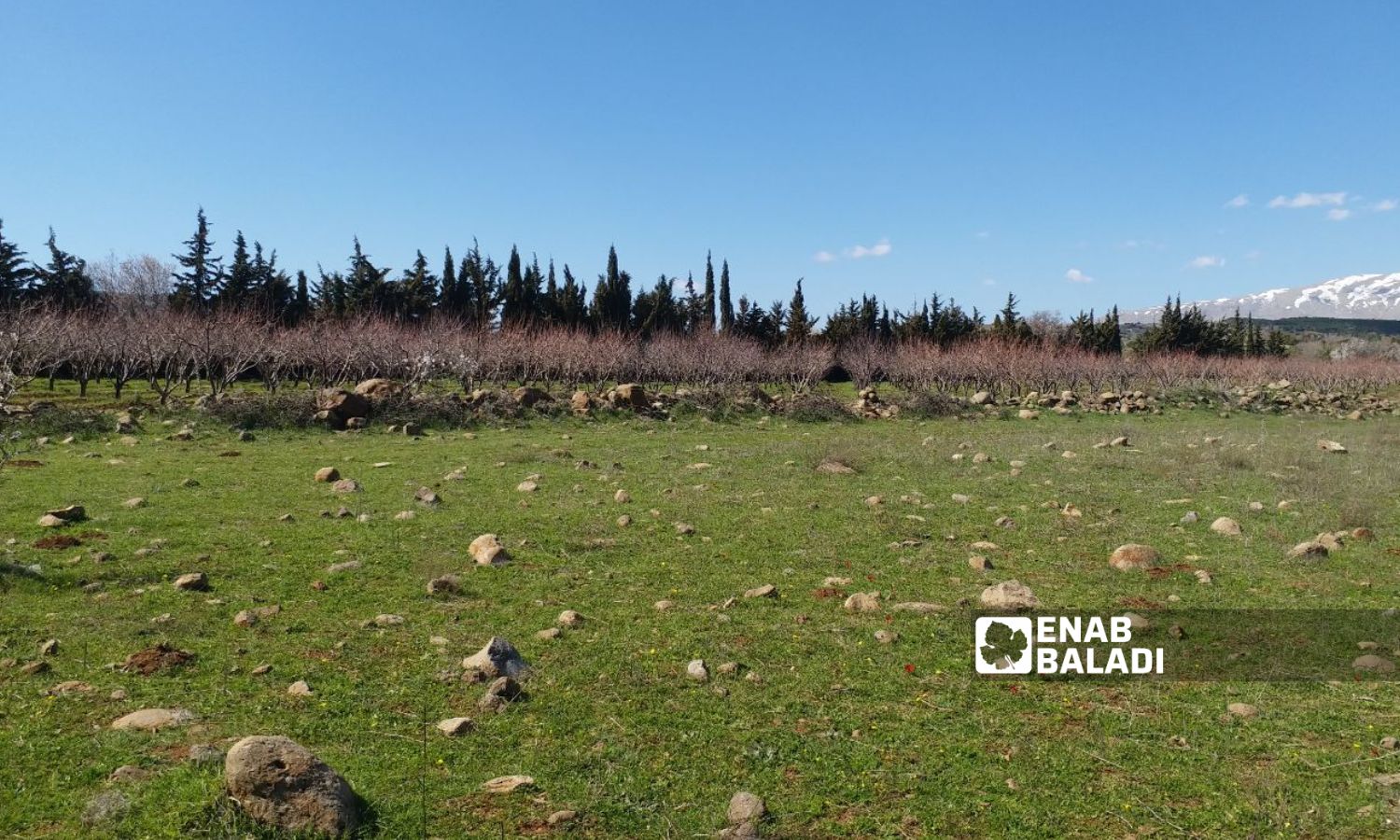 Quneitra – Zain al-Jolani
In the Syrian spring season, which extends from April to the end of June, the harvest season for the Gundelia "Akkoub" begins in Syria.
The mountainous areas and plateaus of rural Damascus and Quneitra constitute good grounds for the spread of the Gundelia plant, which is considered expensive, as it is a source of income for some people, while others collect it for personal use.
Seasonal ritual
A number of herbs and weeds grow in the Syrian lands that appear naturally and are used for food, as they are prepared on the tables as main meals, salads, and appetizers because of their delicious taste and nutritional and material benefits, according to some residents of Quneitra whom Enab Baladi met.
Among the most prominent of these herbs is the Gundelia, locally known as Salbin or Akkoub, which grows naturally in the spring in various Syrian regions.
Gundelia is a low to high thistle-like perennial herbaceous plant with latex, spiny compound inflorescences, reminiscent of teasels and eryngos that contain cream, yellow, greenish, pink, purple, or reddish-purple disk florets. It is assigned to the family Asteraceae. Flowers can be found from February to May.
The elderly Salha Mohammad carries her shovel and some equipment every day and heads towards the agricultural areas in search of Gundelia, which is a source of income for her.
Mohammad cuts the plant as soon as she finds it from its root, using her shovel to avoid touching it, as it contains a large amount of thorns, then proceeds to pass her knife on the stem of the Gundelia to clean it.
After what she described as the initial cleaning, she puts the Gundelia in a plastic bag that she prepared in advance to take it home, where it is finally cleaned.
Many residents of both sexes are accompanied on the picking trips, and those looking for the Gundelia may have to walk a long distance of up to a few kilometers and may have to climb mountain cliffs at times.
Mohammad's seasonal activity in harvesting operations is carried out with a number of women, she told Enab Baladi, as the women of the neighborhood come with their own equipment, and the journey may last for more than four hours without getting tired.
"We find joy in this journey, despite its difficulty, but it is worth it in the end," she added.
Seasonal income
Mohammad al-Khader, 40, works on his agricultural land in the town of Hadar in the northern countryside of Quneitra as he leaves his house daily towards Jabal al-Sheikh 'Mont Hermon' during the Gundelia harvest season, intending to collect as much as possible to sell.
Al-Khader told Enab Baladi that the price of one kilogram of Gundelia is 25,000 SYP (about $3) in the local market. If he could sell 5 kilograms of it daily, he would be financially comfortable for a long time.
To achieve his goal, al-Khader goes out every day at eight o'clock in the morning in search of the Gundelia and ends his tour of the vacant lands at midday, then heads to the town's market and sells what he has gained.
Al-Khader added to Enab Baladi that there is no specific place to sell Gundelia as it is a seasonal plant, and sellers often display the plant in the town's groceries.
Health benefits
Umm Hussein, 65, of Quneitra, carries her knife and shovel along with a sack of cloth and heads out into the wilderness in search of Gundelia.
Contrary to what Gundelia's merchants see, Umm Hussein is looking for it because she believes that it is "better than a roasted sheep," as she put it.
As soon as she finishes picking and returns home, the older adult cleans the cookable parts of the roots of the plant.
As a second step, Umm Hussein proceeds to cook the Gundelia with homemade olive oil, describing its taste as very delicious.
Nutrition experts point out that Gundelia is very useful for slimming the body and for patients with high cholesterol, high triglycerides, irritable bowel syndrome, and chronic constipation. It also helps digestion and expels toxins, according to The Herbal Encyclopedia.
It is also rich in mineral salts, especially potassium, and is useful in strengthening the nerves and purifying the blood.
The prices of vegetables, fruits, and basic foodstuffs in southern Syria have increased significantly since the beginning of the year.
Quneitra is the smallest Syrian governorate in terms of area. It covers an area of 1,800 square kilometers, of which 1,200 square kilometers are in the Golan Heights, which is under Israeli occupation.
Quneitra is characterized by its agriculture and fresh water, as the Al-Alal and Al-Raqaq Rivers originate from it, which are two important tributaries of the Yarmouk River.
if you think the article contain wrong information or you have additional details Send Correction