Motorcycle market revitalizes in Aleppo countryside amid high transport costs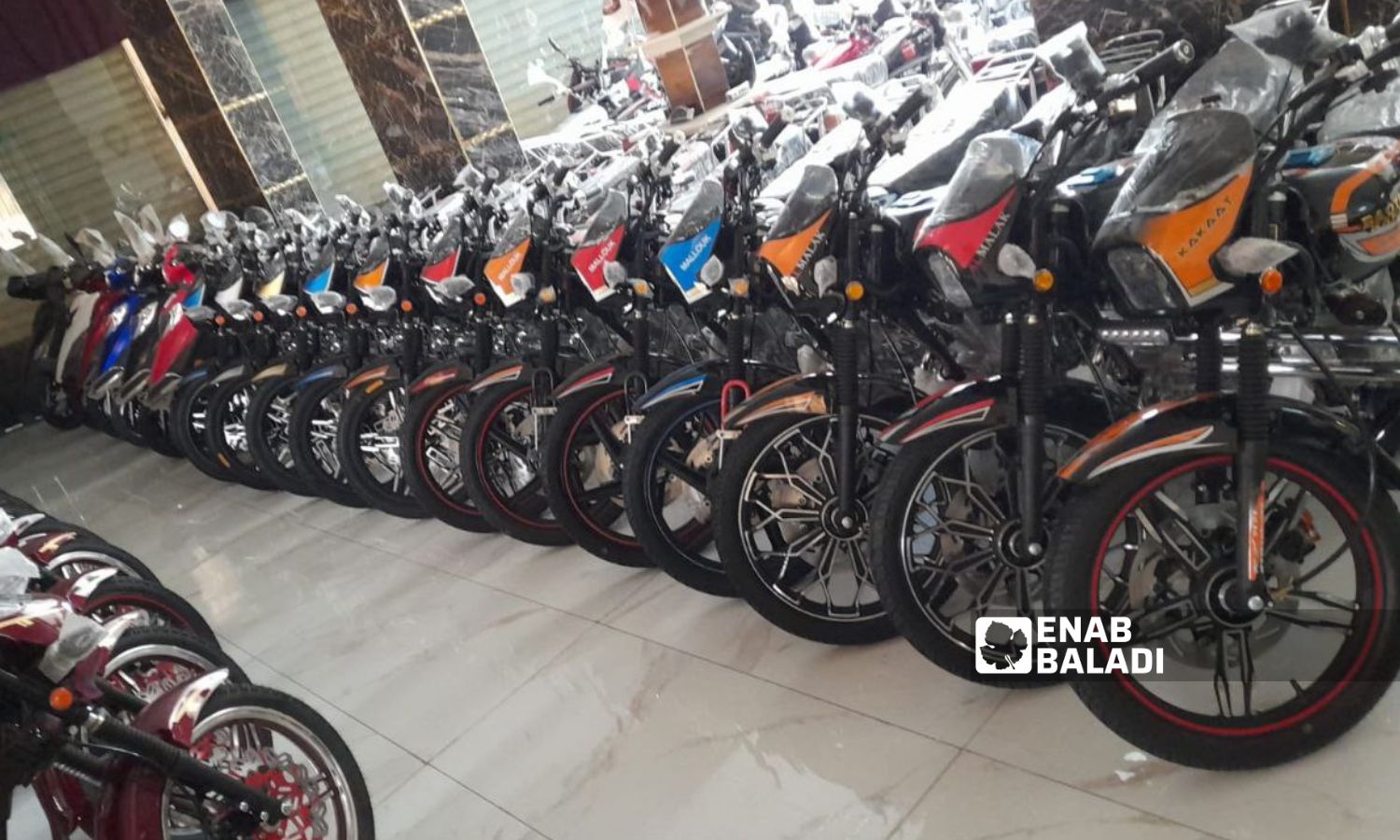 Azaz – Dayan Junpaz
No area in the western countryside of Aleppo is devoid of markets and shops for motorcycles, where many trade in motorcycles as a main source of income.
Recently, this profession and trade became popular in all regions as a reflection of the economic crisis and the deteriorating living conditions that the population has been suffering from for more than a decade.
This profession depends on the person's experience and marketing ability. On the other hand, the motorcycle is the most important means of transportation between towns and villages for most people, due to its low prices compared to cars, in addition to its ease of maintenance.
Motorcycle prices
Motorcycle prices vary according to the type of engine and quality that each bike has.
Tamim Alloush, owner of a motorcycle shop, told Enab Baladi that his motorcycles are imported from China, and there are no specific times for the activity of the market.
Prices also vary according to the specifications of the bike and the manufacturer. There are Cg, Delta, "Akkad," Lonson, and others, and under each name of these companies the quality varies.
Alloush mentioned some types and prices, as the price of a new "Cg" without a starter or a four-speed transmission ranges between $400 and $480, and a bike of the same type with a servo motor starter and five gears exceeds $500. With mirrors, a back seat, and some accessories, it reaches up to $600. As for the Lonson bike, its price ranges between $550 and $600, according to the type of engine.
There are motorcycles dedicated to rough terrain, and their prices range between $800 and $1,000, Alloush said.
Between the new and used
Mohamad Ghazal, 27, a trader and mechanic in Idlib countryside, believes that people and most of the young men in the region prefer used bicycles over new ones due to their relatively low price.
The price of a used bike ranges between $300 and $500 at a maximum, depending on the type of engine and the qualities of each motorcycle.
A used Lonson bike with an automatic operator, which is almost new, has a price of about $500, while a non-automatic and clean motorcycle has a minimum price of $350, and this is for bikes with an engine capacity of 150 cubic centimeters, Ghazal indicated to the fact that the most desired types in the used market are from Lonson and Akkad companies.
Experience is required
Ghazal has more than ten years of experience in buying and selling used motorcycles, as he started working and trading from a young age, according to what he told Enab Baladi.
When buying any motorcycle, he takes the parts he likes, such as "decorations and additional lights," and he may replace other types with the basic parts, fix some faults, if any, and then offer them for sale again after adding the profit he deems appropriate to them.
He described the profession as "neither easy nor difficult," explaining that avoiding loss requires experience and skill in examination and buying and selling operations, noting at the same time that dozens of young men had problems while purchasing bad motorcycles because they did not have enough experience to help them in selection.
Cheap and fast way
Motorcycles are considered an essential means of transportation in the countryside of Aleppo due to their ease of movement in the crowded streets, and they are economical in terms of the amount of fuel they consume and in repairing the breakdowns they are exposed to, compared to cars.
Many people depend on bicycles for transportation, especially those who come from outside the city on a daily basis, and there are thousands among university students, employees, and rural residents.
Jamil al-Mohamad, a university student at the Faculty of Informatics who resides in Darat Azza in the western countryside of Aleppo, told Enab Baladi that when he goes to college in Azaz, he mainly relies on motorcycles for transportation.
The cost of transportation from the main bus station collection point to the college is 40 TL, with the possibility of a long wait until the number of minibus passengers is complete, while taxi owners require a minimum of 500 TL.
The university student added that he could not pay 1,000 Turkish liras on a daily basis, back and forth, as a road fare from Darat Azza to Azaz, which makes motorcycles an indispensable means for university students.
Despite the services provided by bicycles, there are high risks at the same time, given that the body is completely exposed while driving, in addition to non-compliance with the means of protection, including wearing a helmet for the head.
The motorcyclist also faces the dangers of riding on roads that are not fully prepared and devoid of traffic lights, with the potential impact of errors that may be made by other drivers while they are also riding their bikes.
if you think the article contain wrong information or you have additional details Send Correction