Idlib: Home workshops active in sorting diapers bales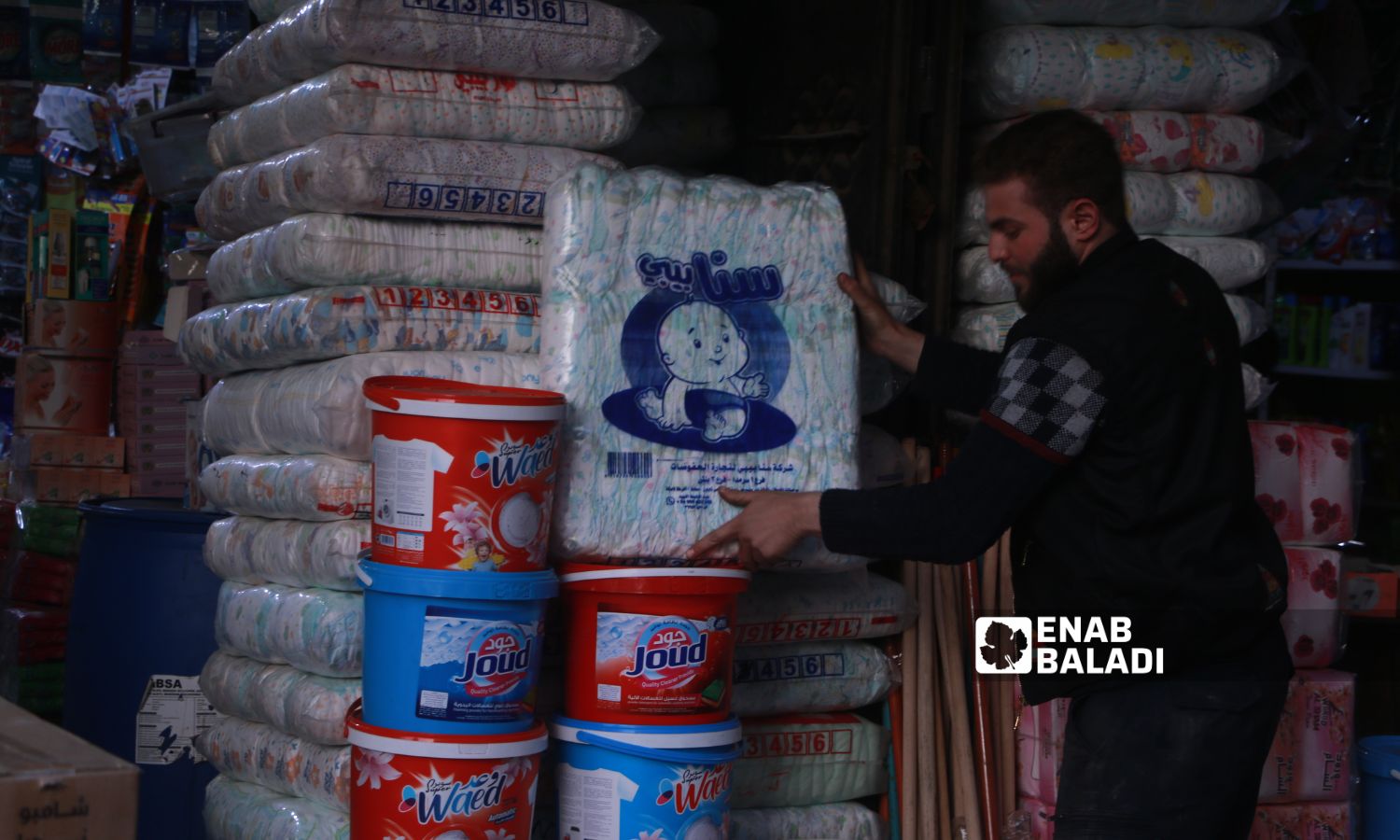 Enab Baladi – Idlib
The 34-year-old Huda al-Saleh wakes up every morning, says goodbye to her children to their schools, and then drags a heavy cart full of diapers from the door of her house to a room she allocated as a workshop to sort the diapers according to size, weight, and quality.
The diapers bale is a large cloth bag that contains a huge amount of diapers of different sizes and quality, imported from its factories in Europe. The workers of a local workshop usually leave it at her door every day.
Al-Saleh opens the lid of the cart and unrolls the diapers on a plastic sheet on the floor of the room to begin her work of sorting them into several sizes and types, which provides her with a modest income to feed her orphan children.
"My husband was killed in an air strike on the city of Idlib, and he left me with five children, the eldest of whom is my 15-year-old daughter, and the youngest is her six-year-old sister, which makes it more difficult to secure their tuition and onerous costs of living," al-Saleh told Enab Baladi.
A few hours before her children return from school, al-Saleh leaves work for a while to prepare food for her family, follow their lessons and do their homework, then returns to work, and her children may help her after completing their studies.
Al-Saleh searched for a job that she could do without being away from home for long periods to take care of her children, which is what she found in this work that she can perform according to what her time permits, and get paid according to effort.
Al-Saleh describes the process of sorting the diapers as "hard, strenuous" work, as she opens the bale, which weighs up to 300 kilograms, then spreads the diapers on the floor of the room after placing a sheet to prevent them from getting dirty, and sorts them according to their quality into three categories, and according to the size into six sizes that are often registered on diapers.
After the sorting process comes the packaging process, which is the most "difficult" stage, according to al-Saleh, where the diapers are arranged inside the bag on a regular basis, and next to it is a scale to ensure the weight of the bag before closing it. This process caused her back pain due to the need for strength and effort to compress the contents of the bag.
Al-Saleh receives an amount ranging between ten and fifteen Turkish liras for a single bag that weighs up to five kilograms. Despite the low wages, Huda preferred this job, which dispenses her with "asking for money from people."
In turn, Ali al-Atrash, 31, a displaced person who is currently residing in Idlib, said that he despaired of finding a suitable job opportunity that would cover his family's needs, so he turned to work in sorting diapers at his home in cooperation with his wife, he told Enab Baladi.
Al-Atrash also works in a paint workshop, but the wages are "very low," and the working days are few, as three or four days a week may pass without work or wages. As for his current work in sorting diapers, he guarantees continuity despite the low returns.
After his work in sorting diapers, the man did not stop working in paint, as he could work in his profession in the morning, while his wife worked in sorting diapers alone at home until he came in the evening to share with her the most difficult packing process.
Popular trade
Merchants in northwestern Syria import diapers through the border crossings with Turkey from their factories in Europe, where the weight of the "diapers bales" ranges between 200 and 300 kilograms, then they are sorted according to their weight and quality, and the damaged ones are repaired to sell them in the markets, which benefits many families and sewing workshops, which they depend on as a source of livelihood.
Abdulkarim al-Shami, a detergent merchant, said in an interview with Enab Baladi that the detergent merchants who trade in diapers have two ways to buy them. The first is to buy parcels weighing up to five kilograms from sorting workshops and sell them per kilo.
As for the second method, the merchant imports diapers from their factories in Europe or Turkey and distributes them to families and sewing workshops.
Regarding the prices, the merchant explained that after sorting the diapers into three types according to quality, the price of the excellent type reaches 60 Turkish liras per kilogram, and it competes in quality with the good imported ready-made ones. As for the second type with fewer absorbent granules, the price per kilogram reaches 45 TL after the repair process.
High prices
The price hike in northern Syria affected baby diapers, as parents find it difficult to secure them, although they are considered a necessity for children's health care, and a newborn needs about two kilograms of diapers per week.
Hussam Saeedi, 35, displaced, works in a restaurant in the city of Idlib and is the father of two daughters. The older one is a year and a half, while the younger one is several months old.
Saeedi, who has difficulty securing diapers for his daughters, told Enab Baladi that he needs at least 200 TL per week for diapers, which is equivalent to the wages of two and a half days, as the wages for one day in his work are 75 TL, with the expenses of milk, treatment, and medicines that he needs for his children.
In turn, Fatima Muhaimeed, 27, a resident of the city of Idlib, complained of her inability to purchase sufficient quantities of diapers, as she had previously relied on some bags of diapers distributed by humanitarian organizations in addition to buying a few.
In the months when she does not receive diapers from the UN or local aid, Muhaimeed is forced to buy from "diapers bales" as an alternative solution to reduce her expenses, and she also keeps the diapers not changed even when it becomes dirty despite the negative effects that this has on the health of the baby and the need after that for ointments that treat diaper rashes.
if you think the article contain wrong information or you have additional details Send Correction