Despite risks, stunt riding spreads in northern Syria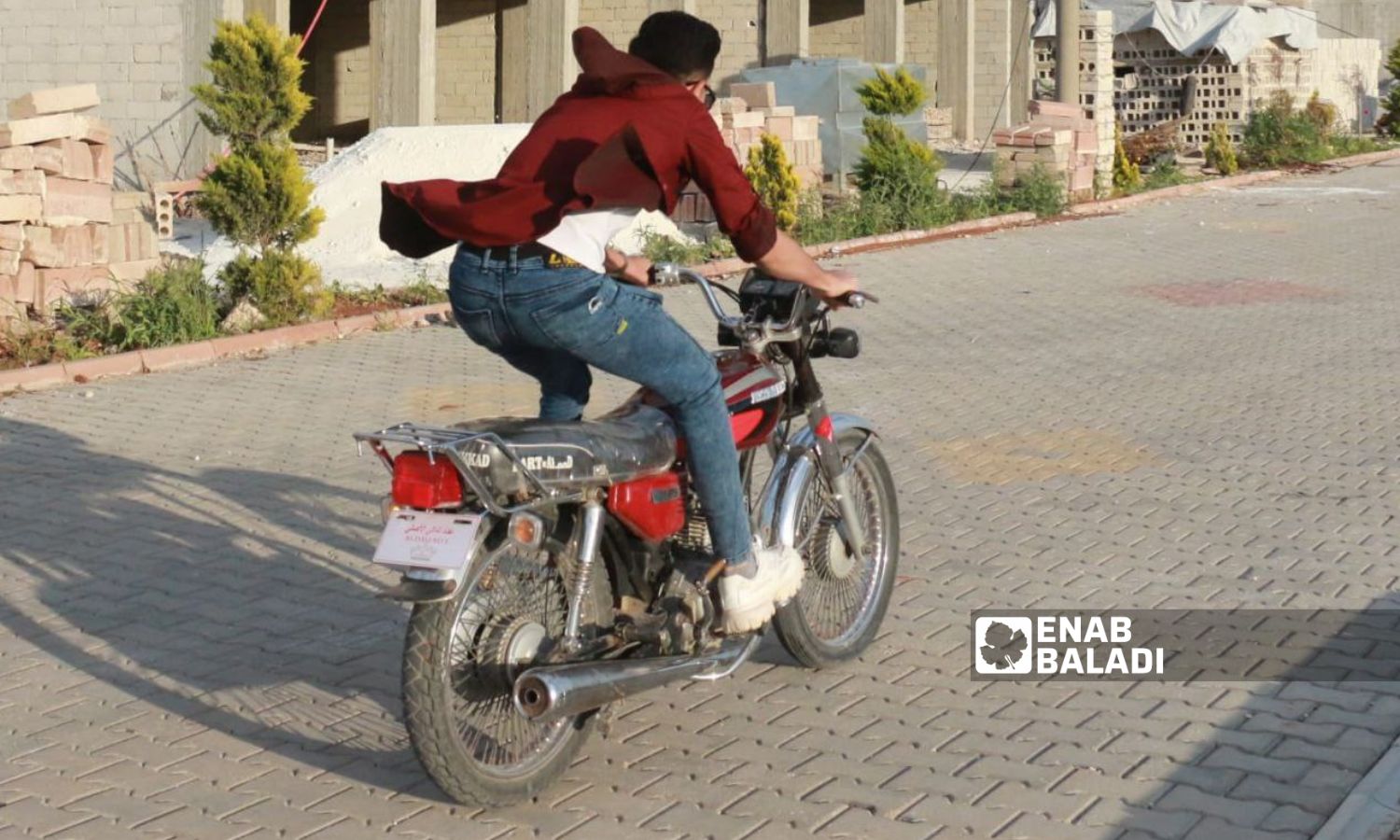 Enab Baladi – Dayan Junpaz
Stunt riding is spreading in northwestern Syria, which disturbs the comfort of the people, and carries with it dangers for drivers and pedestrians.
A renewed phenomenon known locally as "Ta'reesh," which is spread in northern Syria since motorcycles have become one of the most basic means of transportation among residents and IDPs in northwestern Syria.
The stunt riders are mostly teenagers and young men who see in it a talent and a display of their ability to control a motorcycle. Such local phenomenon spreads in the absence of procedures by de-facto ruling bodies to control, prevent or limit it.
Reckless behavior or talent and art?
Some young men and motorcycle enthusiasts practice stunt riding with the aim of showing their abilities and professionalism, despite it being a dangerous action that may threaten their lives and the lives of those around them.
Young men practice stunt riding on main and secondary roads and inside residential neighborhoods, and this phenomenon may lead to catastrophic traffic accidents that claim the lives of some due to recklessness, as stunt riding is accompanied by speedy riding.
Mohammad al-Darmesh, 21, of Azaz city in the northern countryside of Aleppo, told Enab Baladi that he practices stunt riding as a hobby and talent, through which he masters the control of a motorcycle on one wheel.
Al-Darmesh added that the person should be more careful and choose the appropriate places, such as empty roads, explaining that the danger of the act lies if the rider is not proficient and experienced, but if he has that skill, there is no danger.
The young man believes that practicing this act within the city, residential neighborhoods, and crowded streets is wrong, reckless, and immoral.
For his part, Ayman Kraij, 25, from the city of Afrin, north of Aleppo, believes that this behavior, followed by certain groups of young people, is very dangerous for society, especially with his previous experience in one of the town's streets.
Kraij told Enab Baladi that he had previously tried to be a stunt rider, but he lost control of his motorcycle, which caused him severe physical and material damage.
For his part, Mohammad Rahhal, 19, from the eastern countryside of Idlib, considered that stunt riding is an art that he can master, pointing out that he chooses remote dirt roads or asphalt roads outside the town.
Rahhal told Enab Baladi that riding a motorcycle on one wheel, standing with his feet on it, and controlling it and the fuel tank grip in a way that makes the sound of the bicycle intermittent from the chimney, like a "melody," is a matter of talent and art and is not considered reckless behavior.
Rahhal believes that the youth's practice of stunt riding between residential and crowded neighborhoods is wrong behavior, the aim of which is to draw attention and attract people's attention.
Fear and panic, no control
Stunt riding is not limited to daytime, as some young people roam the roads at night in groups, with their motorcycles full of lights, and they ride on one wheel, and some of them ride at extreme speed, even across residential neighborhoods.
Alaa Abdulrahman, 23, from Azaz, described riding bicycles in these reckless ways as a "shameful matter" and said that it causes a state of fear and panic among women in particular.
Abdulrahman recounted the state of terror and fear she felt when a young man almost hit her with his bike while he was riding on one wheel.
Abdulrahman al-Hussein, 50, also expressed his annoyance with this phenomenon and the anxiety of his two children at night and the state of terror that afflicts them during their sleep as a result of the loud sounds made by motorcycles when young men ride them in this way.
Al-Hussein called, through Enab Baladi, for the local authorities to put an end to this phenomenon that disturbs the comfort of the people inside and outside their homes, calling for not underestimating the lives and properties.
So far, There have been no procedures to mitigate or prevent the spread of this phenomenon, whether in the areas controlled by the Syrian Interim Government (SIG) in the northern and eastern countryside of Aleppo or in the areas controlled by the Syrian Salvation Government (SSG) in Idlib and its countryside.
The most recent decision in this regard was in 2018, issued by the Ministry of Interior of the Salvation Government, in which it prohibited stunt riding or fast riding within cities and towns and the use of very loud horns or the use of loudspeakers on motorcycles in cities.
In late 2017, the local council in the town of Baza'a in the countryside of Aleppo completely banned children under the age of 16 from driving cars and motorcycles. It also prohibited speeding within the city for vehicles regardless of the rider's age and set the maximum speed at 40 kilometers, but to no avail.
if you think the article contain wrong information or you have additional details Send Correction