Al-Hasakah spring provides free food source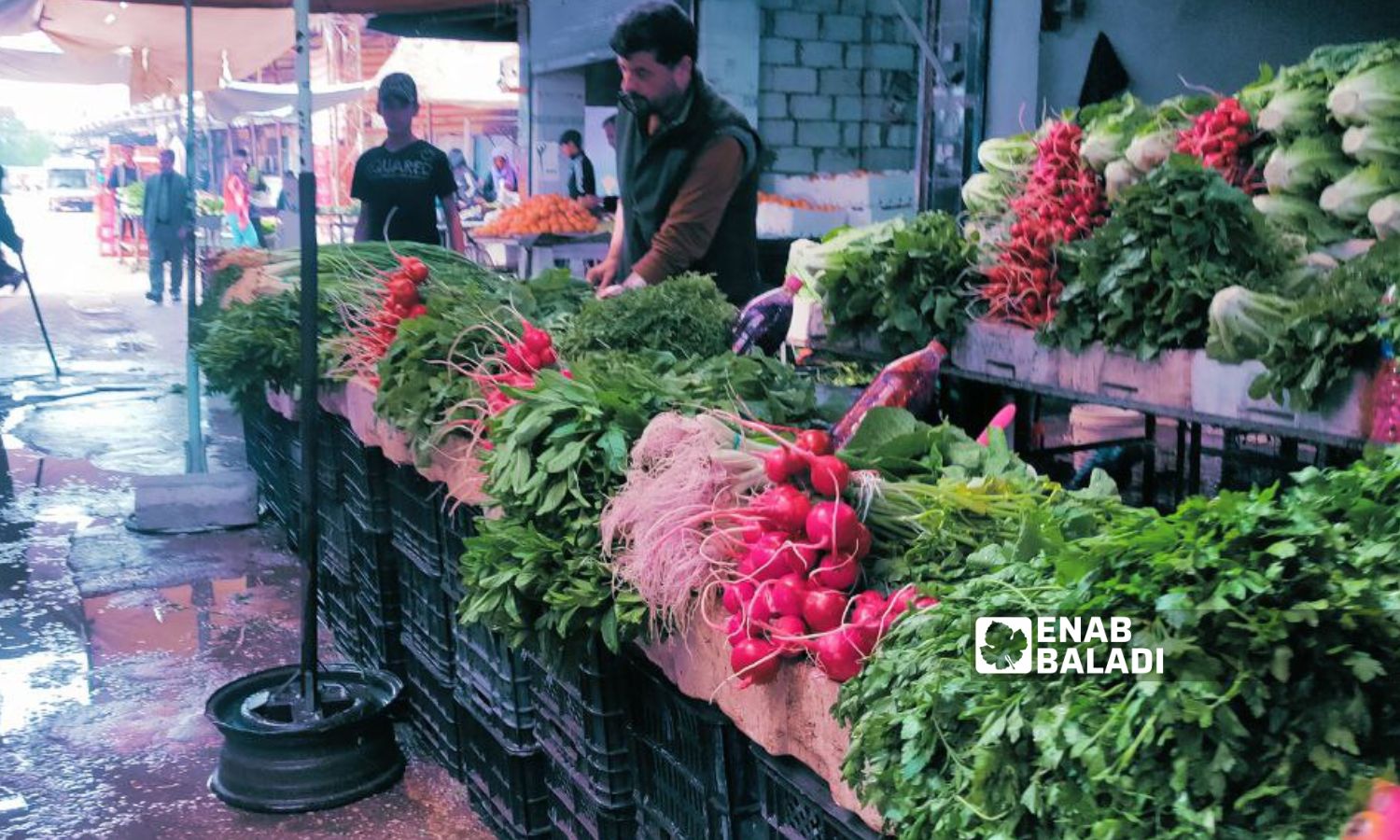 Al-Hasakah – Majd al-Salem
The northeastern province of al-Hasakah witnessed an increase in the amount of rainfall during April, which helped in the growth of wild grasses and pastures, and the almost daily tours of the governorate's women returned in search of plants that could be cooked and eaten, which spread during the spring season.
Among the wild plants that spread in northeastern Syria during the spring are Mallow, "Qunibara," "al-Akoub," Cress, and Chamomile.
Souad al-Hussein, 46, from the southern countryside of Qamishli, carries an empty bag and a kitchen knife with her companions, heading to the outskirts of the village to collect wild plants that are suitable for serving as delicious food that enriches her table along with other dishes.
Al-Hussein told Enab Baladi that she prepares a delicious meal from these plants that she gets every day, and what increases her desire to collect them is that the family loves them and that they are free and fresh, as they grow in clean land and are watered by rainwater, in contrast to what is sold in the markets of vegetables irrigated with river water that is mixed with sewage water.
She added that preparing meals from wild plants does not require high skill, as most of them are prepared in the same way. After cleaning them from impurities and dust, they are washed well with water, then cut and boiled in water, then placed on oil alongside onions with salt and spices.
Al-Hussein intended to prepare the mallow during the same day that we met her in the al-Hasakah countryside, but at the same time, she was looking for the Qunibara plant and other plants to prepare in the coming days.
Entertaining walkthrough
The plant-picking trip was not a basic need for preparing food for all the residents of the region. Rather, some considered it a recreational trip, part of which revolved around collecting some plants.
Ferial, 27, from the eastern countryside of Hasakah, participates in the ritual of collecting plants on an almost daily basis between April and May of each year.
In the afternoon, Ferial and her companions go out to search for wild plants, considering that it is "like a recreational trip between nature," as they take with them supplies for making tea as an essential part of the trip, she told Enab Baladi.
She added that the wild plants collected during the trip are taken home to be prepared as a main meal for many, especially since they are free, at a time when a modest lunch for a small family costs about 25,000 Syrian pounds.
In addition, there are some wild plants that are consumed directly and do not need to be cooked in rural areas, as they are placed next to the main lunch meal, such as cress, which grows wild on the borders separating agricultural lands.
Seasonal income
The period of growing wild plants each year is an opportunity for some families to generate additional income.
The production of these plants increased significantly during the year as a result of the abundant rains that prevailed in the region.
It also increased the number of beneficiaries who collect them to sell them.
The price of the Qunibara plant in the al-Hal market in the city of Qamishli is about 2,500 Syrian pounds, while Mallow is sold for 2,000 Syrian pounds in the market, along with medicinal plants, the most important of which are Chamomile and Catnip, which are sold at a price of 2,000 Syrian pounds.
Ghadir Mustafa Mohammad, a vegetable seller in the Qamishli market, told Enab Baladi that there is a good demand by residents to buy wild plants because they are of excellent quality, and it is a seasonal condition that starts with the beginning of April of each year.
Almost free meal
Food expert and agricultural engineer Harith al-Bulaibel told Enab Baladi that the Qunibara, Mallow, and al-Akoub are green spring plants that appear in the Syrian al-Jazeera region and are originally considered pastoral plants. And with the strong demand of the population to harvest it, it turned into a commodity that merchants are trying to secure in the markets, and some even began to cultivate it in some areas.
Regarding their nutritional importance, the agricultural engineer said that these plants are considered a semi-free food source, as they are collected from agricultural lands and cooked in easy ways, and do not need many ingredients during cooking. It can be the main dish on some people's tables, knowing that it only needs a little oil and onions to have a meal at a small cost.
These plants contain a good amount of carbohydrates, protein, dietary fiber, and small amounts of fats, vitamins, and mineral salts such as sodium and potassium.
The prices of vegetables, fruits, and basic foodstuffs in al-Hasakah have increased dramatically since the beginning of April, in conjunction with the increased demand for them during the month of Ramadan.
Abdul Halim Ammar, head of the Consumer Protection Office in the Kurdish-led Autonomous Administration, told Ronahi TV on April 17 that the region's authorities issued a decision to limit the price hike this month.
The decision specified a profit margin on the basic invoice for all merchants while tightening control over the markets.
The Consumer Protection stated, after communicating with the al-Hal Market Traders Union, that the materials imported from Iraqi Kurdistan and the regime-held areas have become very few, which is reflected in the price and rise of materials in the market, not to mention cases of exploitation by some merchants.
if you think the article contain wrong information or you have additional details Send Correction