Idlib universities: Accreditation by education-quality associations, hope for degree recognition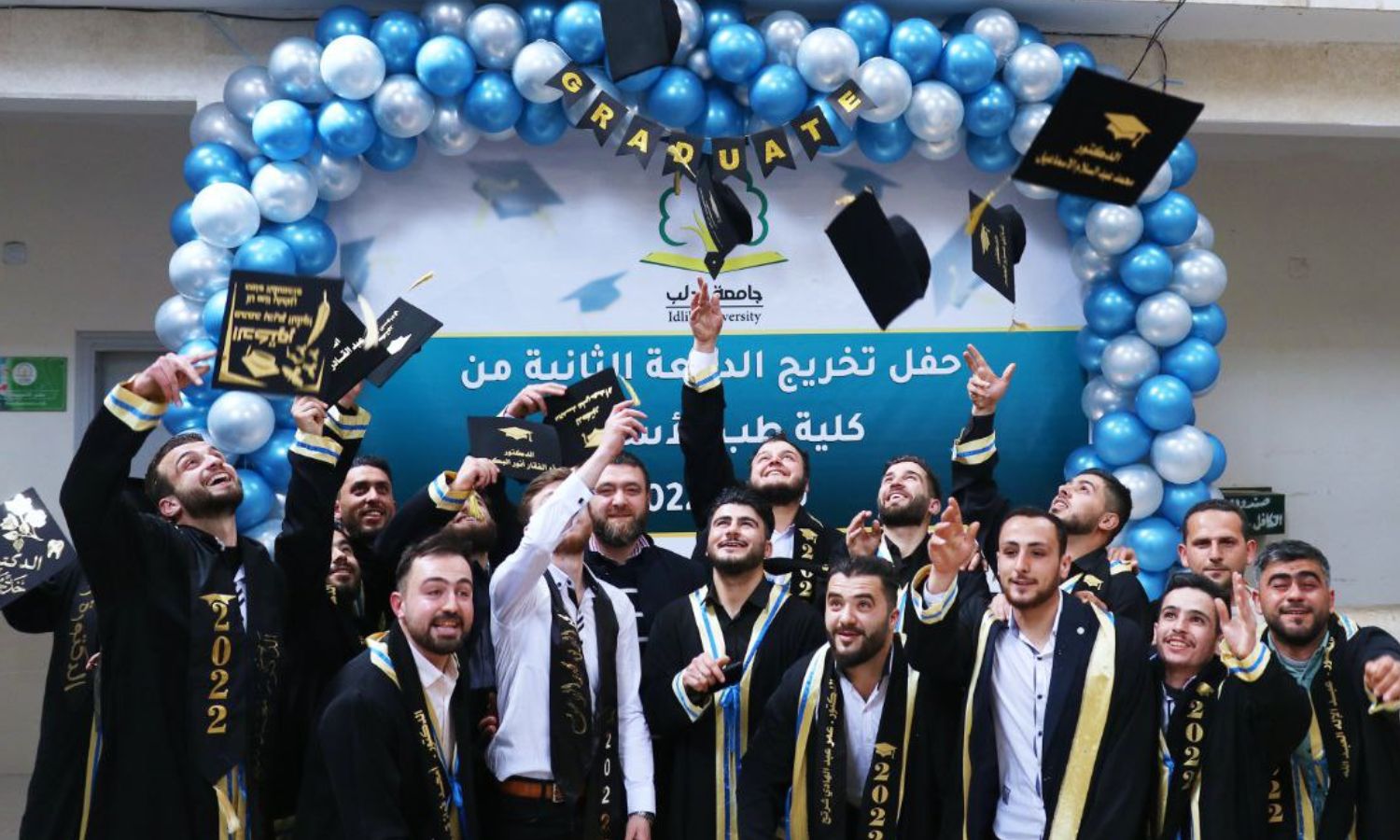 Enab Baladi – Hassan Ibrahim
The Ministry of Higher Education and Scientific Research in the Syrian Salvation Government (SSG) announced that the Council of Higher Education in Idlib has been recognized by the International Association for Quality Assurance in Pre-Tertiary and Higher Education (QAHE).
A step that was preceded in the past years by recognition and joining universities and institutions in northern Syria amidst the difficult conditions that students live in at the internal level, including housing, transportation, and tuition fees, and at the level of certificate recognition abroad.
The recognition
On March 16, the SSG's Ministry of Education published a copy of the recognition of the US-registered QAHE association of the Higher Education Council in Idlib.
For its part, the Delaware-based QAHE announced on March 2 that it had reached a memorandum of understanding with the Higher Education Council in northern Syria for mutual recognition and strategic cooperation to enhance international accreditation.
Recognition includes exchanging scientific and academic experiences with the Higher Education Council, promoting scientific research, publishing, studies, and a culture of quality assurance between the two parties.
The partnership and cooperation protocol was signed between the two parties for a period of three years and included the following:
Exchange of common administrative and scientific expertise in the field of quality assurance and support for quality assurance, institutional, programmatic, and professional accreditation, and distance education programs.
Joint evaluation of educational programs and exchange of applied steps to evaluate performance indicators and improve work systems for higher education institutions.
Raising the level of academic performance, standards of common development, and collective responsibility, and maintaining the quality of higher education institutions and the outputs of educational products.
Exchange of administrative expertise through the ISO standard for higher education institutions.
The Council of Higher Education obtained a certificate of recognition from the Association for a period of five years, from March 2023 to March 2028.
QAHE is an independent, private, and international organization funded through fees charged for its accreditation services to Higher Education Institutions, Certification Bodies, E-Learning Management System Providers, and Training Organizations. 
Professional and international credit
The QAHE accreditation status indicates an institution's commitment to quality education that complies with international standards and enriches the profile of the affiliated institution on an international level, resulting in higher student acceptance and retention.
QAHE offers different membership levels at the individual level (student, graduate, professor), and at the organizational level (non-profit or for-profit organizations), as an environmentally friendly organization.
Dr. Mahmoud al-Assi, Secretary of the Council of Higher Education in Idlib, told Enab Baladi that the certificate of recognition is legislation for the work and activity of the Council for Higher Education and legislation for ensuring the quality it provides, especially since all international quality assurance agencies and academic institutions work according to international standards that depend on improving the performance of universities, councils, and educational institutions, and developing their work through workshops, relevant research, seminars, and others.
Al-Assi added that the Higher Education Council was keen during the past period to obtain international accreditations and partnerships, which helped it in the issue of "external internationalization," meaning that its name was known globally by global quality assurance networks and agencies through its practical and scientific external activity.
Al-Assi pointed out that the recognition is the Council's accession to international legislation and the regional and international scientific family system, and thus legislation for its work and for all its affiliated universities through partnerships such as this, which raises its professional credit, and this reflects positively on educational cadres and students later.
As for efforts and steps to obtain recognition, applications for recognition are not measured by a specific time, according to al-Assi.
Rather, the file is being studied by the concerned authorities, and the activities, partnerships, and accreditations of the Council are being studied, as well as memorandums of international cooperation with institutions to improve the quality of education, he adds.
Al-Assi believes that the recognition came after a cumulative process of accumulating a large number of activities and successes related to ensuring the quality of education.
He pointed out that the Council always seeks to guide and urge its licensed universities to conclude partnerships, sign protocols, and obtain international accreditations in a way that benefits students to reach the stage of recognition of their certificates at all levels.
Seek for international recognition
According to an opinion poll by Enab Baladi that included a group of Idlib University students from various disciplines and faculties, most of the students considered that recognition is a step forward that might help them in the future achieve their aspirations on the academic and practical levels.
Heba Saflou, a 24-year-old student at the Faculty of Informatics Engineering, told Enab Baladi that the recognition motivated the students with the hope of pursuing postgraduate studies and scientific research and developing themselves and their abilities with modern scientific means in the future outside Syria.
Mohammad Abla, 22, a student of Arabic Literature at Idlib University, hopes that this recognition will help in obtaining job opportunities or external acceptance for holders of degrees from northern Syrian universities, pointing out that this step encourages students to do more and to raise their scientific level and capabilities.
A number of students expressed concern about their professional future in light of the lack of job opportunities, widespread unemployment, and the absence of official recognition of their academic degrees, as university students do not receive grants or admissions to foreign universities.
It is limited to some temporary initiatives to enhance students' knowledge, including what was announced by Idlib University in July 2022 by sending the first graduates, numbering 20 people from the Turkish Language Institute, to attend an intensive training course at the Yunus Emre Institute in Ankara.
The duration of the training course was about a month, and it aimed to enhance knowledge, provide graduates with the language skills and competencies necessary for them in the labor market, and develop their educational and academic level, in addition to opening channels of communication with scientific research centers, and to benefit from existing expertise.
In his turn, Dr. Mahmoud al-Assi said that the work of universities, in general, is to qualify the student and provide him with science in all faculties, each according to his specialization, and thus create a scholarly figure who can prove himself in all places of the labor market.
This would serve all sectors to advance them and achieve the desired benefit from the work of universities, which is mainly based on linking the university with society and the labor market, according to al-Assi.
He pointed out that coordination is taking place between all public and private institutions to secure their need for university graduates and that there is a plan to expand the Council's activity by obtaining credits and recognitions, especially European ones.
Al-Assi said that many European international bodies had been contacted in the field of quality assurance, and initial approval has been obtained, but we are awaiting official confirmation after completing their requirements for a final signature at a close stage.
In June 2022, the SSG's Higher Education Ministry announced that the Council of Higher Education in Idlib had joined the Asia-Pacific Quality Assurance Network (APQN), which is one of the five quality assurance networks in the world concerned with improving quality assurance for higher education.
According to the membership certificate on the APQN website, the Minister of Higher Education in the Salvation Government, Saeed Mandoo, is the Executive Director of the Higher Education Council.
Universities in northern Syria periodically announce their joining international bodies and entities after the university meets the conditions imposed for joining, such as Idlib University, Mari Private University, the LightHouse Academy in Idlib, and the al-Zaytouna International University in Azaz, Aleppo, in the Green Metric classification of higher education institutions.
---
Enab Baladi's correspondent in Idlib, Anas al-Khouli, contributed to this report.
if you think the article contain wrong information or you have additional details Send Correction