Idlib camps: Tents for rent, cost beyond ability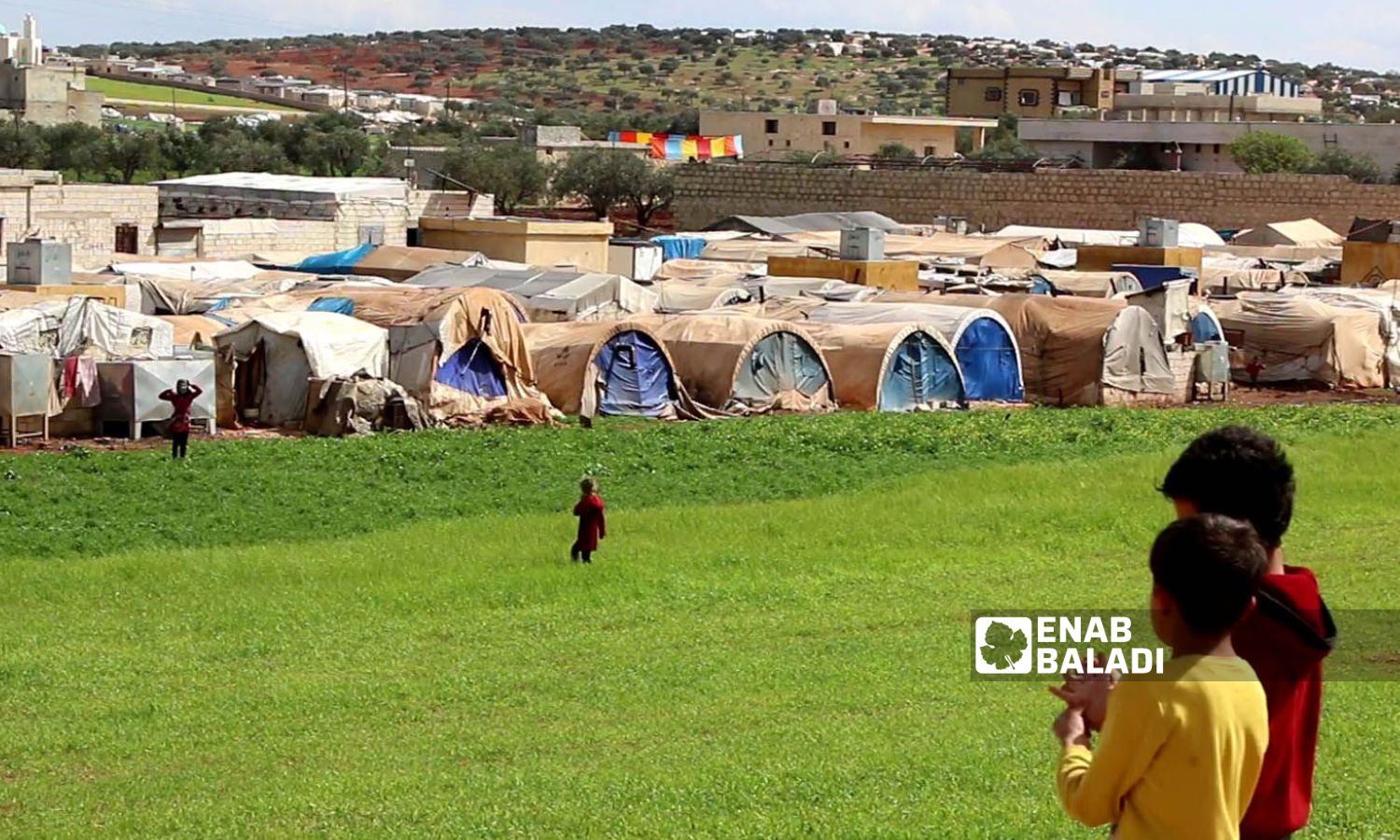 Enab Baladi – Idlib
On private agricultural land, hundreds of displaced people in northwestern Idlib region have been forced to establish random camps to house themselves and their families in exchange for paying rents that increase their suffering and burden them with additional burdens.
Although land rents vary according to the region, the proximity of the land to city centers, and its quality, whether it is mountainous or flat, most families suffer difficulties in securing rent, especially in light of the ongoing displacement crisis for years and the dependence of many of them on humanitarian aid.
Hussein, a displaced person from the eastern countryside of Idlib, pays $100 annually in exchange for a piece of land on which he and his family set up four tents in the town of Kafr Bani in the northern countryside of Idlib, he told Enab Baladi.
On the other hand, one of Hussein's relatives, who resides near Harbanoush, north of Idlib, pays $30 for a space on which he and his family can set up one tent.
Aid for shelter
"We sell the little aid we receive to pay the rent," said Majed al-Talib, briefly explaining the only way he can maintain the only shelter for himself and his family.
Al-Talib, a displaced person from the countryside of Aleppo, has been living with his wife and five children in Harbanoush camp in the northern countryside of Idlib for three years.
The young man used to work in agriculture before the displacement, but he could not find a job opportunity that would secure him a stable income that would cover his needs and his family's.
Al-Talib's suffering is not different from that of Abdullah al-Hamid, as the latter and his family of ten depend entirely on humanitarian aid.
Al-Hamid told Enab Baladi, "Payment is in dollars, and we have no income even in (Syrian) pounds," complaining about his inability to secure the rent for the land on which he erected his tent years ago.
He added that landowners raise rents periodically, which exacerbates the rent crisis.
The best available
For various reasons, most notably the proximity to basic services and city centers, many displaced people prefer to stay in camps built on private lands, says the IDP Majid al-Talib.
Although moving to camps on public lands is available for many people, Abdullah al-Hamid believes that staying on private lands is "the best available."
He attributed this to the ability of families to stay with their relatives in the same camp, while most of them are forced to separate if they choose to move to organized camps.
Al-Hamid fears that he will share the camp with people he does not know, as this may result in many problems, he says.
Solutions by local administrative body
Abdullah Sammaq, official at the Development Ministry in the Salvation Government, told Enab Baladi that the rents are determined by an agreement between the landowner and the camp's residents on a regular basis.
The Camp Planning Office monitors rents based on the contract between the landlord and the tenant, said Sammaq, who heads the Camp Affairs Department at the Humanitarian Affairs Directorate.
The Camps Affairs Department is working on getting rid of the phenomenon of random camps by transferring them to organized concrete camps, according to Sammaq.
The camp residents have been suffering for years from a lack of securing many of their needs, especially food, water, and sewer services.
According to estimates by the UN Office for the Coordination of Humanitarian Affairs (OCHA), the number of people in need of humanitarian assistance in northwestern Syria reached about 4.1 million people, including 3.3 million suffering from food insecurity, 2.9 million IDPs, and 1.9 million IDPs living in camps.
---
Enab Baladi's correspondent in Idlib, Iyad Abdul Jawad, contributed to this report.
if you think the article contain wrong information or you have additional details Send Correction