Heart attacks haunt Syrian youth due to psychological, economic pressures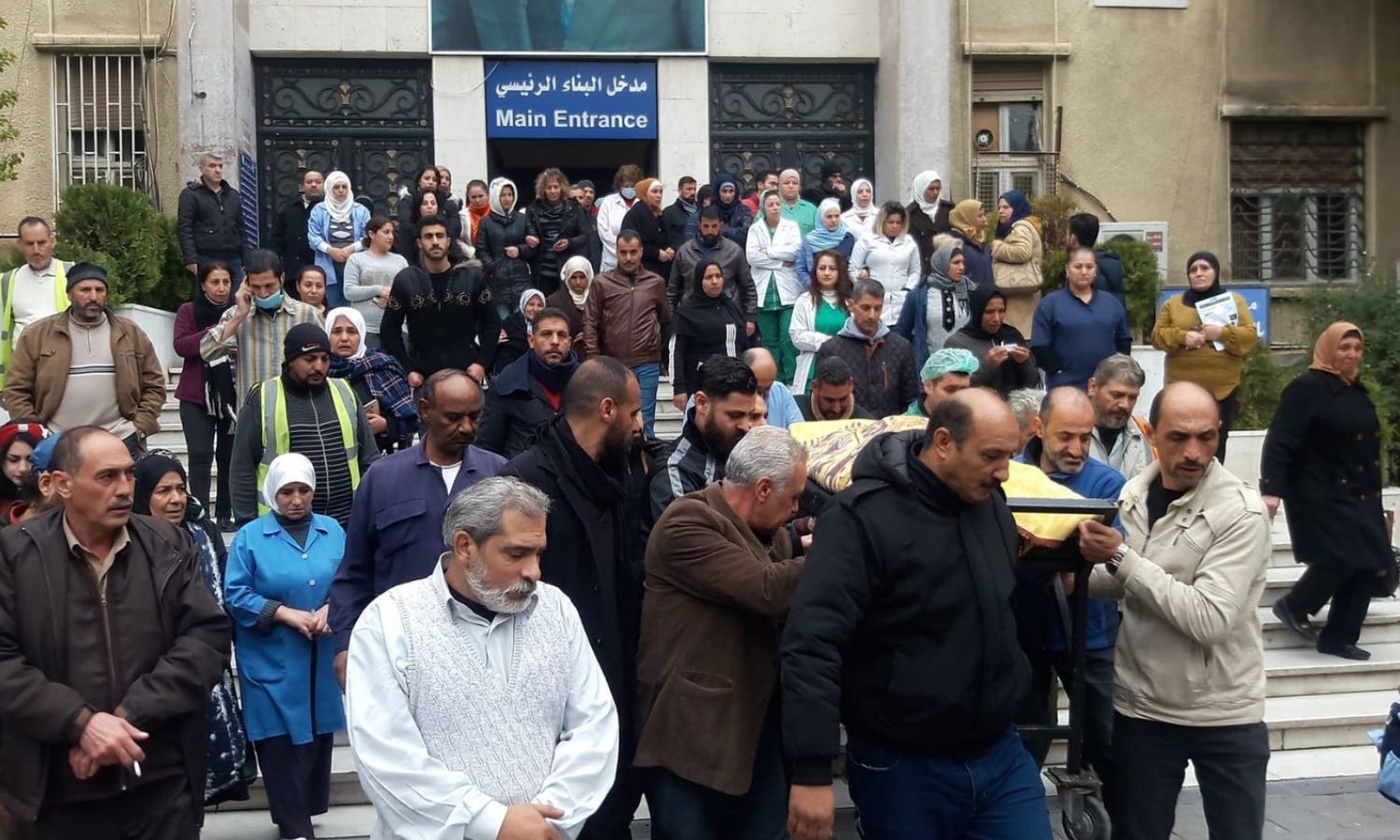 Enab Baladi – Jana al-Issa
The number of sudden deaths among Syrian youth due to heart diseases has increased over the past years, a number of medical sources in Syria said, referring to the impact of the psychological and economic pressures left by the long years of war for more than a decade.
On April 11, a cardiologist, Badr Salloum, confirmed the increase in cases of heart attacks among young Syrian people, ranging between 18 and 35 years, as a result of exposure to pressure and various psychological hardships, especially for people with limited incomes and life pressures.
Salloum pointed out that there are no accurate statistics on sudden deaths of young people, but it can be said that there is a 50% increase in the rate of heart attacks among these ages, according to his statement.
The deaths of Syrian youth were not limited to those residing inside Syria, as the past years witnessed sudden deaths of Syrian youth in asylum countries without their death having been diagnosed with any disease.
"Sudden Death"
The medical term "sudden death" refers to death without symptoms and does not include violent or traumatic deaths.
The World Health Organization (WHO) defines sudden death as the natural death that occurs within six hours of the onset of symptoms in a healthy person or a person who has not had a severe or life-threatening illness.
Until now, many of the causes of sudden death are still unexplained, but many specialized studies consider that causes related to cardiovascular disease are the most prevalent around the world for sudden death.
In addition to other reasons related to drug abuse or diseases of the central nervous system.
A heart attack, or myocardial infarction, occurs when the blood flow that carries oxygen to the heart muscle is severely reduced or completely cut off, often due to clogged or narrowed arteries due to fat and cholesterol.
The damage to the heart depends on the size of the area affected by the blocked artery and the amount of time between a heart attack and receiving treatment.
Mental health, income are causative factors
Cardiovascular diseases are the leading cause of death worldwide, as about 17.9 million people died due to cardiovascular diseases in 2019, which represents 32% of all global deaths, according to a report by the World Health Organization in June 2021.
According to the WHO, 85% of deaths this year were due to heart attacks and strokes, and more than three-quarters of deaths occurred in low- and middle-income countries.
People living in low- and middle-income countries do not benefit from early detection or treatment and have less access to effective, equitable healthcare services that respond to their needs.
This often leads to a delay in detecting the course of the disease, causing people to die younger, mostly in their most productive years.
According to a research study published by the American Heart Association last January, heart and mental health problems go hand in hand, as the incidence of heart attacks and strokes is higher among young people with depression or poor mental health compared to their peers who do not suffer from mental health problems.
Huge psychological pressure
Manar al-Akkad, the head of the ambulance department at the General Authority of the al-Bassel Hospital for Heart Diseases and Surgery in Damascus, warned in April 2022 of an increase in heart attacks among young people, as the percentage of patients attending the emergency department during that period for people between the ages of 20 and 40 reached about 10% of the number of patients. 
Doctor Abdul-Rahman al-Omar, of the Syrian American Medical Society (SAMS) in northern Syria told Enab Baladi that the causes of premature death among Syrian youth are the enormous psychological pressures they are exposed to, and a state of "loss of hope" for them, whether with regard to the academic or professional future.
In addition to the deteriorating economic situation and limited job opportunities, which are directly reflected in their professional, family, and other hopes, Dr. al-Omar added.
Uncontrolled food also affects the increase in disease and death rates amid the lack of proper food control, the unclean environment, as well as the absence of control over the sale of medicines, and the spread of drugs and addiction, according to SAMS doctor.
Syria ranked 18th out of 117 countries in the worker poverty rate index, according to the International Labor Organization (ILO) classification for the year 2022. Labor productivity in Syria was ranked 149th out of 185 countries, which indicates poor productivity.
During 2022, the World Food Program (WFP) recorded that 90% of Syrians are below the poverty line, and no less than 12.4 million Syrians suffer from food insecurity.
Loophole is 'big'
In an attempt to understand these causes and reduce the symptoms associated with sudden death in young people, Dr. al-Omar believes that it is possible to educate young people about each cause separately, such as awareness of the danger of drug addiction, or awareness on the level of public health and healthy food, as well as mental health and psychosocial support. 
The doctor considered that the gap is "significant" because the reasons leading to the increase in the rate of diseases and deaths in Syria are much greater than the efforts of specialized organizations or parties.
"There must be comprehensive programs that try to treat all the causes leading to the problem on the economic and psychological levels, and in the same way, there is no treatment for one level at the expense of another," al-Omar confirmed.
The doctor believes that the phenomenon of premature death has a great psychological impact that is reflected on various segments, on society as a whole, and on young people and adolescents, most of whom feel disappointed, frustrated, and lacking hope for a bright future, which in turn leaves a negative social impact on society.
Co-Director of the Cardiac Intensive Care Unit at Lenox Hill Hospital in New York City, Dr. Robert Roswell, said, "Lowering your risk of an early heart attack can be as straightforward as being aware of what you are eating and how much you are exercising. Simple things like how much sugar you add to your coffee can add up."
Roswell considered that reducing the risk of a heart attack is not about one mega change but about the little everyday details that add up, as it is important to understand that overall health matters.
if you think the article contain wrong information or you have additional details Send Correction