Qamishli's parents delight children with used toys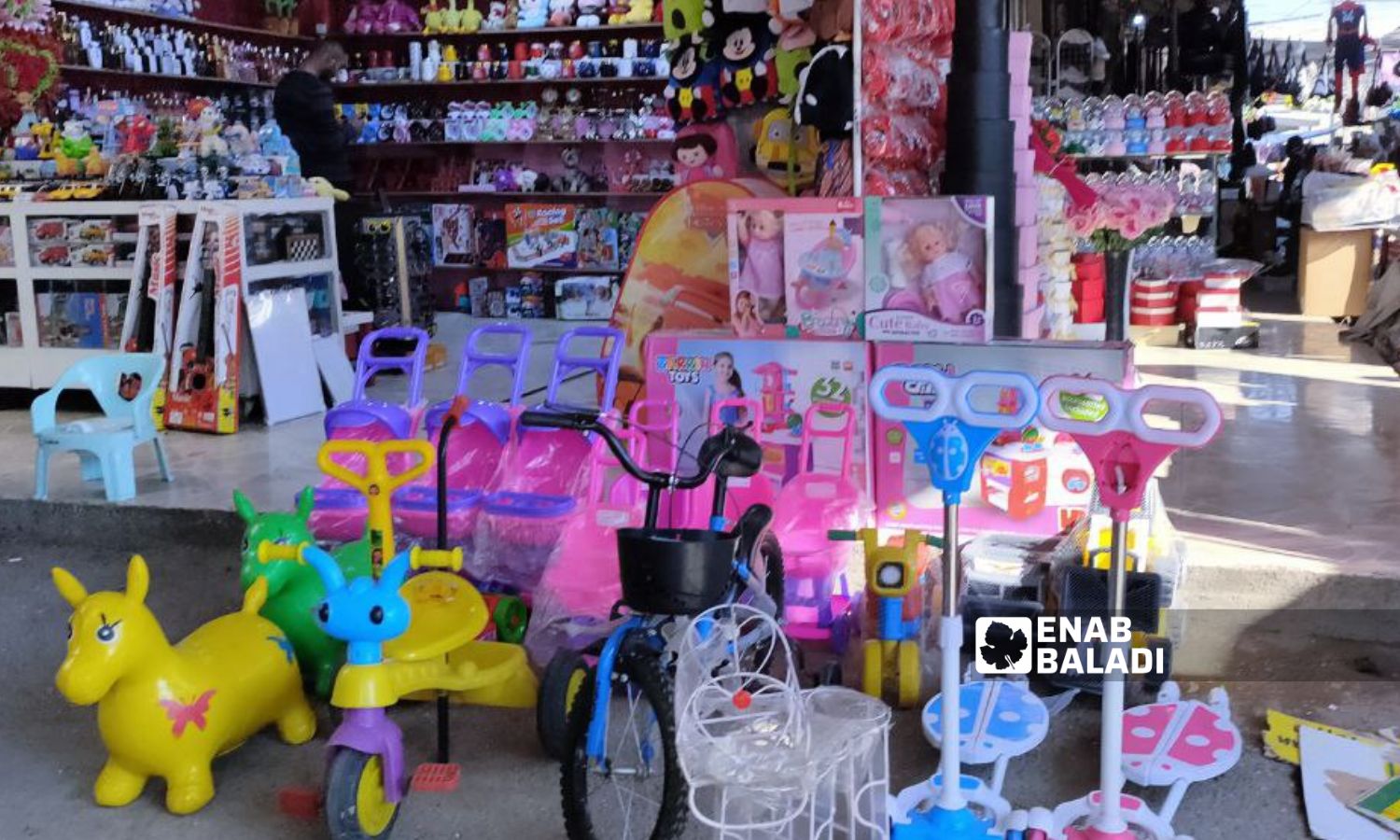 Al-Hasakah – Majd al-Salem
The 46-year-old Abdul-Rahman al-Hussein evades as much as he can from his children's repeated requests to take them to the market in the city of Qamishli, northeastern Syria, in order to avoid seeing them asking for toys that he cannot buy, given his financial income.
Al-Hussein explained, according to what he told Enab Baladi, that every time he takes his children with him to the central market, they see the toys hanging on storefronts or "piled on the stalls," and they start crying, screaming, and asking for purchases, but the price of the cheapest ones may be equivalent to half of the money he carries, according to him.
Al-Hussein described his grief and his wishes to be able to buy his children whatever toys they wanted.
However, he is from "those with limited income," and in light of the deterioration of the value of the Syrian pound against the dollar, the prices of toys in the region have increased exaggeratedly.
The price of the dollar against the Syrian pound reached 6,710 pounds, according to the S-P Today website, which tracks the daily exchange rate.
Among the difficulties that al-Hussein faces if he wants to save money in order to buy a toy for his children that every child likes to have their own toy and often refuses to share it with their siblings, and this means buying more than one toy, and most children get tired of toys "quickly and destroy them before asking for new, alternative ones," which he is unable to do.
The prices of toys have risen exaggeratedly in Qamishli. According to Enab Baladi's tour of the toy stores in the city, the price of some of them reached one million Syrian pounds (about 150 US dollars).
Khaled al-Aidan, 45, owner of a shop that sells children's toys, told Enab Baladi that the reason for the high prices of toys is that most of them are imported from China, Turkey, and Iran, and are subject to taxes and fees like any "ordinary consumer goods."
Prices start from 5000 SYP for small commercial types and reach up to 1 million SYP for electric toys, children's cars, bicycles, and electric bikes, according to al-Aidan.
As for the prices of dolls and teddy bears, which are the "most requested," they range between 10,000 and 200,000 SYP, depending on their size and whether they contain electronic parts.
Parents' turnout to buy toys for their children has become "very modest" and is linked to events such as New Year's holidays, birthday parties, and school success gifts at the end of the school year, with the residents' priorities changing as a result of the deteriorating economic situation.
The alternative is used toys, parks
Khaled al-Muqtaf, 39, of Qamishli, told Enab Baladi that his realization of the importance of playing for children prompts him to search for solutions to secure the toys he needs for his two children, as he found what he wanted in used foreign toys.
Although it is "broken" sometimes, it looks "beautiful and attractive" to the child, and it is also cheap compared to the new one, and its prices range between 5,000 and 20,000 SYP, and a person can buy several pieces of them for the price of one piece, according to al-Muqtaf's description.
According to Enab Baladi's monitoring, not all used toys are cheap, as some are in good condition and are very expensive.
Residents resort to other solutions to entertain their children by taking them to parks instead of buying toys.
At the end of each week, families take their children to ride swings or other available games for 1,500 Syrian pounds per child. However, as monitored by Enab Baladi, not all parks are equipped with children's games, and the games may be broken and few in number.
Salman al-Hamid, 46, a father of four children based in the southern countryside of al-Qahtaniya, told Enab Baladi that children of Qamishli countryside make their own toys.
"My children, like the rest of the village's children, play with what is available to them of "items" and make animals out of clay that they love," he said.
Among the village children's games is taking used can lids and turning them into bicycles with a wooden stick. They also roll small used car tires in front of them or play football and other games that do not require specific tools.
On December 14, the local al-Watan newspaper quoted Bassam Haidar, the regime's deputy minister of economy, saying that for more than three years, import licenses have not been granted for toys and that what is currently available in the market is Syrian-made or stored imported goods.
if you think the article contain wrong information or you have additional details Send Correction