Oil cooperation between Syria, Venezuela: Action plan or mere statements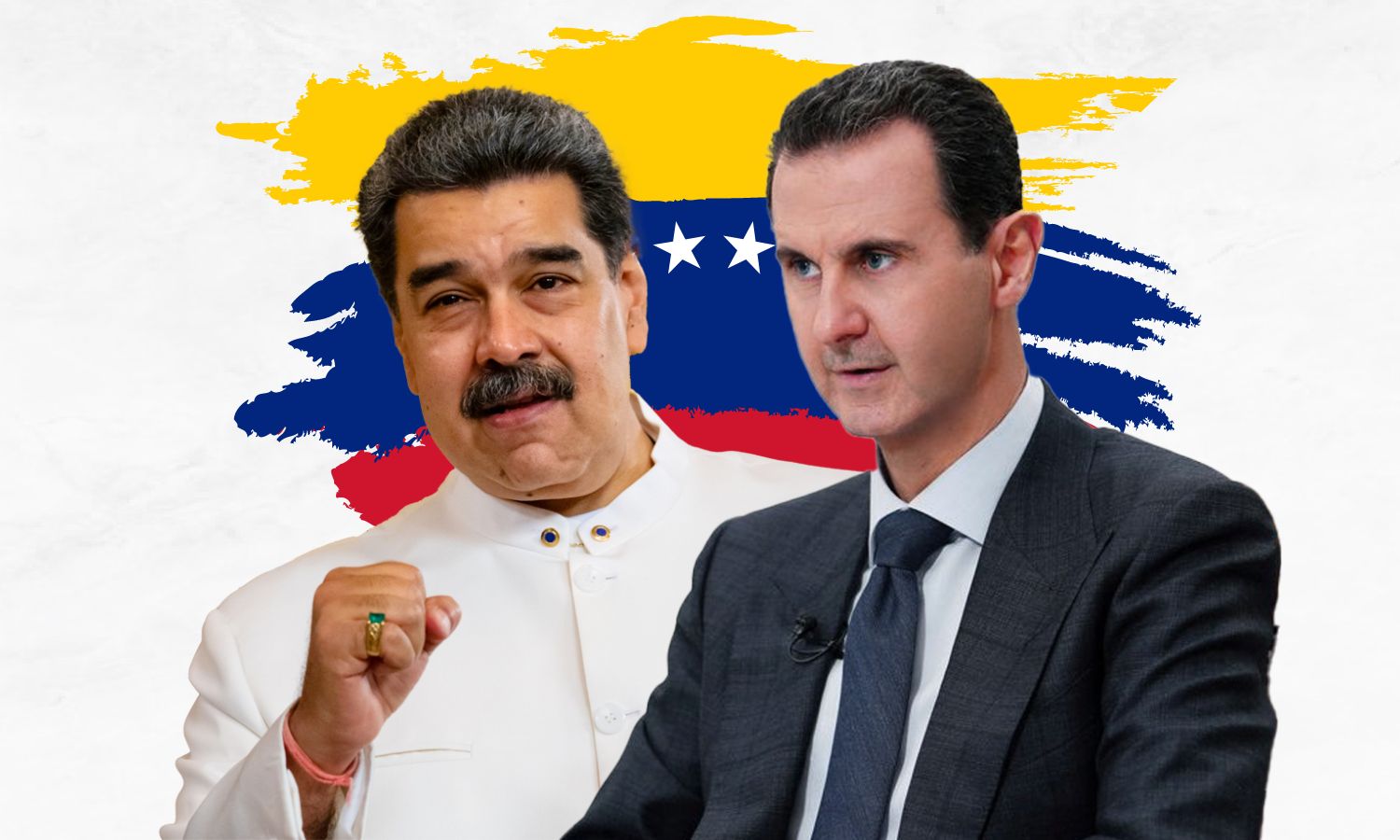 Enab Baladi – Jana al-Issa
The state-run Syrian news agency (SANA) reported on January 26 that the Syrian Minister of Oil and Mineral Resources, Bassam Tohme, had discussed with the Ambassador of the Bolivarian Republic of Venezuela in Damascus, José Gregorio Biomorgi Muzattiz, the prospects for cooperation between Syria and Venezuela in the field of oil, "given Venezuela's large oil reserves."
According to SANA, Tohme and Venezuelan Oil Minister Tareck el-Aissami discussed, in a video call, the prospects for cooperation and developed an action plan for the next stage without further clarifications about the specific content and objectives of the plan.
These statements raised questions about the Syrian regime's reliance on Venezuela to secure oil materials as an alternative to Iran amid unannounced media talk about the latter raising the price of fuel sold to the regime and requiring it to pay in advance.
Featureless cooperation
Karam Shaar, director of the Syrian Program at the Observatory of Political and Economic Networks, told Enab Baladi that Venezuela's confirmed oil reserves are the first in the world and are 120 times greater than Syria's.
Venezuela's primary reliance in the oil production sector over the past three years has been on Iran as a result of US-imposed broad sanctions on Venezuela's oil sector, where American companies were mainly engaged in the said sector.
As a result of the sanctions, Venezuela's oil exports have declined significantly, especially over the last three years. Venezuela resorted to reliance on Iran, not only in terms of Iranian experts working in repairing oil wells but also in terms of importing some oil derivatives from Venezuela.
Since 2020, Iran and Venezuela have sought to cooperate in many sectors, especially in energy projects and oil exchanges. In May 2022, the state-owned National Iranian Oil Engineering and Construction Company signed a 110 million euros contract to repair Venezuela's smaller refinery, which has a refining capacity of 146,000 barrels per day.
In June 2022, Iran and Venezuela signed a 20-year cooperation plan in Tehran, which includes cooperation in the fields of oil, petrochemicals, defense, agriculture, tourism, and culture, as well as the rehabilitation of Venezuelan refineries and export of technical and engineering services.
In contrast, according to its general budget for the current year, it appears that Venezuela is counting on a significant rise in its oil exports this year, which is expected especially after the US reduced its sanctions on the oil sector, according to Shaar, who holds a Ph.D. in economics.
For his part, the economic and political analyst in Middle East affairs, academic Muhammad Saleh al-Futaih, considered in an interview with Enab Baladi that, politically, Venezuela had begun a process of political rapprochement with the United States recently, including exchanging the release of prisoners and detainees between the two parties and the lifting of some US sanctions on the Venezuelan oil sector.
As the United States tightens the sanctions against Syria, al-Futaih believes that doubts arise here as to whether Venezuela is willing to risk the "achievement" it has accomplished in its relationship with the United States and expose its oil sector to sanctions as a result of its violation of sanctions against Syria.
During the last months of 2022, the US eased its sanctions on Venezuela's oil sector, coinciding with a preliminary agreement between the government and the opposition in Venezuela. This was expected to play a role in easing Washington's economic and political sanctions, as well as significantly affecting global oil markets on the one hand and reducing the influx of refugees from Venezuela to neighboring countries in the region on the other hand.
No history of cooperation
Academic Pr. Muhammad Saleh al-Futaih said that the Syrian-Venezuelan talk of cooperation in the field of oil raises questions at the present time.
He added that Venezuela had not provided any declared oil shipments to Syria in a decade, as "there were allegations about Venezuela sending a 50 million USD oil shipment in February 2012, but it was not confirmed". There was also no information, even in the pre-2011 period, about Syria importing oil from Venezuela.
In the pre-revolution period, the geographical distance and the high shipping costs from Venezuela to Syria, compared to the availability of geographically closer alternatives, prevented this trade, according to al-Futaih.
Despite Venezuela and Iran being both subject to US sanctions, the Venezuelan infrastructure for producing, refining, and shipping oil is clearly weak. This is what limited its ability to export oil during the past years and also prompted it to seek Iran's assistance in this field.
Iran owns about 300 different-sized active oil tankers, while the Venezuelan state-owned oil and natural gas company (Petroleum of Venezuela PDVSA) has only about 30 tankers, most of which are inactive due to the need for maintenance. Therefore, Venezuela's ability to start exporting oil now to Syria is questionable unless it gets new shipping capabilities or the oil is shipped by another party, such as Russia and Iran, according to al-Futaih.
The regime is ineligible
On the other hand, the energy bill has become an increasing burden for many countries in the region, including those that have not experienced security or political turmoil, as is currently the case with Jordan. There are, therefore, considerable doubts about Syria's ability to cover the bill for importing enough oil to ease the current crisis, according to Pr. Muhammad al-Futaih.
Pr. Karam Shaar concurred, arguing that the meetings of the oil ministers on both sides could not be relied upon. Venezuela would not give the Syrian regime oil in quantities greater than "symbolic shipments" in return for the exchange of goods or without direct financial payment on a borrowing basis. Venezuela's current economic situation is even more difficult than Iran's.
According to a Global Americans report issued last January, for the past one hundred years, Venezuela's economy has been highly dependent on oil, which accounts for more than 90 percent of exports and more than half of fiscal revenue, considering that it is thus not surprising that Venezuela's economic collapse coincides almost perfectly with a massive decline in oil revenues. After rising for more than a decade, oil revenues fell by 93 percent between 2012 and 2020. During this same period, per capita income declined by 72 percent.
In contrast, Syria does not currently have any commodities that could be exported to Venezuela to match the soaring cost of oil imports, according to Shaar.
Uninterrupted ties
Unlike many countries, Venezuela has not severed its diplomatic relations with the Syrian regime since 2011. It has maintained the exchange of ambassadors between the two sides, along with official and diplomatic visits that have not been interrupted over the past decade.
In 2022, Venezuelan President Nicolás Maduro said he intended to visit Syria soon to celebrate with the Syrian people and their "leadership" what he described as an "atmosphere of peace and stability" that it had been able to reach after waves of "terrorist aggression" against it, as he put it.
The Venezuelan regime shares a variety of political approaches with the Syrian regime. Justifications for the outbreak of peaceful popular protests in both countries have been accompanied by the rhetoric of "external interference and the creation of a fictitious enemy as the best way to justify repression," according to an analytical report published on the website of the global political organization the International Workers League in 2017.
According to the report, the Venezuelan and Syrian governments share many social and political features, as both are "nationalist" regimes that use rhetoric full of concepts such as "the homeland," "the nation," and "the people," as well as their repressive laws.
On the current economic similarity between the two countries, Pr. Muhammad Saleh al-Futaih explained that there is a lot of similarity between Syria and Venezuela, especially the weak domestic production capabilities and the two countries' reliance on imports.
He added that, theoretically, Venezuela could barter its oil for Syrian agricultural products. But such arrangements have emerged as ideas since before 2011, including the former Venezuelan President, Hugo Chávez, saying that his country would receive Syrian olive oil through barter trade. But this has not been achieved, and now Syria does not have enough surplus agricultural production to cover the oil import bill from Venezuela.
The Venezuelan talk of oil exports to Syria is linked to Venezuelan populist rhetoric about rapprochement with certain anti-US countries, while Venezuela's actual tangible rapprochement developments are toward the United States.
if you think the article contain wrong information or you have additional details Send Correction