Bullying, "Kimlik" and poverty make third of Syrian children out of Turkey's schools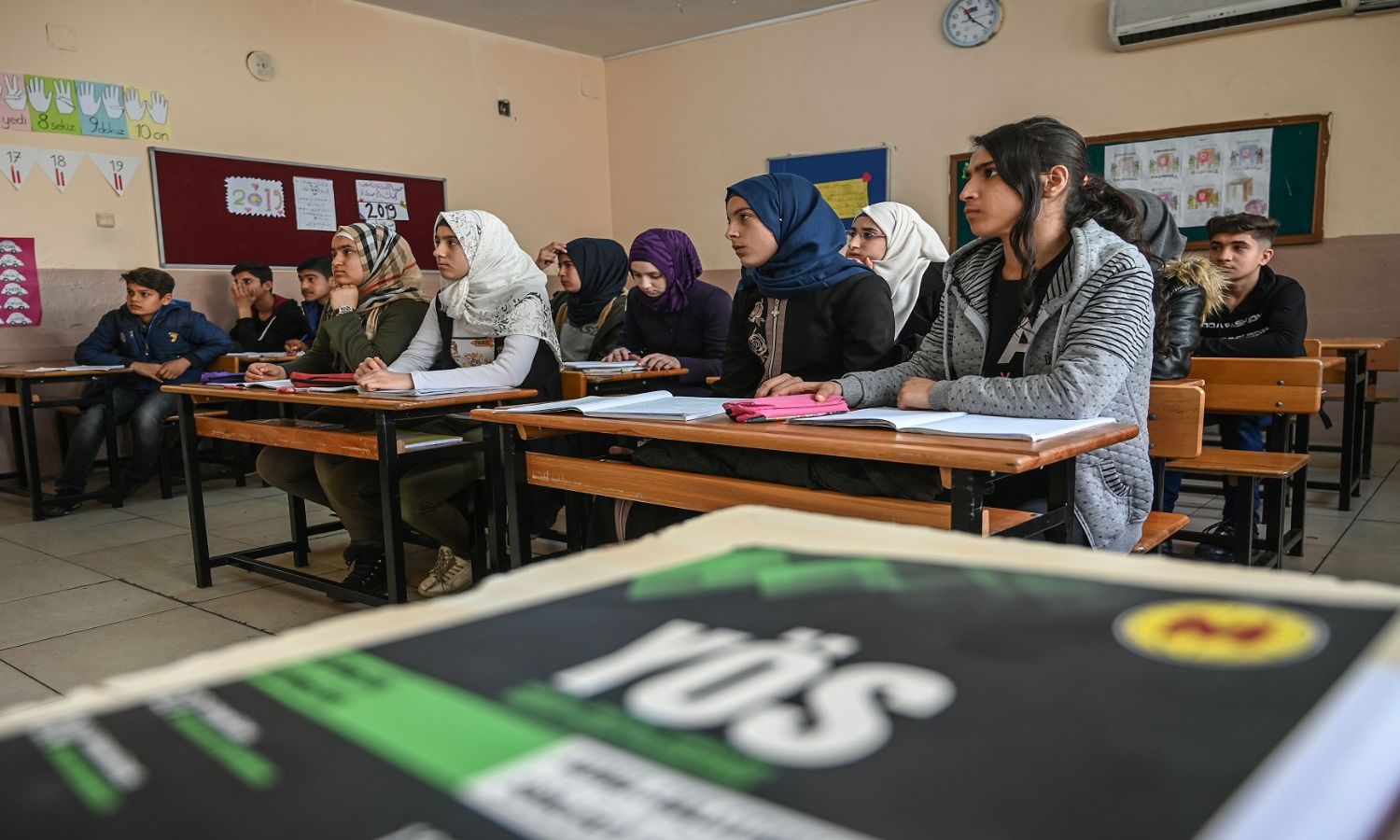 Enab Baladi – Muhammed Fansa
Recent Turkish government statistics show about a third of Syrian school-age children dropping out of school without mentioning the reasons, but noting that there are cases of "bullying" they face in educational institutions.
'Eğitim-Bir-Sen' Educators Union Secretary General Latif Selvi stated on January 17 that 65 to 70% of Syrian school-age children were educated in Turkey, stating that providing education only to refugee children does not fully solve the issue of education.
Syrian children face cultural and linguistic differences and instances of "bullying" among students, reinforced by the gatherings that Syrian students build among themselves, according to Selvi.
Selvi stressed that gatherings among students disrupted harmony in schools and that administrators and teachers had important responsibilities in that regard, saying, "We care that our educator friends do not allow any discrimination between our children and that they intervene constructively at the sight of such behavior."
The obligation to educate and reintegrate Syrian children into schools lies with the Turkish government and NGOs, according to Slevi. He stressed that the state had secured financial resources for education and that the task of students' integration lay with civil organizations, noting that cultural and social activities were factors contributing to the solution.
Educational discrimination
The intensity of racist rhetoric against Syrian refugees in the country has affected the lives of parents at work or even their children's schooling, with Syrians in every aspect of their lives facing a section of Turkish citizens who have embraced the approach of some politicians on the issue of deporting refugees and their "damage to the economy."
The impact of such racist rhetoric has reached classrooms recently, even among primary school children on the one hand and their teachers on the other.
Enab Baladi monitored several cases of racism through interviews with parents whose children complained of ill-treatment by their teachers or classmates at school without serious intervention or a radical solution put in place by the administration after being informed of the matter.
Mahmoud, 42, did not take seriously the complaint of his child, Abdul Rahman, who attends the first grade in a Turkish school, about his female teacher, which was physically assaulting him on a daily basis, thinking that his son was "a troublemaker" and that his teacher was only disciplining him, in perceived exaggeration from his child.
The matter evolved when the child informed his parents of his unwillingness to go to school again because his teacher repeatedly hit him on the neck and mouth without any good reason to do so. Speaking to Enab Baladi, Mahmoud decided to file a complaint with the school's administration, which denied that such conduct was perpetrated by any of the members of its educational staff.
After the child confirmed the teacher's actions in front of the school's administration, the latter made sure that the problem was resolved. The teacher, however, moved Abdul Rahman to the last seat and asked the other students not to speak with him while preventing him from participating in the lessons and calling him bad names. This is what Mahmoud described as the teacher's transition from beating to "neglect, marginalization, and humiliation."
Although Mahmoud informed the school's administration of the teacher's new actions and requested that his child be transferred to another class, the expected response was not received. Rather, it got to a point where the said teacher hit Abdul Rahman's leg with a "mop" stick. His father, therefore, called for a report of the beatings to be released from the hospital and for a complaint to be lodged with the Turkish Directorate of Education and with the Turkish Association for Solidarity with Asylum Seekers and Migrants (ASAM).
As of the date of publication of this report, no response had been received to Mahmoud's complaint, who asked not to be named due to fears of future aggression. Meanwhile, his child was deprived of education and suffered a racist experience that affected his speech and personality, as described by his father, without a nearby alternative school to which he could transfer him.
Impediments outside school walls
More than 700,000 children were born to Syrian parents inside Turkish territory during the asylum period, according to Turkish Minister of Interior Süleyman Soylu, in July 2022.
During the same period, millions of Syrian families took refuge in Turkey with children of legal school age who had dropped out of school for different periods. This interruption, together with the language barrier and some families' thinking of taking refuge in a third country, affected their children's enrollment in Turkish schools.
Despite allocating schools for Syrians with a Syrian-Turkish educational staff with European funding until 2019, many students dropped out when these schools were closed, and it was decided to use Turkish schools.
The deteriorating economic situation of most Syrian families affected the decision to educate their children. Instead of sending them to schools, some families preferred their children to go to work and help secure an income, which was particularly prevalent among minors at the secondary level, according to a report prepared by the Migration and Education Department of the Turkish Ministry of Education for the academic year 2021-2022.
The report counted about 393,547 children out of 1,124 million Syrian children of legal school age who are not enrolled in schools.
According to the statistics, the proportion of students holding a Temporary Protection Card (Kimlik) and enrolled at the middle level was about 80%, and students at the primary level were 75.13%. The proportion of students in secondary schools remains low, accounting for 42.65% of all students.
The report justified the reasons why Syrians did not attend school because Syrians "habitually" had a Syrian educational system that did not require them to attend pre-primary school between three and six years, in addition to the fact that Syrian children preferred to contribute to the family budget after secondary education because of the "economic shortcomings" experienced by Syrian families.
On June 9, 2022, the United Nations High Commissioner for Refugees (UNHCR) issued its annual report for 2021, in which it stated that more than 70% of Syrian refugees live in poverty.
According to the report, it is estimated that more than 70% of refugees live in poverty and are vulnerable to exploitation and abuse in countries of asylum, including child labor.
Owing to debts accumulated during her family's asylum trip from Syria to Turkey, Aya Ajanji (29 years old) is forced to work with her husband to save some money in an increasingly difficult economic situation. This does not allow her to drop her son off at school, only teaching him the way to go alone with no school-owned means of transportation.
Second-grade student Fadil was attacked by a child older than him while he was on his way back from school, according to what his mother, Aya, had told Enab Baladi. After repeated assaults, she accompanied her son and verbally warned the child abuser, who denied assaulting her son.
Those warnings did not work, and Fadil would, after a period of time, be subjected to a more violent physical assault by the same 13-year-old, deciding not to go to school again. After Fadil's mother intervened and threatened the child abuser to file a complaint with the police, no new assault occurred. But Aya is always afraid of another incident.
Most Turks accompany their children to school in the absence of a private means of transportation to take them to school for fear of any incident of assault or abduction to which their children may be subjected.
A legal situation that increases complexity
At the beginning of the current academic year, the Syrian-Turkish Joint Committee allocated an electronic link to receive complaints and hardships facing Syrian students in Turkey.
Regarding the results of this survey and the steps taken by the committee to address the obstacles, Enab Baladi contacted the committee's communications director, Enas al-Najjar, who stated that there are several legal reasons that prevent children from attending school.
Among these reasons is the child's lack of a Temporary Protection Card (Kimlik) or the family's violation of the place of residence, as it is not allowed to enroll children in schools except in the same state that issued the Kimlik. Also, a child who has violations on their Kimlik cannot be enrolled, such as having a mistake in writing the father's name.
The Committee filed these complaints with a proposal to the Turkish Ministry of Education to reposition Syrian children for "guest" status, as previously applied when the student's parents' status was not considered in relation to their enrollment.
Despite the Turkish Ministry of Education's response, this proposal has not been activated because other parties must cooperate, according to al-Najjar, who indicated that the Joint Committee recently approached the Turkish Presidency of Migration Management to resolve the education crisis, which in turn promised to take steps on the ground.
A decrease in the number of racist cases faced by students in the current year was noted compared to the previous year, according to al-Najjar, who attributed the reason to the impact of the Turkish media misinformation law on social media, which led to a reduction in racist violations on social platforms and in real life.
One of the auxiliary solutions that the Center for Humanitarian Diplomatic Studies worked on, which is part of the committee, is to conduct awareness-raising sessions and workshops for children to increase their self-confidence and not allow speech and "racial bullying" to affect them.
if you think the article contain wrong information or you have additional details Send Correction