War-wounded cannot afford physiotherapy in Idlib, need support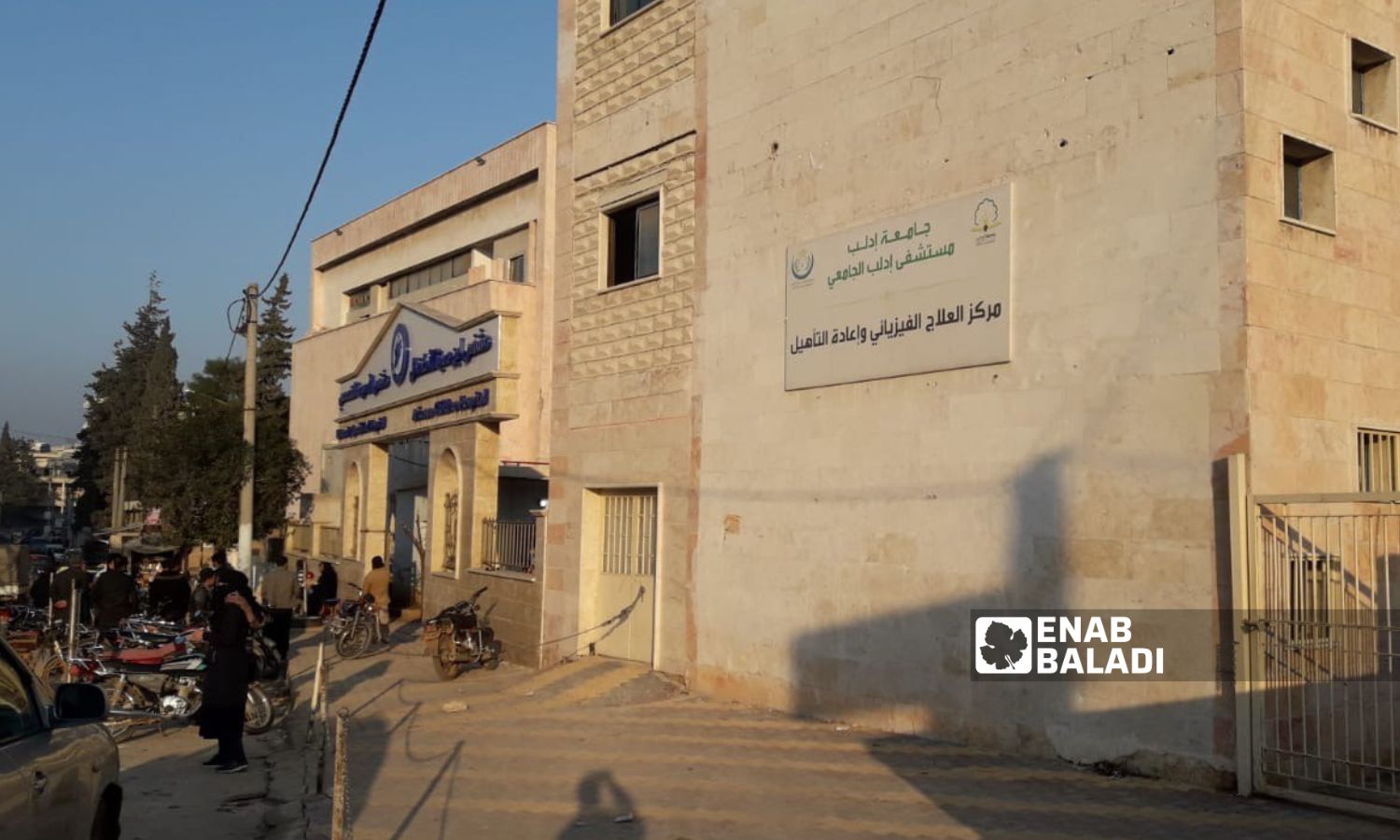 Enab Baladi – Anas al-Khouli
Conflict in Syria has left thousands of people in need of special medical care. Healing requires physiotherapy sessions to restore mobility and avoid aggravated injuries.
In Idlib, where physical therapy is inaccessible, many people have mobility disabilities that will accompany them throughout their lives.
Burdensome costs
According to an opinion poll conducted by Enab Baladi in Idlib, which included five patients and a physiotherapist, the high financial costs of physiotherapy are the main reasons why people refrain from going to treatment centers.
Haider Saudi (27), a displaced young man from the Damascus countryside currently residing in Idlib, suffered an injury that resulted in him losing parts of the leg bone.
Although he initially received the necessary medical treatment, the young man did not pursue his physiotherapy as his injury required a large number of treatment sessions, which would entail considerable costs that he simply cannot afford, he told Enab Baladi.
Neglect of treatment resulted in permanent damage to his leg, as he lost his ability to move it normally.
For his part, Mahmoud Abla, a physiotherapist residing in the city of Idlib, said that most of the patients he treats do not follow up on physical therapy to avoid the costs.
Ten physiotherapy sessions cost a minimum of 90 USD, and it increases depending on the medical condition, center, and devices used, according to the specialist.
The physiotherapy journey could cost about 1000 USD if the condition requires long-term treatment, he added.
The minimum wage for day laborers (seeing that 85% of workers in northwestern Syria are in the said category) is 60 Turkish liras (3.22 USD).
For his part, Imad Zahran, the director of the media office in the Idlib Health Directorate, told Enab Baladi that the city has about 27 free physiotherapy centers.
A large part of these centers have ceased to operate owing to lack of support, said Zahran. The Idlib Health Directorate was working to reach out to supporters to resolve the problem and reoperate the said centers.
Although there are centers that offer free physiotherapy, the people interviewed by Enab Baladi complained about the lack of medical equipment and the difficulty of scheduling an appointment for treatment at those centers.
The exchange rate of the US dollar is 18.66 Turkish liras, according to the Döviz website, which specializes in exchange rates and foreign exchange.
"Subaltern" treatment
Many people consider physiotherapy a subaltern matter, which can be substituted or ignored despite their great need for it.
Physiotherapist Mahmoud Abla said that physical therapy should be initiated immediately after injury or completion of surgical intervention, if required, to prevent atrophy in the muscles of the affected area or calcification in the joints (calcium buildup in the joints).
The rehabilitation and recovery of the affected areas requires a long period of time and careful follow-up by specialists. But most people do not pursue therapeutic programs carefully because they are unaware of the importance of physical therapy and the risks of not adhering to the treatment plan, he added.
While therapeutic exercises are the most important part of treatment and depend mainly on the patient's commitment to the treatment plan at home, most people neglect the exercises as soon as they feel better.
Lack of specialists and devices
Hashem Mohammad, 34, was severely injured when his home was bombed. Although he was directed to physiotherapy after the surgical intervention, his case was not correctly diagnosed by a physiotherapist.
Mohammad told Enab Baladi that the inability to move for a long time led to atrophy of the muscles of the back, pelvis, and feet, which the doctors attributed to the lack of appropriate physical therapy necessary for his condition.
Specialist Mahmoud Abla said that most physiotherapy centers lack advanced medical equipment.
Abla warned against receiving physical therapy by non-specialists or following their recommendations to do exercises at home.
He added that patients receiving physiotherapy by people who are scientifically and medically unqualified could expose them to paralysis and significantly exacerbate their injuries.
Approximately 28% of Syrians suffer from a disability, almost double the global rate, due to war injuries and lack of access to healthcare services, according to United Nations estimates.
if you think the article contain wrong information or you have additional details Send Correction