Syrians transfer their documents through intermediaries: Trust is a criterion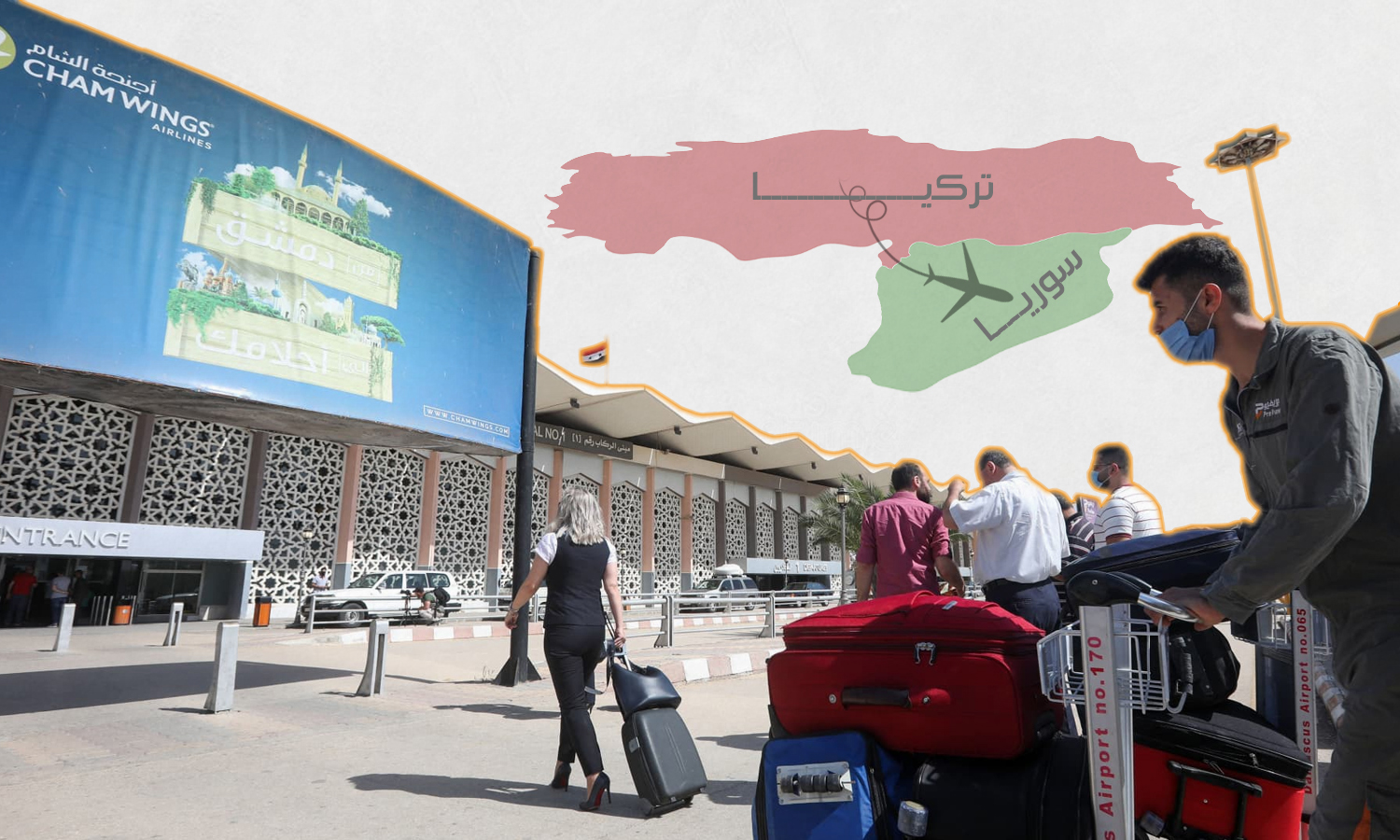 Enab Baladi –Jana al-Issa
One flight per week, sometimes two, between Damascus and Istanbul with one transit is aimed at trade and earning money, given Syrians' need to transport necessities and official documents between the two countries.
Under the heading "Sending and bringing documents from Syria to Turkey and vice versa," it all starts with announcements between acquaintances and confidants, and then via Facebook groups where hundreds of service seekers gather, finally reaching the stage when, during just one day, the maximum weight allowed on the plane and the maximum number of official documents that can be packed are checked.
The asylum conditions imposed on Syrians in some countries of the world, including Turkey, and the need for official documents issued by the regime's institutions, such as passports, are creating a "new profession" for Syrians whose legal status does not prevent them from visiting Damascus, despite the widespread presence of shipping offices.
This transport journey is interspersed with several risks of which many are aware, but their need for such documents prompts them to disregard such hazards and further search instead for a trustworthy individual to handle the transport of their documents.
More sought-after as long as it is trusted
Many shipping offices are deployed in Turkey that are competent to send necessities and official documents. However, the fact that it takes somewhat a longer time than sending it through certain individuals, and the delivery and receiving mechanism, may push some towards such individuals.
Istanbul-based Mohammad Diab, 29, told Enab Baladi he would prefer to send his official documents with someone who works as a shipper and who is well known to him because it is more secure than sending it through shipping offices; this is how it went with him when his passport was sent to Damascus months ago.
In this regard, Diab considered it rather crucial to look for a trusted person with whom he was previously acquainted or one who is a friend of his and with whom he has previously dealt. He explained that it was only in this case that concerns about the possible loss of documents or infringement of the customer's privacy would disappear.
Residing in Istanbul, Bushra Abd al-Aal, 25, told Enab Baladi that she would also prefer to send her official documents through trusted people who practice transporting documents over sending them through shipping offices, for the time the offices take in sending the said documents is often longer than she thinks it should be.
The young woman reckons that sending documents through people known to her is better because that method is safer than sending them through offices or strangers, due to the difficulty of replacing such documents in case they are lost, or because of her concerns that her personal information will be used inappropriately, such as national ID numbers, passport photo, etc.
Abd al-Aal criticized the transportation fees set by such individuals, considering them to be somewhat high; official documents do not take on a size or weight that increases the cost for the traveler, she stated. On the other hand, the young man, Mohammad Diab, considered the cost "normal" because official documents are important, and preserving them requires paying additional sums, unlike transporting other necessities.
"Lucrative" business
Huda (25 years old), a pseudonym for a freight forwarder between Istanbul and Damascus who declined to reveal her real name for security reasons, told Enab Baladi that she has been in this profession for about four years, at a rate of approximately one flight per week; this enables her to meet the requests of most of her customers.
Huda conducts all permitted transports that involve official documents, clothing, and electrical appliances between Damascus and Istanbul by a service that she considered "faster and cheaper" than those provided by regular freight companies.
The young woman took up this profession because of her need to work first and foremost and the fact that there are no other alternatives in Turkey, in her opinion, explaining that she earns well from it.
Practitioners of this profession charge transportation costs in US dollars. The fares are not unified, but they are somewhat close, and they vary from one year to another. For example, the fees for forwarding a passport from Damascus to Istanbul range between 30 and 40 US dollars. As for the cost of transporting one single document, regardless of its nature (attestation, birth certificate, marriage certificate, etc.), it ranges between 5 and 7 US dollars per sheet.
Many holders of official documents consider these fares too high, but their need for their documents makes them pay these sums in the absence of other options.
Freight forwarder Huda attributed the high transportation costs to the importance of official papers, as she is forced to preserve them even more than she preserves other material goods that may be compensated for with money in the event of damage or loss, whereas compensating customers for their official documents if damaged or lost is costly on the one hand, and burdensome on the other, because of the need to consult the official state departments again for an alternative copy of the said documents.
What about the law?
Speaking to Enab Baladi, the head of Watan Law Firm, Lawyer Wassim Kassab Bashi, said that transporting goods without obtaining a license subject to strict conditions is considered a crime punishable by Turkish law, owing to problems arising from loss of goods, tax evasion, and harming national goods.
The lawyer believes that whoever ships their official documents through these methods has accepted any risks resulting from sharing their personal information with others. If the documents are lost, they cannot claim them legally.
Lawyer Kassab Bashi explained that importing and exporting goods in the country is subject to laws and regulations that are fundamental in Turkish legislation. He added that the law defines the crime of smuggling as the entry or removal of goods from the country in illegal ways and methods by bypassing laws, especially customs and tax legislation.
Practitioners of this profession may be punished by two years imprisonment, which may be reduced to a fine, in addition to the withdrawal of their legal residence in Turkey in accordance with the laws, the lawyer said.
if you think the article contain wrong information or you have additional details Send Correction